San Francisco bike tours get up close
SAN FRANCISCO — It seems red, is incredibly large, and appears to have a personality of its own. One can't help but be intimidated and impressed at the same time.
Made out of steel and concrete, its red-like towers, which are, in fact, an orange vermilion, have symbolized the Bay area of San Francisco since its construction. To see it is to believe it.
| | |
| --- | --- |
| The town of Sausalito is full of bakeries, restaurants. Sidewalk dining is one of the best features that Sausalito has to offer, especially after a long bike tours (Photo by Alcione Gonzalez). | |
While San Franciscans are used to having the Golden Gate Bridge in their backyards, the impressive and beautiful bridge blows visitors away time and time again. Getting to bike over the bridge is an opportunity that few get and if you do is worth every penny.
Despite San Francisco's influx of various downward hills and curves, biking is surprisingly a common outdoor activity. Biking is able to offer an up-close look at the city of San Francisco.
I knew biking was also going to be the best way to appreciate the city but I had no idea where to go first.
Luckily, when I Googled "San Francisco bike tours," the results took me straight to Blazing Saddles Bike Rentals and Tours. The colorful and somewhat cheesy website had a 1990s design style that gave me doubts.
| | |
| --- | --- |
| | After a challenging bike tour, a ferry ride takes you back to San Francisco (Photo by Alcione Gonzalez). |
A full description was given of the tour and immediate reservations were offered. I thought "What the heck? What do I have to lose?" so I booked it. As quickly as it took me to book it, I received an e-mail confirmation that my reservation had been received and any doubts of the tour's legitimacy left my mind.
Once I arrived in San Francisco, I took a 10-minute cab to the bike shop, which cost me $10. I arrived with printed tour ticket in hand. I was greeted by an enthusiastic staff that quickly got me to sign away my life on the usual release forms, and gave me a helmet (how hokey! It was required!).
I was expecting a tour group of around 15 people, but surprisingly our tour group was a small group of four, four women to be precise.
| | |
| --- | --- |
| Biking throughout San Francisco is a popular activity that allows visitors to appreciate the  views (Photo by Alcione Gonzalez). | |
Our tour guide was a lifetime biker who looked like bike chains and helmets ran in his blood.
The bike shop is at located near the Powell/Hyde Cable Car turnaround on 2715 Hyde St., where a Starbucks coffee shop is conveniently located down the street for those worried about their caffeine fix.
Once we were saddled up on our trusty bikes, the tour began on its first hill, which was incredibly steep and challenging.
Our tour guide told us it would be the most difficult and the rest of the tour would be a breeze. He was right and wrong at the same time.
| | |
| --- | --- |
| Some tend to mistake the Golden Gate Bridge's colors for red but it is, in fact, an orange vermilion called international orange (Photo by Alcione Gonzalez). | |
If you are not a biker or have trouble controlling a bike, this bike tour is not for you. Your biking skills need to be in check and if they are rusty then oil them.
I wouldn't call myself an expert biker or a novice, but the eight-mile tour was challenging but at the same time gave me an incredibly exhilarating experience.
The tour guide offered advice on getting over the hills and forewarned us of highway traffic and future stops through out the tour.
The tour guided us through the activity-filled green space known as the Golden Gate National Recreation Area. The area is an outdoor paradise. Runners, walkers, strollers, power-walkers, and dogs filled the green space and it's walkways.
| | |
| --- | --- |
| The Blazing Saddles bike tour offers visitors frequent breaks through out the Golden Gate Recreational Area tours (Photo by Alcione Gonzalez). | |
After the recreation area, came the highlight of the tour, biking the bridge. The bridge gave spectacular 360-degree views of the Bay Area. One can't resist stopping for a photo-op.
After the requisite tourist pictures of the memorable views, the bike tour leads to Sausalito. Referred by locals as a mini French Riviera, the seaside community offers shopping and various restaurants.
The cuisine mostly ranges on the higher-end but places like Italian eatery il Piccolo Caffe offers affordable and tasteful Italian eats ranging between $7-$10 paninis and $9-$13 salads.
Once you tire of touring Sausalito, a quick 30-minute ferry takes you back either to Pier 41, a pier full of shops or Pier 43½ Fisherman's Wharf, another exciting pier where colorful restaurants and shops are located.
At the end of the tour I sat by the water's edge with a glass of red wine and an Italian panini resting on my lap. The breathtaking Golden Gate Bridge could be seen in the distance from Sausalito. I had definitely seen it and believed it.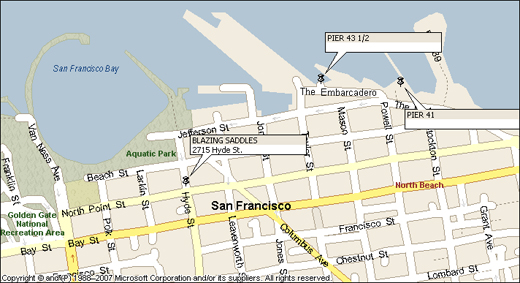 If You Go
Blazing Saddles Bike Rentals & Tours
http://www.blazingsaddles.com, 2715 Hyde St., at Beach St., San Francisco, 415-202-8888.
$60 per person for a guided tour. There are also hourly and daily rates offered. No reservations necessary.
il Piccolo Caffe
660 Bridgeway, Sausalito, Calif., 415-289-1195.
Don't forget:
Comfortable shoes
An extra layer of clothing since it tends to get cool on the bay while biking in the spring and fall.
Sunglasses
A bottle of water
A camera