Riveter Memorial honors war at home
RICHMOND, Calif. — Like every term, the "double shift" has its origins. Who knew it came from here, in the East Bay area of San Francisco?
Richmond is home to the Rosie the Riveter / World War II Home Front National Historic Park, which commemorates the hundreds of thousands of women who worked to ensure victory in World War II. Women would come home after a full day of work to tend to their families across the nation. Hence, the term.
| | |
| --- | --- |
| | A sculpture at the Rosie the Riveter / World War II Home Front National Historic Park pays tribute to the women and minorities that helped build World War II ships, tanks and other vehicles. It is designed to replicate the internal structure of the ships built at the nearby shipyards (Photo by Anthony Minerva). |
Richmond played a significant role in the World War II home front. It was home to more than 56 war industries and the city grew from 24,000 people to 100,000 people during three short years, overwhelming the available housing stock, schools, roads, businesses and community services.
"People came from all over the country to find work and we all had to make sacrifices back then," said Betty Sutherland, 80, a former "Rosie" who kept the books for the rigging companies on the shipyards.
The terms "Rosie the Riveter" and "Wendy the Welder" were used to describe the women who worked during the war throughout the country and are especially meaningful to the women and minorities who worked alongside the men on the shipyards.
"Crews worked night and day and never sat down," Sutherland said. "The shipyard management always tried to make it pleasant for the workers and would provide entertainment such as singing and contests during lunch to make work more bearable."
| | |
| --- | --- |
| | This warehouse,  the second stop on the self-guided tour, was used to produce war equipment during World War II  (Photo by Anthony Minerva). |
The four shipyards of Richmond produced more than 747 ships from 1941to1945, which is more than any other shipyard location in the United States. They operated twenty four hours a day, seven days a week.
"This place is the best kept secret in San Francisco," said Tom Horsfall, restoration manager of the SS Red Oak Victory Ship. Horsfall has lived in Richmond for 20 years and has always been involved in preservation. It takes about 30 minutes to drive to Richmond from San Francisco. If you find a way to read the extremely small destination and street signs and actually end up making it to the site, it is well worth it to visit the SS Red Oak Victory Ship.
"We were randomly exploring the area and found it," said Michael Erickson, a tourist who recently moved to San Francisco.
"He's interested in history and I'm interested in him," said Andrea Stithem, a friend of Erickson's.
| | |
| --- | --- |
| The S.S. Red Oak Victory is the only ship built at Richmond to receive medals during World War II, the Vietnam War, and Korean War (Photo by Anthony Minerva). | |
They both agreed that the energy it takes to build something like this is amazing, especially without the technology that we have today.
"Just seeing the piping is amazing," Erickson said.
"It's pretty brilliant," Stithem said. "You would think they'd advertise the place for funding."
As you drive up to the ship, you will see the remaining historic buildings of WWII Shipyard No.3, today an active port for the City of Richmond. These include the cafeteria, first-aid station, forge, machine shop, warehouse and paint shop. Henry Kaiser applied mass assembly line techniques to building the ships.
This production-line technique, bringing pre-made parts together and moving them into place with huge cranes and having them welded together by "Rosies," allowed unskilled laborers to do repetitive jobs requiring relatively little training to accomplish. This increased the pace of construction and opened jobs up to women and minorities.
| | |
| --- | --- |
| Author Nicole Alibayof looks at brochures at the Visitor's Center outside the main office of the Rosie the Riveter / World War II Home Front National Historical Park before departing on her auto tour (Photo by Anthony Minerva). | |
"I went to school for two weeks to learn how to weld and then they put us to work," said Marian Wynn, 81, another real life "Rosie." "My dad was so impressed with the first two pieces of metal I welded together, that he took it back to Minnesota to show everyone."
"Being a girl you wouldn't normally take a job as a welder, but we had lots of them," Wynn said.
"We had to wear those helmets," Sutherland said. "Hairdos were a thing of the past because of all that perspiring and no way to cool down."
"Wearing that heavy outfit, it was all leather, leather pants, leather jacket and a hood over your head the whole time," Wynn said. "You never got to see anyone because of that hood."
"The hardest thing was learning how to set your machine to get the temperature right so it would weld evenly," Wynn said. "It had to be the right temperature to make it move continuously."
| | |
| --- | --- |
| Author Nicole Alibayof looks at pictures of World War II veterans at the Rosie the Riveter Memorial in Richmond that honors the women and minorities that contributed to the war effort (Photo by Anthony Minerva). | |
The technique was so efficient, the Robert E. Peary Liberty Ship was assembled there in less than five days and the Red Oak Victory's welds are still intact after almost 60 years. It took about two weeks to assemble her. She served as an ammunition ship in the South Pacific during World War II.
She also served during the Korean and Vietnam wars and is one of the few Liberty and Victory ships to be transferred from the Merchant Marine to the U.S. Navy.
"I give the best tours of the ship," said Gary Elliott, a member of the Amateur Radio Club and a tour guide of the SS Red Oak Victory Ship. "I used to be in the Navy and have always loved ships."
| | |
| --- | --- |
| This hallway on the S.S. Red Oak Victory ship (Photo by Anthony Minerva). | |
"There's no better feeling than the one you get on a ship once it gets started," said Elliott with a huge smile on his face. "When the steam and the vibrations get going there's a feeling of momentum, action, life; an inner-life."
When the ship wasn't being used it was sealed and placed in long-term storage where ships are preserved so they could be returned to service later. The ship itself is owned by the non-profit Richmond Museum Association. Recent developments made it possible for the RMA to launch its restoration project with volunteer help.
Sutherland's son, Chuck Davis, is a volunteer tour guide who takes pride in the fact that his mother, Betty, was a "Rosie." He shows everything on the ship from the mess hall, kitchen and cabins to the details of how the mariners and crew members would communicate through voice tubes. Books, maps, furniture and bedding are some of the original artifacts that still remain.
| | |
| --- | --- |
| | Ship engineer Chuck Davis points to the original designs for the World War II ship, the SS Red Oak Victory ship (Photo by Anthony Minerva). |
"To me it was a job and I didn't think about it," Wynn said. "Now people want to come shake my hand to meet a 'real life Rosie,' and it embarrasses me sometimes because they make such a big thing of it."
"It is nice to be honored though," she said. "I would have never been a welder though had it not been for shipyards."
"One little guy said he didn't like it when his mother left for such a long time," Sutherland said. "When she put a bandana around her head and overalls on he knew she would be gone long."
If You Go
Open from 11 a.m. to 3 p.m., Tuesdays, Thursdays, Saturdays and Sundays.
There is no direct public transportation that will take you there from downtown San Francisco.
A donation of $5 per person is appreciated if you board the ship and tour it.
Exploring the ship on your own can take from 30 minutes to two hours.
Directions for an auto-tour (from your car) are available in the pamphlets on stand outside the main office of the Visitor Center.
If you wish to book a guided tour, call 510-237-2933.
The roads are winding and the signs are hard to see.
It is about a 30 minute drive from downtown San Francisco to the memorial in Richmond.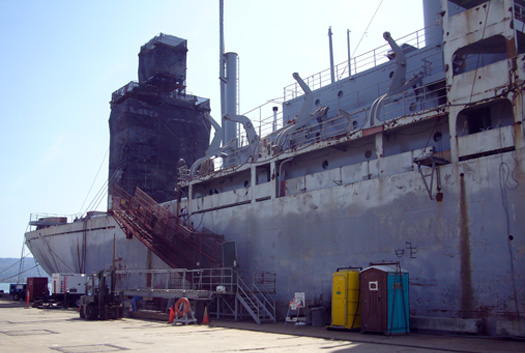 The SS Red Oak Victory ship is being restored at the Rosie the Riveter / World War II Home Front National Historic Park in Richmond, Calif. (Photo by Bruce Garrison).
---