Napa offers ideal wine-tasting setting
NAPA, Calif.— The image of mountains adorned with brightly-colored flora and fauna, precisely designed vineyards spread across the valley floor, the feeling of crisp air breezing through the trees, and the serenity of rabbits hopping through the neatly tended grasses, offers tourists and wine connoisseurs the abundant opportunity to take a sip of some of the most exclusive and famous sparkling and still wines in the Wine Country. While similarities of each winery exist, each offers guests an exclusive "tasting experience."
In Napa Valley, guests enjoy more than just a typical glass of wine. Napa Valley, famous for its wineries, treats guests to a unique experience of wine tasting and breathtaking scenery to show guests that the lush Valley is more than just casual tasting. While sipping a glass of wine, guests have the opportunity to dine on cheese crackers, caviar, or order a specialty item from menus at each winery."Wine tasting is a lifestyle," Michael French, Mumm Napa Winery server, said.
| | |
| --- | --- |
| | At left, the Mumm Napa Valley Winery on a spring day (Photos by Kaci Fowler). Below, a grapevine grows in Mumm Napa's vineyard. The entrance to the Domaine Chandon Winery are shown in the next two photographs. Below, wine educator Richard Miami discusses wine tasting with guests at the Robert Mondavi Winery. Last, the scenic vineyards of the  Mondavi Winery. |
Mumm Napa, Robert Mondavi and Domaine Chandon, are among some of the most famous sparkling and still wineries in the Valley. From the swirling of wine glasses, "elite membership clubs "and guided tours, to the tasting of mouth-watering red wines with tiny lamb burgers, the wineries of Napa Valley boast the incomparable experiences of tasting at each winery.
Mumm Napa Winery
"When I arrived in Napa, I was initially very impressed by the scenery, but once I stepped inside Mumm Napa, I knew the magic had begun," Krista Askew tourist from Texas, said with sheer excitement.
At Mumm Napa, combining wine with "elegantly casual dining", guests have the opportunity to enjoy multiple glasses of distinct red, white, still, sparkling wines and champagne under large tan-colored umbrellas outside on the terrace or inside the glass-enclosed salon, where guests can slide open the glass doors and taste the aroma of fresh grapes in the air.
Dressed in collared shirts and pants, wine educators carefully pour Mumm's famous wines such as Pinot Noir, Chardonnay and Cuvée Rosé into each flute and offers a brief description of the quality and taste each one possesses.
"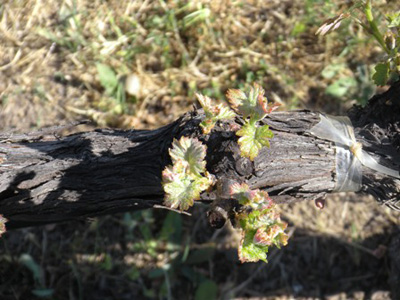 You'll want to try the Cuvée M Red, if you love sparkling red wines. It is a combination of red plums and elderberries with hints of cardamom. Some people either love it or they hate it, but you must try it," French said.
Gail Leslie, a tourist from Arizona, admitted that her favorite wine at Mumm was the Sparkling Pinot Noir, a dry red sparkling wine combining plum and cinnamon. "The Pinot Noir here at Mumm is probably the best one I've had in a very long time."
"I think what makes Mumm so different than the other wineries is our scenery. It's simply breathtaking. While guests enjoy our delicious and unique wines and complimentary cheese crackers, they feel as though they are sitting next to a vineyard because of the sliding glass doors. I don't think it can get better than this," French said.
Not to be mistaken, however, Mumm Napa tasting is affordable to even the most recession-stricken tourist. Guests can enjoy a $6 glass of wine to up to $25 for a variety of tasting options in the Salon and Terrace, with no appointment necessary.  Guests can even purchase bottles of wine from $12 to $60.
The relaxed but truly elegant atmosphere at Mumm Napa invites tourists to experience the Wine Country with the option of sliding open the glass doors to receive an up close and personal scenic view of the Valley, right at their finger tips.
Robert Mondavi Winery
The Robert Mondavi Winery, founded in 1966 by Robert Mondavi, known as the "Father of California wine" was  deemed as the establishment for high quality and distinct wines in California, and has become one of the most highly visited and famous wineries in the world.
As guests arrive at the Robert Mondavi Winery, they are immediately met with a view of a large sculpture and a large fountain sending bursts of water into the air, in front of the view of lush mountains and neatly polished vineyards. Guests are then suggested to indulge in the Kalon Tour and Tasting by appointment only, where they will meet popular wine educator, Richard Miami.
G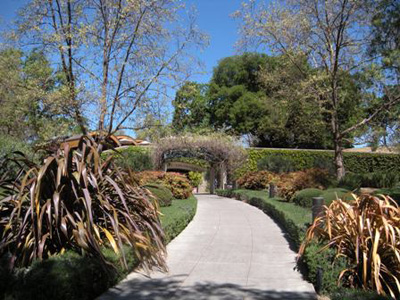 uests are first taken into a room, where Miami explains to them that they are at the "First Modern Winery" in the United States and that they will explore the makings of wine and the three most important words to consider when picking the grapes, "gentle, gentle, gentle."
Miami then takes guests to the vineyards, which are home to the "world's greatest wine", Cabernet Sauvignon, Pinot Noir, Chardonnay, Merlot, Moscato d'Oro and Fume Blanc, to name a few.
"What exactly goes into the process of picking the best grapes," Alejandra Vasquez, a tourist from Argentina, asked.
"Well, picking grapes is determined by tasting. No one ever knows how the grapes will be until one truly taste one, so that's the big thing that we do here. We taste, taste, taste," Miami said enthusiastically.
Miami leads guests to the cellar and opens the door to a room with large fermentation tanks and the aroma of very ripe grapes.
"This is where the magic happens, but as you can see the tanks are empty, because it isn't grape season yet. We have to wait until May to fill them," said Miami.
Guests take pictures of the large room, while some even place their heads inside of the empty tanks to show off their large sizes.
Guests are then taken into the barrel room, which combines an aroma of grapes and the smell of oak, providing a delicious and unique scent.
"One of these barrels holds 300 bottles of wine and weighs 590 pounds," Miami said.
At the last stop, guests are seated at a table with wine glasses as they prepare for tasting.
M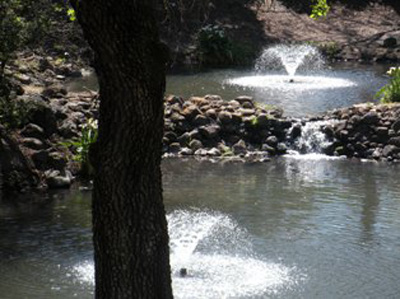 iami pours three different wines, the 2007 Unoaked Napa Valley Chardonnay, 2007 Carneros, Napa Valley PNX Pinot Noir, and the 2005 Oakville District Cabernet Sauvignon, as he shows guests the proper way to do a tasting.
"Now, first of all you must check the cork. If there is any strange smell to the cork, do not drink the wine. Once the wine is poured, you place the glass on the table and swirl it around. Then you do a quick smell by placing your nose inside the entire glass. Next, take a sip and swish the wine in your mouth, it provides the best tasting experience. After you have swished, go ahead and enjoy the glass," Miami said.
"I never knew that I was supposed to taste wine this way," Mai Ling, a tourist from China, said.
As guest continued to sip, Miami brought out spicy mini lamb burgers for tasters to try with the oak, chocolate and berry flavor of the Cabernet Sauvignon.
"This is the perfect combination. I'm not sure I would have ever tried these two things together. Amazing," Ling said.
At the final taste of the tour, Miami surprises guests with Moscato d'Oro, a dessert wine with the fruity flavors of candied orange, jasmine, and white peach.
"I would not have truly given you a tasting without Moscato d'Oro, Miami said. It is one of our very popular dessert wines and also one of my favorites."
Guests enjoy the Moscato d'Oro and make their way into the wine shop where they can purchase each wine they tasted and many more.
The Robert Mondavi winery offers guests the opportunity to experience the culture and the process of winemaking, while still maintaining its elegant flavor.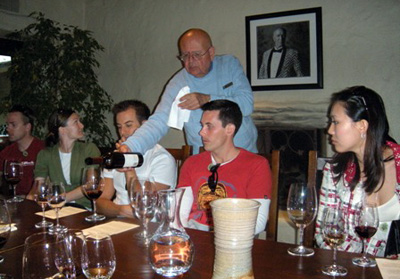 Domaine Chandon
Domaine Chandon, world famous for its California Sparkling wines, was established in 1976, and is most recognized for its French Champagne house, Moet & Chandon. But don't be fooled, there is more to this winery than just its sparkling wines.
Many guests arriving at Domaine Chandon arrive in limos or private cars. Through this, tourists can see that Domaine Chandon caters to a chic type of crowd and even has a modernized bar.
As potential wine tasters exit their cars, they are met with lush vegetation, small ponds and fountains that seem to paint a picture of an enchanted forest. Soon after, a large sign displaying the words, "Domaine Chandon" invites them inside the winery through the glass doors.
Guests walk up the stairs to the wine bar, which has an open window positioned directly behind it, offering a panoramic view of Napa Valley.
Bartenders provide a friendly and humorous atmosphere as they offer to make drinks for the tasters.
Bernard Lee, a bartender, said he enjoys Domaine Chandon because it isn't your typical crowd, although most just come to taste the wines. The people that come here can enjoy a romantic dining area or mingle at the bar with guests in chic apparel. I love it here."
Not only does Domaine Chandon boast its sparkling wines, but also, guests can dine during winery specials for $29 for two-course meals.
Domaine Chandon, the winery of the chic and trendy, provides an experience that everyone can enjoy.
Although Mumm Napa, Robert Mondavi, and Domaine Chandon are not knowingly linked, they each provide guests with a common bond through their famous wineries, but each provides a unique atmosphere and experience.
I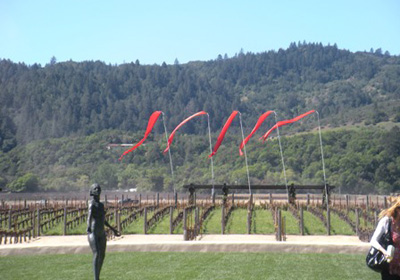 f You Go:
Mumm Napa
Mumm Napa offers a $25 Terrace and Tasting Salon tour. Prices range from $6 to $25. No appointment is necessary. The tasting room is open from 10 a.m. to 5 p.m. daily. Personal car or a car service is suggested for transportation to the winery. Guests must be 21 years of age. Mumm Napa is located at P.O. Drawer 500, 8445 Silverado Trail, Rutherford, California 94573. For more information contact Mumm Napa at http://mummnapa.com or call at 866-783-5826.
Robert Mondavi Winery
Robert Mondavi Winery offers a $25 Kalon Tour and Tasting. Appointments are required. The tour is offered daily on the hour from 10 a.m. to 4 p.m. Personal car or car service is suggested for transportation to the winery. Guests must be 21 years of age. Robert Mondavi Winery is located at 7801 St. Helena Hwy. (Hwy 29) Oakville, California 95462. For more information contact Robert Mondavi Winery at http://www.robertmondaviwinery.com or call at 866-766-6328.
Domaine Chandon
Domaine Chandon offers tours daily at 1 p.m. for $12. The tasting room is open from 10 a.m. to 6 p.m. daily. Personal car or car service is suggested for transportation to the winery. Guests must be 21 years of age. Domaine Chandon is located 60 miles northeast of San Francisco. On Highway 29, take the Yountville exit and turn west. After crossing the railroad tracks, turn right into Domaine Chandon. For more information contact Domaine Chandon at http://www.chandon.com or call at 707-944-2280.