Hiking reveals Point Reyes wilderness
OLEMA, Calif. – Hiking is not only about high intensity climbs, extreme terrain and trekking lengthy distances. In fact, the Bear Valley Trail at Point Reyes National Seashore offers visitors a hiking trail for people of all ages and fitness levels.
The trailhead, conveniently located just a few feet away from the Bear Valley Visitor Center at the south end of the parking lot, invites cyclists, equestrians and yes, peace-seeking strollers, to experience a scenic and relaxing venture along the Bear Valley Trail.
The popular 8.9 mile out and back trail is relatively flat and easy to hike. This makes it attractive to those seeking adventure without the intense work out. The site is especially busy during the weekends, which makes it an ideal destination for large camping groups and families.
| | |
| --- | --- |
| | Joggers enjoy their afternoon at the Bear Valley Trail (Photos by Valerie Reyes). Below, top to bottom, visitors enjoy a leisurely walk through Divide Meadow. Next, the trail is relatively flat and offers breathtaking views of open spaces. At the bottom of the page, the Bear Valley Visitor Center, which offers trail information, is a short walk from the trailhead. The trail map is courtesy of the National Park Service. |
"I am not in the best physical shape, but I love to hike and bring my entire family along," Michael Bernstein, a resident of San Francisco, said. "That is why I treasure the Bear Valley Trail so much."
The wilderness trail is home to many natural beauties like Douglas fir, tanoak, California bay, and alder. If you are lucky you may even spot a banana-slug moving along a wooden bench or a black-tailed deer wandering peacefully by Divide Meadow. Visitors are advised to watch out for poison oak, stinging nettle and deer ticks, since they are common along the trail as well. 
Cara Mullen, a regular park visitor from Los Angeles, only visits the Bear Valley Trail during the cooler months to avoid getting stung or bitten by the creepy crawlers.
"It probably isn't a good idea to take a hike in July or August. I usually hike the trail in March when the weather isn't so warm," Mullen said.
There are many destinations to enjoy along the Bear Valley Trail. Perhaps the most serene is Divide Meadow, which is just a 3.2-mile roundtrip hike from the Bear Valley Trailhead. Hikers can relax, eat lunch or even take a nap on the open field while enjoying the fresh crisp air. The meadow is also surrounded by a forest of Douglas fir trees, which provide great shade and a tranquil breeze.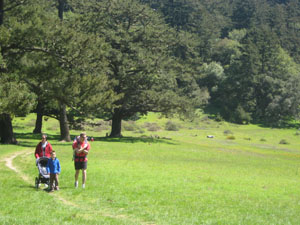 "This day and age, life is so stressful. The trail provides a healthy and free way to just relax," Claire Card, who works at the front desk of the Bear Valley Visitor Center, said.    
Besides serving as the ultimate stress reliever, this family friendly site is the perfect experience for people of all ages.  Tim and Jen Bryan, visiting from Portland, OR brought their 4- year- old son Tony to Divide Meadow to show him the beauty of nature.
"We want to show him how precious the natural environment is at a young age so that he fully appreciates and understands it early on," Mr. Bryan said.
While some end their journey at Divide Meadow, others continue along the trail toward other nearby crowd pleasers — Wildcat Camp, Glen Camp and Arch Rock.
For those who wish to camp overnight, Wildcat Camp is the spot desired by many. The campground, located just 6.3 miles from the Bear Valley Trailhead, is located on a wide meadow with an ocean-view backdrop.
Many walk one mile to Wildcat Beach, where beached whales can sometimes be seen sunbathing on the sand.
Secluded Alamere Falls is a short two-mile walk from the campsite and promises extraordinary views. This 40-foot waterfall drops directly into the ocean where sometimes rainbows can be seen. This remote waterfall is a bit hidden and but priceless.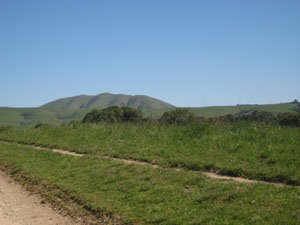 Experienced hiker Tyler Norwood brought his girlfriend to Glen Camp along the Bear Valley Trail because of its accessibility and beauty.
"A lot of the places you go around here call for some pretty intense hiking because of elevation changes, but this trail is easy and easy to get to," Norwood said.
Those who choose to stroll to Arch Rock can enjoy a leisurely walk along Bear Valley Creek to the very top of rock.
From there visitors have the opportunity to see an expansive view of the Pacific coast and beautiful Drake's Bay. If visitors choose, they can walk to the bottom of the rock and take pictures through the arch.
This spot is also a popular destination for picnics, wedding receptions, and sea lion viewing.
Lorraine Lerman of the East Bay describes the destination as a treasure.
"The last time I was here I saw a family of sea lions and it was very special," Lerman said.
This time around Lerman and her good friend Liz Barclay came to visit Arch Rock with a group of lifelong friends who are celebrating their 30th anniversary.
"It is a great long walk to the shore with friends. It has been that for us for many years," Barclay said.
The couple, Shel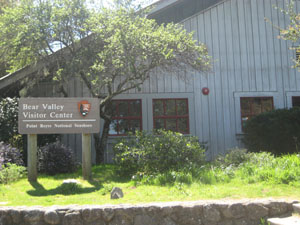 ly Filloy and David Weintraub chose to spend their special day walking along the trail because of its gorgeous scenery.
"We see so many different types of ecosystems and when you get out to the coast by Arch Rock it is absolutely gorgeous," Weintraub said. "It is the perfect trail."
So whether you are looking for a tranquil stroll along a beautiful path, exotic wildlife, or exquisite views of waterfalls and ocean-blue waters, you will find it all at the Bear Valley Trail.
If You Go:
Bear Valley Trail is located at the south end of the parking from the Bear Valley Visitor Center.
Point Reyes National Seashore
Bear Valley Visitor Center
1 Bear Valley Road
Point Reyes Station, CA 94956
415-464-5100
Free maps of the trail are available at the Visitor Center.
http://www.nps.gov/pore/
http://www.nps.gov/pore/planyourvisit/upload/map_park_with_relief.pdf
There are a number of benches for resting along the trail.
For more information on the Bear Valley Trail and other trails at Point Reyes please visit http://www.nps.gov/pore/planyourvisit/hiking_guide.htm.