Bookstore displays city's counterculture
SAN FRANCISCO— Like two typical girlfriends on a shopping outing in the city, Nancy Mooie and Linda Snodgrass of nearby Marin County, stand huddled and in deep discussion before the display shelves of one of San Francisco's most famous retail establishments.
After this brief consultation, Mooie extends herself onto her tiptoes and reaches up to the highest shelf and pulls down her selection, opens it carefully and holds it to her nose, eyes closed as she deeply breathes in, a smile spreading across her face.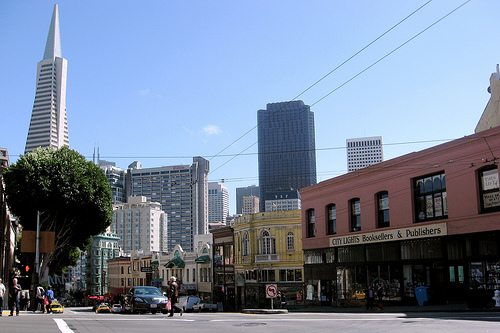 City Lights Bookstore is a short walk to the Transamerica Pyramid.

 

Located on Columbus Avenue at Broadway, the famed bookstore lies at the heart of the North Beach neighborhood (Photo by Kate Koza).
"Better than Chanel No. 5," she declares approvingly, passing it to her friend for a whiff. But it is not a designer fragrance that Mooie seeks, nor are she and her friend standing in a perfumery shop. The scent that the two so appreciate cannot be contained within a crystal bottle or created with the help of a universal formula. It is the aroma of fresh ink on paper, the sound of a spine cracking, the essence not of Coco, but of Kerouac.
This is City Lights Books, birthplace of perhaps the most famous socio-cultural movement of the past century and the temple where some of America's most devout bookworms flock for worship.
Founded in 1953 by famed Beat Generation poet Lawrence Ferlinghetti, City Lights welcomed with open arms those progressive and liberal writers shunned by the more conservative and mainstream tome peddlers in New York and Boston. Soon after the launch of City Lights Publishing two years later in 1955, the book outfit brought to the fore Allen Ginsberg's watershed poetry compendium Howl, solidifying its eternal prominence as a symbol of 1960s counterculture.
"The bookstore wouldn't be the gem it is if it weren't for the fact that it has been so well preserved. Someone who fell into a time warp in 1970 and emerged today wouldn't know that any time had passed," Mooie said.
The store's somewhat antiquated appearance is no coincidence. Humorous yet sincere hand-painted signs proclaiming prohibitive maxims such as "Stash your 'sell-phone' and be here now" litter walls and corners, imploring customers not only to exercise courteous quietude, but also to rid themselves of any considerations other than the wisdom and beauty of the web of words in which they find themselves.
Megan Fondiller, a visiting student journalist from the University of Miami, gets lost in the pages of one of City Lights' many compendiums of Beat

 

Generation authors. Founded in 1953 by poet Lawrence Ferlinghetti, the bookshop became a second home to beatnik poets and authors such as Jack Kerouac and Allen Ginsburg (Photo by Kate Koza).
"The Beats achieved artistic elevation through avenues of language unfettered and uninterrupted by modern technology. It is not just our size that distinguishes us from large chain stores. There is a history of deep love for the bare bones of words here, and we strive to retain and nourish that reputation," said Stacey Lewis, director of publicity and marketing for City Lights Publishing.
Hers is not an empty claim, but one substantiated by the innovative works chosen for publication and community efforts to encourage a more multifaceted and complex appreciation for literature in the community.
With only around 100 titles in print, City Lights Publishing continues to be an extremely selective operation devout in its commitment to liberal authors whose novels emphasize (often controversial) emerging social realities and push the boundaries of what is considered politically correct.
Recent titles include Between Barack and a Hard Place: Racism and White Denial in the Age of Obama by Tim Wise and The Peep Diaries: How We're Learning to Love Watching Ourselves and Our Neighbors by Hal Niedviecki.
"City Lights is quintessential San Francisco: nothing is done half-way or half-heartedly," said Berkeley undergraduate and native Californian Timothy Ragan. "Whenever they publish an author or make a recommendation, they put all of themselves behind it, inviting the author to speak and at the same time giving the public access to the best new authors."
"I think the featured authors and books in the store are fighting forces of conformity just as they did in the 1960s, but in a different way. Back then the Beat authors had to deal with going again power elites who had a very dated and narrow definition of literature. Now it's more of a battle again general apathy to all literature," said Hallie Reiss, a nearby resident who frequents the bookstore because of its inventory of unique titles not featured by book titans like Barnes & Noble and Borders.
Empty mahogany chairs scattered throughout the shop invite visitors to peruse the inventory.

 

Though lacking in the square footage of larger chain stores such as Barnes & Noble, there is no shortage of reading space for guests (Photo by Kate Koza).
IndieBound, a national nonprofit organization devoted to the promotion of independent book establishments, maintains an weekly online listing of the top one hundred best-sellers at its member stores nationwide. It is a matter of pride for both the store and its devout customers that many of City Lights' titles stray beyond even the realm of "indie" popularity.
Even one of Lewis' personal selections on the store's website — Hello, I'm Special: How Individuality Became the New Conformity by Hal Niedviecki — illustrates perfectly this conundrum of staying hip in a world now flooded with hipsters.
But Lewis will readily tell anyone that true individuality is dependent upon more than an esoteric inventory and a commitment to publishing new and unique voices.
"We practice what we preach. We don't just want people reading. We want them reading critically and in a way that probes beyond the surface, a way that doesn't just accept things for what they appear to be," she said.
The City Lights Foundation, created over half a century ago, proffers the goal of advancing what the website cites as "deep literacy," which encourages giving new readers the chance to dog paddle in the deep end in order to teach them how to swim.
"There will always be a debate about whether any reading is better than no reading at all. But I think City Lights has it right – you have to expose people to something beyond mass-market stuff in order to turn them into lifelong readers. Because books are kind of like shoes: people think they know their size until they have someone measure their feet and then they can't get over how well the right pair fits," said Reiss.
Lights' second floor poetry room is perhaps the most iconic part of the store and reflects its dedication to preserving its reputation as a center of poetic literature.

 

Shelves packed with poets ranging from Pablo Neruda to Ferlinghetti himself tempt even the least poetically inclined readers to explore a world wrought with symbolic rhetoric (Photo by Kate Koza).
When asked their opinions on what the rise of online discount chains like Amazon.com, download technology like Amazon's Kindle, and the recent economic downturn mean for independent stores like City Lights, patrons and employees alike seem aware but unconcerned. The patriarch of the store himself, Lawrence Ferlinghetti, once said, "I think if there's a Great Depression there might be some hope."
One thing is for sure — the store will not be emptied of its loyal patrons or visitors anytime soon. There exists no place in the city so alive in its preservation; City Lights is a rare example of living history that has remained successful and avant-garde both in spite of and because of its illustrious past.
And for those who prefer bards to bars, who would rather freshen themselves with typography than perfume, there exists no better place at which to satiate and freshen the spirit than City Lights Books.
If You Go:
City Lights Bookstore is located at 261 Columbus Ave., at Broadway in the San Francisco neighborhood of North Beach.

It can be reached via bus, BART, or MUNI lines. For bus transportation, take the 20 Columbus or 45 Union line to the intersection of Columbus Avenue and Broadway.

Street parking is available at meters or on nearby residential neighborhood blocks (two-hour limit). Nearby public garages include the Portsmouth Square garage at 733 Kearny St., and the North Beach garage at 735 Vallejo St.

The store is open daily from 10 a.m. until midnight.

Further information including events schedules, employee recommendations and book order information is available online at

http://www.citylights.com/

or by calling 415-362-8193.