King Memorial honors civil rights leader
WASHINGTON, D.C. — Two ladies were walking away from the Martin Luther King Jr. Memorial and looked pleased with what they just saw.
"I think it's beautiful, it's the second time I've been here," said Demarus, who declined to give her last name.
"It captures Martin Luther King's spirit and what he's all about," said Nicolas, who also declined to giver her last name.
| | | |
| --- | --- | --- |
| Click on the video at right to view an audio slide show about the Martin Luther King, Jr., Memorial prepared by writer Maleana Davis. | | |
The memorial, which was started in 2009 and completed in 2011, took more than two decades to plan, raise money and construct. It stands between the Thomas Jefferson Memorial and the Lincoln Memorial, which is where King delivered his "I Have a Dream" speech in 1963.
"By visiting here, you're part of the legacy, you're part of the story, too. This is one of the few memorials that I worked at where people come in and I see them physically weeping when they get here because they think about how much this means to them, how much he inspired them during their lives," said Nathan King, a park ranger who has been working at the National Mall for almost two years.
| | | |
| --- | --- | --- |
| | | At left, the Martin Luther King Jr. Memorial. "Out of the mountain of despair, a stone of hope." Below, a quotation from Martin Luther King, Jr., placed on The Inscription Wall (Photos by Maleana Davis). |
Visitors can enter on either side of the statue or walk through the mountain of despair, which all give different views of the sculpture.
The quote, "Out of the mountain of despair, a stone of hope," is engraved on the right side.
"If you do come through the mountain of despair, that's the quote you see first. It helps to make everything kind of click together like 'Oh I've just been through the mountain of despair, this is the stone of hope,'" said King.
On the left side it says, "I was a drum major for justice, peace and righteousness," which caused some controversy.
"That's not exactly what he said," said King. "What he said was 'yes if you want to say I was a drum major, say that I was a drum major for justice, say I was a drum major for peace, and I was a drum major for righteousness and all the other shallow things will not matter.'"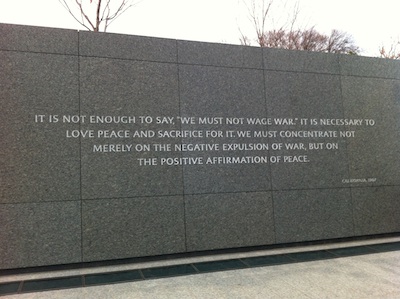 King continued to say that the designers wanted to boil his exact words down to its essence and give visitors two lines of text that would help them understand who Dr. King was.
"So what are we doing about that? Well, the Secretary of the Interior back in January instructed the National Park Service to work to change that quote. So there's a lot of different parties involved," said King.
Along with the actual sculpture is The Inscription Wall. It includes 14 quotes from Dr. King's writings, sermons and speeches. Ranger King assured visitors that all of those quotes were exactly what Dr. King said.
The world-renowned sculptor, Lei Yixin, carved the statue for the memorial. That is actually one of the most frequently asked questions King gets about the sculpture and also what kind of stone the statue made out of.
"Most people focus on this actual statue. It's a type of granite, if you wanted to order it; it's called shrimp pink granite," he said. "They liked it because it's different from everything else you see on the National Mall. If you get up close to it, it actually kind of has a pinkish color to it. They felt it gave him a more flesh and blood feel than another kind of stone like that."
The engravings were done separately from the statue. American engraver, Nick Benson, did all of the engravings on the wall and the statue.
As for what Dr. King is looking at, Ranger King said, "He's not looking at anything in particular. He's looking to the south. He has to be facing somewhere and he's facing out."
The statue isn't directly coming out of the mountain of despair either.
"They had it straight out in front originally and they wanted to give you a sense of the movement; the idea that it's in motion. So by turning it to the side they thought that it achieved that better than being straight out in front," said King.
| | | |
| --- | --- | --- |
| | | Another quotation from Martin Luther King, Jr., on The Inscription Wall. |
Along with the statue and inscription wall, is a bookstore, where visitors can purchase items about Dr. King and their trip to the monument.
The memorial means so much to all the people that visit from all over the world.
"It's so meaningful to have a place where we can remember someone who is so recent in our history and hopefully generations from now, people will be able to come to this place and look back and understand this legacy and how important it is to America," said King.
If You Go
Address: 1964 Independence Ave,., S.W., Washington, D.C.
Phone: 202-426-6841
Online: http://www.nps.gov/mlkm/
Hours: Visitors can visit the memorial 24 hours a day. Rangers are on duty to answer questions from 9:30 a.m. to 11:30 p.m. daily. They provide interpretive programs every hour on the hour from 10 a.m. until 11 p.m.
Parking: Parking is extremely limited near the memorial. General visitor parking is available along Ohio Drive, SW, between the Lincoln and Thomas Jefferson Memorials.
Public Transportation: There are several Metro, train, and bus routes from the downtown and suburban areas surrounding the city. The nearest Metro station to this site is Smithsonian at 12th Street and Independence Avenue, SW; allow about 10-15 minutes for the walk.
Directions: Interstate 395 provides access to the memorial from the South. Interstate 495, New York Avenue, Rock Creek and Potomac Parkway, George Washington memorial Parkway, and the Cabin John Parkway provide access from the North. Interstate 66, U.S. Routes 50 and 29 provide access from the West. U.S. Routes 50, 1, and 4 provide access from the east.