Rock climbing popular at Joshua Tree
TWENTYNINE PALMS, Calif. — Joshua Tree National Park is known around the world for the rock climbing opportunities.
With more than 400 climbing formations and 8,000 climbing routes, the park attracts thousands of climbers each year.
"Casual climbers could spend 30 years in here climbing," said Joe Zarki, Joshua Tree's chief of Interpretation.
| | | |
| --- | --- | --- |
| Click on the video at right to view an audio slideshow about rock climbing safety at Joshua Tree National Park photographed and prepared by writer Stephanie Beyl. | | |
There are not too many restrictions either, with no age limits and no permit required to climb.
"Climbing kind of exploded here as an activity in the late 70s and early 80s. It took off and kind of took park management by surprise. We were not really geared up to manage a major recreational activity like that," admitted Zarki.
Now, there are thousands of rock climbers. Hidden Valley is the most popular rock climbing region in the park, making it the first campground to fill with visitors. There are also known bolted rock climbing routes in Indie Cove, conveniently located near a campground.
"You are not suppose to climb in somebody's camp site without their permission, so there is sort of an informal general courtesy rule along those lines," said Zarki.
There is no need for a permit to climb or scramble on rocks, but there are some regulations regarding anchors. Climbers do not need to have a permit to replace existing anchors in wilderness and non-wilderness areas, but there are regulations when inserting new anchors.
A permit is required if placing new anchors in wilderness areas. Joshua Tree is trying to discourage the placement of new bolted routes, especially in wilderness space, because it can cause damage to the rocks.
"There are, if you are hiking in wilderness, party size limits as well. Groups cannot be any larger than 12. If you are going to be climbing in wilderness you should be in a fairly small group. Most groups have two to four climbers," Zarki explained.
| | | |
| --- | --- | --- |
| Hidden Valley is a prime location for rock climbers with many different rock formations providing climbing opportunities at various levels of difficulty (Photos by Stephanie Beyl). | | |
Climbing is not heavily regulated because there is not a huge staff of faculty rangers to check up on climbers. Zarki said there is "kind of an honors system" with visitors to respect the park.
However, if climbers are in need of assistance, there are rangers to help. The most common service is for a climber who has fallen and requires medical attention.
While rock climbing can be dangerous for the climber, climbing also puts the environment in danger. With thousands of climbers each year, there is risk for damaging the rocks.
Some rocks have pictographs and are considered cultural remains, which can be damaged by climbers due to chalk. Climbers occasionally use chalk on their hands for protection. The chalk is damaging to pictographs and rock paintings, making them difficult to restore.
Furthermore, there is wildlife to consider because climbers can disturb nesting. Nesting activities for birds, particularly raptors, is prominent during certain times of year.
According to Zarki, nesting is a huge concern for Joshua Tree because there are not many raptors left.
"In more recent years, we have taken a survey about where we have nesting raptors. When we know there is an active raptor nest in the climbing area we will close that climbing area during the nesting season."
Joshua Tree has formed partnerships with climbing advocacy groups in an effort to be more proactive at managing preservation. Two advocacy groups are The Access Fund and Friends of Joshua Tree.
The Access Fund is a national advocacy organization that strives to keep U.S. climbing areas open for climbers, and help with environment conservation.
| | | |
| --- | --- | --- |
| | | At left, this group of young men came from San Diego to do some rock climbing in Hidden Valley. Below, rock climbing instructors provide informational tips to other climbers in Hidden Valley. |
"We have worked with Joshua Tree, most recently our new Conservation Team was there doing trail work and attending the Climb Smart event," said R.D. Pascoe, Access Fund Policy Director.
The Climb Smart event took place during a weekend in late October at Joshua Tree Lake campground and climbing site. Legendary professional climbers began a climbing season with skills clinics and multimedia presentations. The weekend also included service projects in the park and a big Saturday night party with a raffle. This event was hosted by Friends of Joshua Tree.
Friends of Joshua Tree is a local non-profit organization that works to preserve the traditional climbing in Joshua Tree National Park by communicating and encouraging ethical and environmentally acceptable climbing practices.
Both of these groups have climbers as members who can represent the interest of the climber community. Members assist on volunteer days on ecological restoration projects, by restoring damaging social trails created by climbers for example.
"There has been a lot of progress by helping the groups get in the system and helping them embrace the goals the park has. That way they can climb but do so the way the park wants," said Zarki.
With the vast amount of climbers, it took management a number of years to organize a plan for climbing regulation.
"There are some other parks like Yosemite and Devil's Tower in Wyoming that have similar climbing situations like we have here. Talking to them and seeing what they were doing helped us gradually put a plan together," said Zarki.
Joshua Tree rock climbing has brought visitors of all climbing levels. I ran into two instructors, Amos Whiting and Marc Chauvin, who were giving a course to other experienced climbers.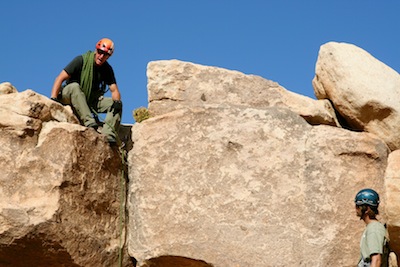 I also ran into a group of young men from San Diego who came for the weekend to enjoy casual climbing and camping. Alex Sparhawk, 24, was among the group.
"Joshua tree has some world class climbing and is very accessible to Southern California. We love coming out here for a weekend getaway because its close, has a wide variety of climbs and has spectacular scenery," said Sparhawk.
"Joshua Tree is a great place to climb. It is the stickiest and toughest rock I have ever been on.  Alex and I are planning on going back there in a few weeks. This time I plan on bring lots of gear to set up my own top rock anchors," said Sam Gerlach, 25, also among the group. "Joshua Tree lacks the anchors that most climbing spots have, but more then makes up for it in the amount of sport climbs it has."
"This is one of the premiere rock climbing parks, especially because we are open year round. During the time when Yosemite starts to get snowed in, people can come to Joshua Tree," said Joshua Tree Interpretive Ranger Pam Tripp.
If You Go
Remember to bring: Plenty of water and comfortable shoes.
Permit for new anchors in wilderness: You can arrange for a permit to place new fixed anchors in wilderness by calling 760-367-5545.
Emergency: If there is an emergency, a park dispatcher can be reached directly by calling 909-383-5651, or call 911.
Map: To view rock climbing maps, visit: http://www.nps.gov/jotr/planyourvisit/maps.htm