Park's unique plants, trees enrich visits
TWENTYNINE PALMS, Calif.—-When thinking of a desert, a flat, sandy, hot terrain comes to mind — one spotted with scarce cacti, rattlesnakes and lizards and maybe even a few camels.
Though this may be the case for deserts around the world (except for the camel part), Southern California's Joshua Tree National Park and the Mojave Desert here stand alone.
Home to various plants and animals, including jack rabbits, coyotes, mountain lions and rattlesnakes and cluttered with 5,000-foot mountains and truck-sized boulders and rocks, Joshua Tree National Park is a travel experience unlike any other, especially for photographers, biologists and history buffs.
| | | |
| --- | --- | --- |
| Old Man prickly pear cacti on display at the Mara Visitor Center at Joshua Tree National Park (Staff photos). | | |
When you first enter the region bordering the 243,000 acres of the desert, you'll already be taken aback by the picturesque mountains that almost appear to be painted into the horizon. The most incredible part, however, isn't seeing the mountains for the first time, it's entering the desert and exploring what lies within.
As you climb the smaller mountains inside the park and take the time to sit and observe the view from a higher elevation, it's beautiful to see specks of green, yellow and blue scattered throughout the otherwise plain, brown desert.
It is nearly impossible to catch a glimpse of all 813 species of plant life that exist within Joshua Tree National Park. This is largely  because some are microscopic and invisible to the naked human eye and also because Joshua Tree National Park is so large and difficult to see everything in a few days..
Yet it is worth the effort to see how life can survive in such rough conditions and even more fascinating to learn how these unexpected plants and trees served human life throughout the more primitive years of the park.
| | | |
| --- | --- | --- |
| | | At left, fan palms tower over the Oasis of Mara at Joshua Tree National Park. Below, Joshua trees dot the Mojave Desert landscape. Colorful plants, in the following images, show the varying shapes and types of plants in the park. |
"It's so exciting to visit," said Steve Lunar, a bio-physicist from nearby Los Angeles. "Each plant has to endure years of evolution to adapt to this environment. Each plant has a story."
Lunar's wife, Evelyn Lunar, finished his thought by saying "each species needs a certain element to survive. It's incredible how they've adapted and later served to sustain human life. It's a life lesson, really."
This life lesson is especially true when you begin to study these plants carefully, particularly the desert palms, Joshua trees and cacti. These plants not only teach the visitors a "life lesson" about adapting to whatever harsh conditions come your way, but also hold a great deal of historical value.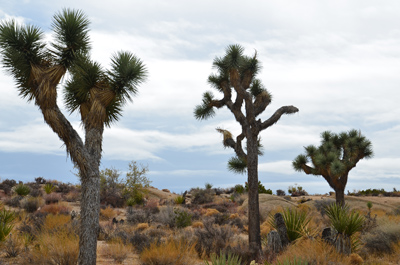 Joshua Tree's 75-feet-tall desert palms, scientifically named Washingtonia fillfera, make up five palm oasis throughout the park (and five of the 158 desert palm oasis throughout North America), providing shade and solace during the harsh conditions of the hot season.
Sprouting amongst the fault lines, these palms extract water from the ground through their large trunks and actually take very well to desert fires.
During the more primitive years of the desert, these palm trees served as a food and building resource for the Native American tribe, Chuillas, as they ate the palm fruit and used the fringes to build waterproof dwellings.
Park rangers believe that they would set fire to the palms to increase fruit production and would plant the seeds in promising locations.
The famous park namesake Joshua trees, which survive 75 to 150 years, are an extremely interesting part of desert life.
Not only is an entire park named after them, but they are not exactly the most attractive plants nor are they trees. The Joshua tree, or the Yucca brevifolia, is related to the lily and orchid family, a fact unknown to many visitors, many of whom are more enthralled by its grotesque appearance.
"'It's ugly was my first thought," said rock climber and UCLA student David Bustamante about his first encounter with a Joshua tree. "I thought it was funny that they would call an entire park after these trees because they are just so ugly."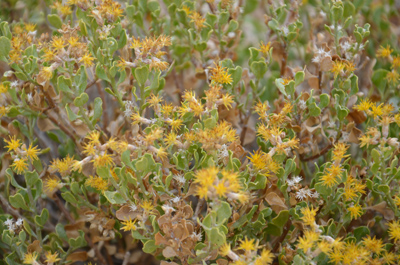 Perhaps they aren't quite as attractive as their orchid and lily cousins, but, these plants hold historical value to the region, serving first as useful properties for the Cahuilla Tribe, who would create baskets and sandals out of the tough leaves, while the seeds became a part of their diet.
Later, the plants became valuable to Mormon migrants, who named them after their prophet, Joshua, as the leaves led them west during their passage through the Colorado River.
The famous cacti plants of the desert are also an unusual sight. There's something about seeing them in their natural habitat rather than in a Taco Bell or Wal-Mart that makes the whole experience new and exciting.
When you first arrive at the park on the northern entrance, you'll see the various cacti on display at the Visitor Center, accompanied by the pertaining name plate.
Three of my personal favorites included Barrel Cactus (Ferocactus cylindraceus), Mojave Yucca (Yucca shidigera), and what is known as the Old Man Prickly Beard (Opuntia erinacea) mostly because they fulfill a childhood expectation created by too many cartoons.
Though legend has it that one can crack open these cacti to keep hydrated if ever lost, Interpretive Park Ranger Pam Tripp informed us otherwise.
"That's one of those myths that you can drink the moisture. I mean, you can, but you'll dehydrate because it's salty," she explained
These plants alone make Joshua Tree National Park worthy of a visit, particularly for photographers and true nature lovers. For this reason, amongst many others, it is extremely important to maintain the natural habitat and keep out non-native species, such as the Tamarisk trees that use water needed by wildlife, and the fountaingrass that constantly competes with the native grass.
Joshua Tree National Park is an escape from one's hectic lifestyle and a crucial part of the Southern California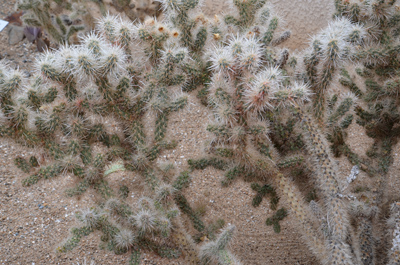 ecosystem. It is a location that should be cared for and valued, if not for the ecosystem, for its beauty and biological or historical value.
If You Go
Joshua Tree National Park is located 74485 National Park Dr., Twentynine Palms, Calif. 92277-3597.
For more information on Joshua Tree National Park, visit http://www.nps.gov/jotr or call the Visitor Center at 760-367-5500.
The Joshua Visitor Center and the Oasis Visitor Center are open all year, 8 a.m to 5 p.m.; the Cottonwood Visitor Center is open all year, 9 a.m. to 3 p.m., and the Black Rock Nature Center open all year, 8 a.m. to 4 p.m.
For volunteer information, visit http://www.nps.gov/volunteer or http://www.volunteer.gov/gov or call the park's volunteer coordinator at 760-367-5528.