Camping offers full desert experience
TWENTYNINE PALMS, Calif. — With so many trails to hike and unusual sights to see, one day in Joshua Tree National Park is not nearly enough.
Throughout the vast 794,000-acre park, there are nine different campgrounds, giving visitors the opportunity to get the full California desert experience.
"I thought it would be a great experience for the kids and my wife since they've never done anything like this before," said Jeff Mehert, who visited the park with his family on their cross-country RV road trip from Wisconsin.
| | | |
| --- | --- | --- |
| Campers are advised to bring all of their belongings with them when they leave their campground unattended for any time (Photos by Kelsey Pinault). | | |
The different campgrounds of Joshua Tree are spread throughout the park, many of which are close to popular spots.
"We chose to set up our camp in Ryan, because it's right next to the first hike we wanted to do up Ryan Mountain," said Miranda Kersten, another visitor from Wisconsin.
Although all of the campgrounds have close proximities to some sites, many campers bring a mode of transportation to use while staying in the park, as some of the other destinations are too far to walk.
"I take my bike when I need to go somewhere, but when all of us are leaving we pack most of our stuff and take the RV," said Mehert.
Because there are so many different camping locations, park rangers cannot regulate all the sites. Visitors are warned when entering the campground to be responsible for all belongings.
Each site provides campers with a picnic table and fire grate. All other necessities are to be brought by the campers such as food and water.
"It's best to bring food like beans, potatoes, hot dogs, pasta, eggs and bacon because they fill you up better than snacks, " said Austin King, visiting from elsewhere in California, who has experience camping but is a first-time visitor to Joshua Tree.
Other items to consider bringing include a portable stove, eating utensils, and plenty to drink. If campers run out of water, it is available at all three of the Joshua Tree gift shops. The park also asks visitors to bring their own firewood, as all of the plants are protected.
At left, recreational vehicles (RVs) are commonly used by campers visiting Joshua Tree National Park. Below,
iInformation boards are provided at the entrance of each campground where visitors are expected to deposit their campsite fees.
Because campers come and go at all times of the day and night, Joshua Tree National Park uses an honor system to collect fees. Near each campground is a small metal box, referred to as "the iron ranger," with simple directions of how to pay. Fees run from $10 to $40 depending on the campground and how many people are in the group.
Depending on the season, some sites, such as Belle and Cottonwood, fill up on a first-come, first-serve basis, while other sites must be reserved.
"When we got here, all of the camps were full, but luckily someone didn't show up for their reservation, so we got to stay," said King.
Reservations can be made six to 12 months in advance and are a good idea during the spring when the park is known to have a large amount of visitors at a time.
When planning a camping visit to Joshua Tree National Park, be sure to check the information provided on the website to be as prepared as possible for your time in the desert.
If You Go
Joshua Tree National Park has three main entrances:
West Entrance: five miles south of the junction of State Highway 62 and Park Boulevard at Joshua Tree Village.
North Entrance: in Twentynine Palms, three miles south of the junction of State Highway 62 and Utah Trail.
South Entrance: at Cottonwood Spring, can be accessed from the east or west via Interstate 10.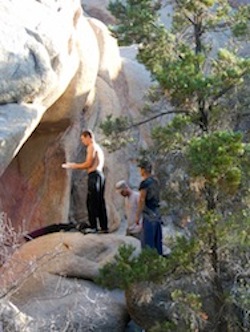 Hours of operation:Joshua Tree National Park is accessible at all hours, but some trails are closed at night.
Facilities: Restrooms are located before most trails. Gift shops and visitors centers are located at the park entrances.
Entry fees: Seven-day vehicle pass: $15; Seven-day single entry pass: $5; annual pass (entry for signee and guests): $30
Campgrounds, fees and facilities:
Belle: $10, 18 sites.
Black Rock: $15, 100 sites. Horse camp $15. Water available.
Cottonwood: $15, 62 sites. $30 group fee, three group sites. Water available.
Hidden Valley: $10, 39 sites.
Indian Cove: $15, 101 sites. $25/40 group fee, 13 group sites.
Jumbo Rocks: $10, 124 sites.
Ryan: $10, 31 sites.
Sheep Pass: $25/40 group fee, six group sites.
White Tank: $10, 15 sites.
All campsites have restrooms available, but no showers.
Campground regulations: Campsites are limited to six people, three tents, and two cars. Group sites accommodate 10 to 60 people. Each campsite has a picnic table and fire grate. Food-storage containers capable of preventing access by wildlife are required.
Campground hours: Campgrounds have quiet hours from 10 p.m. to 6 a.m.
Campsite reservations: Sites at Black Rock and Indian Cove campgrounds may be reserved from Oct.1 through May 31 by calling 877-444-6777 up to six months in advance of the date you want to reserve. Or you may make reservations online at http://www.recreation.gov. Group site reservations may be made up to 12 months in advance throughout the year by calling 877-444-6777 or online at http://www.recreation.gov. First-come, first-served campgrounds include: Belle, Cottonwood, Hidden Valley, Jumbo Rocks, Ryan, and White Tank. Black Rock and Indian Cove campgrounds are first-come, first-served only during the summer—June through September.