Jackson Hole's art scene focuses on West
JACKSON HOLE, Wyo. – Stepping into Jackson Hole is like taking a step back in time.
A quaint little town situated on the outskirts of Grand Teton National Park, there are fewer than 9,000 residents.
It might come as a bit of a shock to find out that Jackson is actually a major art hub. Known as the "Art Center of the Rockies," it is home to nearly 30 galleries featuring everything from small local artists to those with international acclaim, as well as several Old Masters.
| | | |
| --- | --- | --- |
| This photo was taken by David Brookover in Wyoming and can be seen in the Bookover Gallery in Jackson Hole (Photos by Darci Miller). | | |
"I understand it's the fifth-largest art city west of the Mississippi," said Scott Jones, general manager of the Legacy Gallery in Jackson's historic town center. "I can believe that. There's a lot of art sold here in this town, a lot of galleries."
The community has hosted Art Fair Jackson Hole since 1965. The art scene has only blossomed since then, with the Legacy Gallery opening in 1988.
"It's really grown in the last six years," said David Brookover, owner of The Brookover Gallery. "It's become a lot more contemporary… for years, it was very traditional."
Traditional artwork is still a mainstay in most galleries, with western art being the prevalent theme. It's a rare occasion to walk into a gallery and not be greeted with a mountain landscape or wildlife piece.
"Cowboy, Native American, western landscapes are the core of what we do here in Jackson," Jones said. "Wildlife is very popular here. Jackson is definitely a wildlife capital."
| | | |
| --- | --- | --- |
| | | At left, this oil painting by artist Gary Lynn Roberts hangs in Legacy Gallery. Below, a piece seen in RARE Gallery is by artist Michael Kalish and is made out of license plates. Kalish frequently uses license plates in his work. Last, there are a number of pieces by Old Masters featured in Jackson Hole galleries. This was done by Pablo Picasso and hangs in RARE Gallery. |
The Legacy Gallery is one of the more traditional galleries in Jackson Hole. Its artwork is largely oil paintings and bronze sculptures.
"We deal with very representational artwork," said Jones. "That attracts artists from all over the world who want to paint representational work."
Indeed, he mentions that the gallery features few local artists, with work coming from as far as Australia.
Even the more contemporary galleries are not immune to Jackson's tradition of western art. The RARE Gallery of Fine Art is one such example. It prides itself on representing "art for the New West," and has been open for six years.
"The theme [of the gallery] would be a western contemporary," said Alicia Picichio, a gallery employee. "There's still a western feel to it, to keep true to the area."
Looking around, though, it is evident that the RARE Gallery is a little bit different. Grizzly bears are painted in bright, bold colors, Native Americans are photographed in typical Andy Warhol fashion, horses are drawn onto pages torn out of books, and Abraham Lincoln is depicted in a star-spangled top hat. While western art may typically be representational, that's clearly not all there is to it.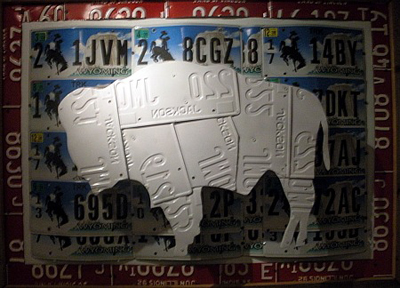 "[Rick and Hollee Armstrong, the gallery owners] do everything from traditional to contemporary, and they do brand new artists that have never been discovered before, and they do masters," Picichio said. "Rick just wanted to bring in the most interesting, diverse pieces."
Included in the collection at RARE Gallery is a room containing Ansel Adams' first portfolio, dating back to 1927. This portfolio, called Parmelian Prints of the High Sierras, is one of the 20th century's most important pieces of landscape photography.
Right next door, in the next room, are works by Monet, Picasso, Rembrandt, and other masters. These rooms are locked most of the time due to the value of the works inside. However, Picichio is more than happy to show visitors inside should they ask.
The Brookover Gallery, on the other hand, is filled entirely with Brookover's own photography. After working for Fujifilm in Japan for a number of years, he relocated to Jackson and opened his gallery 10 years ago.
"It's a great area," he said. "After living in a town with millions of people, I was ready for a little peace and quiet."
Brookover displays photographs he's taken at locations all over the world, from Kyoto to Colorado to right next door in Grand Teton National Park.
"Folks from the East Coast, especially New York, gravitate to the earlier processes," said Brookover. He cited platinum palladium printing, a technique dating back to the 1870s, as being particularly popular. A single print can take weeks or even months to finish, making them expensive and far beyond the means of your everyday traveler. However, Brookover says that many people visit Jackson specifically for the art.
"September is [Jackson's] busiest month because of the art," said Jones of the Legacy Gallery. "It's what drives people to come in September, to the Fall Arts Festival."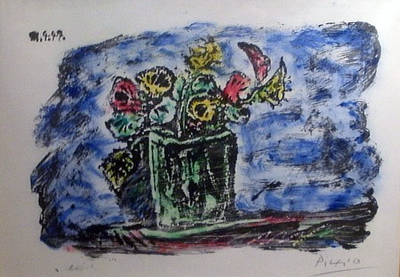 Celebrating its 27th year, the Fall Arts Festival hosts more than 50 events including gallery shows, artist demonstrations, live music, cowboy poetry and cuisine.
Presented by the Jackson Hole Chamber of Commerce, the festival draws thousands of visitors.
Among the more popular activities are the Palates & Palettes Gallery Walk and the QuickDraw Art Sale and Auction, in which spectators watch artists paint and sculpt for an hour; the results are then immediately auctioned off.
The Jackson Hole Art Auction is also a huge mainstay of the festival. It attracts sophisticated artists and vendors alike, with pieces selling for hundreds of thousands of dollars.
Sound a little steep for your budget? You're not alone.
Thankfully, though, entrance into the galleries in Jackson Hole is free, so everyone is able to enter and have a look around.
And, with so much development happening in its art scene, a trip to Jackson is highly recommended for any art enthusiast.
"It's really changing for the better," said Brookover.

If You Go

The Brookover Gallery
125 N. Cache
Jackson Hole, Wyo. 83001
307-732-3988
http://www.brookovergallery.com
david@brookovergallery.com
RARE Gallery of Fine Art
60 E. Broadway
P.O. Box 1427
Jackson Hole, Wyo. 83001
307-733-8726
http://www.raregalleryjacksonhole.com
rick@rarejh.com / hollee@rarejh.com
The Legacy Gallery
75 N. Cache
P.O. Box 4977
Jackson Hole, Wyo. 83001
307-733-2353
http://www.legacygallery.com
scott@legacygallery.com
Gallery Hours:
Monday-Saturday: 10 a.m.-5:30 p.m.
Sundays: 10 a.m.-5 p.m.
Parking is available in public lots and on the streets.
For more information about art galleries in Jackson Hole, go to http://www.jacksonholegalleries.com/.