Bicycling Grand Teton popular with visitors
MOOSE, Wyo. — With smoothly paved trails, crisp 60-degree temperatures and views that look as if a desktop screensaver came to life, it is no wonder why bicycling is one of Grand Teton National Park's most popular activities.
Along with the John D. Rockefeller, Jr., Memorial Parkway, the bicycle-friendly park offers more than 100 miles of paved roads and an eight-mile pathway. Whether you are looking for an intense and rugged cycling session through mountain terrain or prefer a more relaxing ride through the scenic road pathways, the park ensures that your level of expertise is accommodated.
| | | |
| --- | --- | --- |
| Click on the image at the right to view a video about bicycling in Grand Teton National Park photographed and edited by writer Sandy Florez. | | |
However, deciding what season to visit the park is crucial to fully enjoying the parks resources.
For instance, a visit in mid-October can be a rewarding experience so long as you keep in mind that the park's off-season begins Oct. 1.
Of course, this should not deter anyone from visiting the park, since there exists numerous upsides to an off-season Grand Teton adventure. To begin with, summer crowds are long gone, which means you have approximately 310,000 acres at your disposal (or at the very least, the pathways are much quieter).
With fewer crowds, biking through the park becomes a much more intimate experience that allows you to truly immerse yourself in the parks wonders – from wildlife to flora.
| | | |
| --- | --- | --- |
| | | A pair of bicyclists ride the marked path along the east side of the Grand Teton mountains just north of Moose in Grand Teton National Park (Photo by Zongchao Li). |
"This is my third time biking through Jenny Lake, but I have to say it is my favorite," said Janelle Frey, 34, who is visiting her in-laws in the nearby town of Jackson Hole. "The weather is perfect – not too hot, not too cold and there aren't many people around blocking pathways. What more can we ask for?"
Well, for some visitors, the need for bike rentals might be one thing.
Because of the park's off-season beginning in October, bike rentals are not available at the park's on-site adventure shop, Dornan's. Instead, visitors must visit bicycle shops in Jackson Hole such as the popular Fitzgerald Bicycles and Hoback Sports that do not offer delivery services to the park itself.
Matt Schlim, who works for Fitzgerald Bicycles, believes there is no better place to go biking than alongside the Grand Teton range.
"Have you looked outside? This is a biker's paradise!" said Schlim, who has worked at the store since he was just 12 years old.
| | | |
| --- | --- | --- |
| Pathways are paved evenly for smooth bicycle rides. The Teton Park Road stretches for approximately nine miles and is a favorite among bicyclists. Next, signs ensure the safety of visitors. Last, Janelle Frey, 34, takes a break from riding with her father-in-law (Photos by Sandy Florez). | | |
It's hard not to agree — there isn't a corner of Grand Teton that doesn't induce awe. In fact, the suggested trails for riding bike each offer unique views of the park.
For example, there is the River Road route, a 15-mile gravel road alongside the west side of Snake River where sightings of wildlife like bison is common.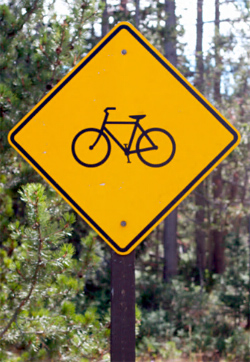 It's good for mountain biking. Then there is also the Teton Park Road route, a one-way, southbound three-mile ride through the Jenny Lake area that offers views of the Teton's highest peaks.
But with plenty of route options as it is, Grand Teton National Park has signed off on yet another route that has caused a stir among the parks visitors, staff and nearby locals.
The plan that is currently underway involves the implementation of a four-mile pathway directly from the city of Jackson Hole north to the entrance of the park, and another eight miles past the entrance to Moose, site of the Craig Thomas Discovery and Visitor Center.
The new trail that is expected to open in July 2012, will make accessibility into the park even safer and easier on a bicycle.
However, some believe that the pathway will interfere with the park's wildlife and migration habits since it passes the western border of the National Elk Refuge on the north side of Jackson Hole.
Despite differing opinions about the park's multi-use pathway expansion, there is one thing all bike enthusiasts can agree on: pedaling alongside the Grand Teton range is an unforgettable experience no matter what path you take.
If You Go
Where to rent bikes:
Dornan's in Moose
Phone: 307-733-2415
Address: 12170 Dornan Road, Moose, Wyo. 83012
Fitzgerald Bicycles
Phone: 307-734-6886
Address: 245 W. Hansen St., Jackson Hole, Wyo. 83001
Hoback Sports
Phone: 307-733-5335
Address: 520 W. Broadway Ave., #3, Jackson Hole, Wyo. 83001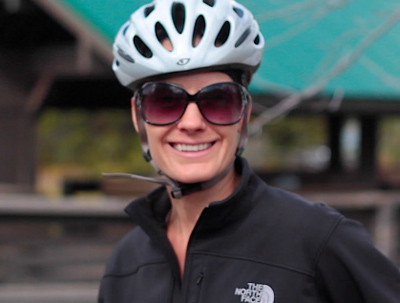 When to Ride Bikes:
The National Park Service recommends:
Spring:  April-June
Days are cool and cloudy with rain showers and occasional snow.
Summer:  July-August
Weather is generally good for bicycling with mid-day temperatures 70 – 80 degrees. Afternoon thundershowers may form quickly with heavy rain and dangerous lightning.
Fall:  September-early October
Days are often clear and cool, but rain and snow showers frequently occur.
Bike safety regulations: Wear a helmet at all times, Ride bicycles only on roadways, not on trails (trail riding is not permitted). Ride on the right side of the road in single file. Obey the rules of the road at all times. Use hand signals to communicate with drivers.
What to bring: Water bottles, comfortable shoes (sneakers), bear spray.
Grand Teton Contact Center: 307-739-3611.