Abundant wildlife easily visible in Tetons
JACKSON HOLE, Wyo. – A herd of golden-brown bison grazes lazily in the sagebrush flats. Two young moose, one still a calf, drink from a wetland, careful to maintain a safe distance from curious onlookers.
And somewhere, deeper in the thick cover of the forests, grizzly and black bears patrol the park for prey, preparing for the ensuing winter.
Those who make the drive to Grand Teton National Park, a 310,000-acre national park located in northwestern Wyoming, can enjoy a plethora of wild animals ranging from least chipmunks to moose and everything in between.
| | | |
| --- | --- | --- |
| Though typically shy and wary of humans, young moose (Alces alces) can often be spotted drinking from wetlands deeper in the park's forests (Photos by Iku Kawachi). | | |
The park is commonly associated with being roughly adjacent to the much larger Yellowstone National Park to the north, and deservedly so. Together with the John D. Rockefeller, Jr. Memorial Parkway and surrounding forests, the parks encompass roughly 18 million acres of land and make up one of the largest mid-latitude temperate ecosystems in the world.
Make no mistake, though: far from merely being Yellowstone's "little brother," Grand Teton alone is home to 16 large and 45 small mammal species, from household names such as grizzly bears and wolves to less commonly known fauna such as Canada lynx and pronghorns, which only resemble antelope in appearance.
"Pronghorns are actually completely different from antelope," said Julena Campbell, interpretive specialist. "Their closest living relatives are—believe it or not—giraffes."
Of course, not all of these large mammals are easily visible. There are certain species that it is especially rare to encounter merely by driving through marked roads or hiking along the park's more popular trails.
| | | |
| --- | --- | --- |
| | | American bison (Bison bison), also known informally as "buffalo," have been known to graze in large herds in the Elk Ranch and Antelope Flats. This herd was spotted along U.S. 191/89/26. |
Some species, like the lynx, coyote and bobcat, are primarily nocturnal; their secretive behavior does not easily lend itself to encounters with humans. Others, like the black bear and pine marten, spend most of their time deep within the cover of forests, making it difficult to spot them from a distance.
Given that, the easiest mammals for Grand Teton visitors to see are those whose activity patterns are relatively predictable. Two such species are moose and elk, both larger members of the deer family who take shelter in the shaded forests during the peak of daylight but can be seen grazing in the Antelope and Elk Ranch Flats in the mornings and evenings.
Driving south on U.S. Routes 191/89/26 one recent October morning, for example, lent itself to a spectacular sight that stretched across both sides of the road: A large herd of bison, numbering 50 or 60, had settled 100 yards or so in the distance.
Golden- and reddish-brown in hue, many of them lay comfortably in the sagebrush. Others meandered around, occasionally nudging each other and paying no attention to the cars rushing by or the passersby who had stopped to get a closer glimpse. On the other side of the highway was a herd of domestic horses, some solid white, chestnut or bay, others with intricate white-and-chestnut patterns.
The park's dominant predators, including the famous grizzly and black bears, tend to be much more elusive. Bears are omnivores, and feed on everything from moose that dwarf them in size to wild berries as they fatten up for the frigid winter.
"They're attracted to hawthorn [berries] and choke berries," Campbell said. "They have to fatten up as preparation for hibernation."
| | | |
| --- | --- | --- |
| At right, moose (Alces alces), seen grazing at Jenny Lake, have distinctive flaps of skin called "bells" that hang from their necks. Below, domestic horses (Equus ferus caballus), seen in a variety of hues, are also common. Last, a bald eagle (Haliaeetus leucocephalus) found in Grand Teton- Yellowstone areas, sits on a log (Staff photo). | | |
However, though bears are known to stray close to bodies of water at points like the Moran Junction and Oxbow Bend Turnout to feed on unsuspecting prey and can turn up "anywhere, anytime," most of their activity takes place in the forests, keeping them out of sight of many visitors to the park—especially those who opt not to stray far off the beaten path.
In fact, for all of the precautions stressed by park staff, such as packaging food properly, not leaving backpacks unattended, toting bear spray and talking and making noise while hiking so as not to surprise them, it is perfectly likely that one spends several days visiting Grand Teton and comes across nary a trace of a bear.
Unexpected encounters can be frightening and downright dangerous, of course, but it is perhaps more fitting to think of finding tracks or paw prints or spotting a bear from a distance as a rare treat than a given product of exploring the innards of the wilderness.
That is not to suggest for a moment, however, that the staff's warnings can be ignored, or that one can go bounding about the trails with no regard for basic safety. Bears, particularly grizzly bears, are fierce apex predators and are known to react aggressively if taken by surprise.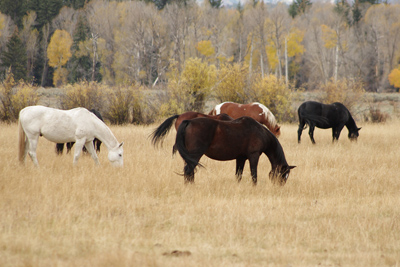 But it is not just the hunters that must be respected and paid due caution: despite their blasé countenance, for example, bison can reach speeds of up to 30 mph and often attack without particular reason or warning.
Park rangers instruct visitors to maintain a distance of at least 100 yards from all large mammals and to never come between an adult mammal and its offspring.
At the end of the day, the rarity of getting the opportunity to observe a bear from a safe distance may speak to the very appeal of visiting a park to see its wildlife: it is often hours and days of craning necks out car windows, patiently waiting and letting one's anticipation build.
More often than not, even turnouts, outlooks and junctions known as "hot spots" can seem still and lifeless. But the exhilaration and amazement when one witnesses a mother elk and its fawn in the distant shrubbery, for example, make it well worth the wait.

If You Go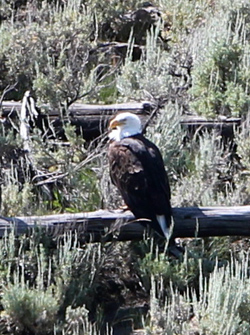 The following is information regarding only popular wildlife viewing spots mentioned in the article. All directions are from the Craig Thomas Discovery and Visitor Center in Moose at the southern end of the park.
Moran Junction
Can see: Moose, beavers, bears
Directions: Take Moose-Wilson Road and turn right on Teton Park Road. Turn left on U.S. Routes 191/89/26 and head north for 18 miles until Moran Junction.
Oxbow Bend Turnout
Can see: Moose, elk, bears
Directions: Take Moose-Wilson Road and turn right on Teton Park Road. Turn left on U.S. Routes 191/89/26 and head north for 18 miles until Moran Junction. Keep left, staying on the same route for 3 miles. The turnout is on the south side.
Antelope Flats
Can see: Bison, pronghorn
Directions: Take Moose-Wilson Road to Teton Park Road and turn right. Turn left on U.S. Routes 191/89/26. The Antelope Flats are on the right (east side) north of Antelope Flats Road. Alternatively, turn right and head east on Antelope Flats Road after one mile (this road is seasonally closed).
Elk Ranch Flats
Can see: Elk, bison, pronghorn, horses
Directions: Take Moose-Wilson Road to Teton Park Road and turn right. Turn left on U.S. Routes 191/89/26 and head north for 15 miles until the Elk Ranch Flats Turnout.