Whale watching popular activity in Islands
CHANNEL ISLANDS, Calif—Observing the wondrous sea life that roam the Pacific Coast near Santa Barbara and Ventura counts as one of the most exciting moments for those visiting the Channel Islands National Park.
Since 1968, Island Packers has organized tourist groups for recreation, education and research purposes. Island Packers boats depart from Ventura Harbor as well as the Channel Islands Harbor in Oxnard. The tours include chances to watch some of the world's largest and most unique mammals, including whales, dolphins and sea lions.
| | | |
| --- | --- | --- |
| | | At left, kelp floats on the surface of the Pacific Ocean near Santa Cruz Island in the Channel Islands National Park (Photos by Nicole List). Below, the Island Packers reception area sightings board lists marine life, including humpback whales and dolphin, spotted during trips to the islands. |
There are approximately 28 species of whales and dolphins that have been identified within the waters of the Channel Islands National Marine Sanctuary.
Whales migrate south from Canada and Alaska often passing the Channel Islands to feed.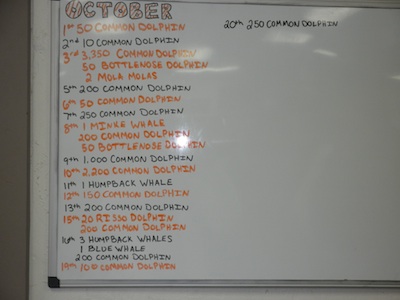 "They usually eat sea kelp that is abundant everywhere surrounding the islands," said Sabine Faulhaber, a volunteer for the Channel Islands National Park since 2004.
Faulhaber performs guided hikes for visitors and specifies in the history and geology of the islands.
Large whales like humpback and blue whales are attracted to the area during periods of upwelling.
During this time, isolated places in the ocean produce planktonic food preferred by these whale species.
"This happens between July and September," said Faulhaber.
The Pacific Gray Whale migrates from 6,000 to 10,000 miles to secluded lagoons in Mexico to breed and bear their young; then journey back to their feeding grounds in the Bering Sea.
| | | |
| --- | --- | --- |
| | | At left, on the trip from Ventura Harbor to Santa Cruz Island, the ferry passes buoys that are resting places for sea lions. Below, passing the breakwater at Ventura Harbor on the way to the islands. |
Gray whale migration in the local area is best viewed from late December through March.
"We do get Pilot and Fin whales year round, so you could spot them in between seasons," said Park Ranger, Bill Faulkner.
"The best experience is to head over to the west end of Santa Cruz Island to the Painted Cave to watch some of these species," said Faulhaber.
The Painted Cave is one of the world's largest sea caves.
"During this time, we rarely see whales by they do come through here and there. Just make sure before you book a trip to check out when's the best time to come by and whale watch—it truly is remarkable," said Tara Brown, a Channel Islands volunteer since 2005.
Channel Island sightings included the following species: Common dolphin, Pacific White-sided dolphin, Risso's dolphin, Bottlenose dolphin, Dall's porpoise, Gray whale, Humpback whale, Blue whale, Orea whale, California sea lion, Harbor seal, Northern Elephant seal.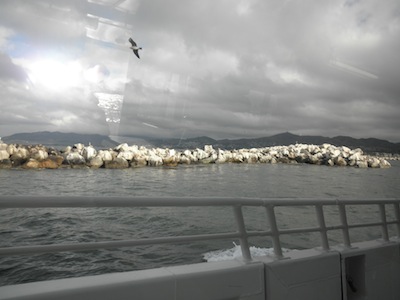 If You Go:
Trips depart from two Island Packers locations: 3600 S. Harbor Blvd., in the Channel Islands Harbor, Oxford and 1691 Spinnaker Dr. in Ventura Harbor.
Watching the Gray Whale Migration (Three-hour whale watch)—$33 for adults; $24 for children; $30 seniors. Special school trip rates are available for groups of 20 or more.
Watching for Blue & Humpback Whales (all-day excursion)—$72 for adults; $54 for children; $65 for seniors. Departs at 9 a.m. Special rates for groups of 20 or more.
For more information, contact Island Packers at 805-642-1393 or visit its website at http://www.islandpackers.com.