Visit islands park, tour LA, all in weekend
LOS ANGELES — You soak in the sun's last rays as flashbulbs burst in your face. You walk the red carpet and climb the stairs of the Kodak Theater. You politely wave to the paparazzi as you hurry to find your seat for the Academy Awards.
Okay, so this may only be a fantasy, but on a trip to California, you can follow in the stars' footsteps — literally. For that matter, visitors can really find something for almost every taste.
More than 130 million vacations are taken in California every year according to the California Tourism Industry Web site. Some tourists come for the beautiful people, some for the beautiful weather and still others for the beautiful landscape.
To conquer all of California is a daunting task. The nearly 800-mile long state boasts redwood forests, hundreds of vineyards and one of the most famous metropolises in the world.
On average, non-resident vacationers spend four days in "the Golden State," which still may not seem like enough time. However, if done properly, a long weekend can be enough time to sample all Southern California has to offer.
It's easiest to stay in the Los Angeles area since LAX, the sixth-busiest airport in the world, has numerous arriving and departing flights, making it convenient and inexpensive from almost anywhere in the country.
| | | |
| --- | --- | --- |
| At right, Grauman's Chinese Theater is the center of tourism action on Hollywood Boulevard (Photos by Kelly Anne Fitzpatrick). Below, the mall at the Kodak Theater offers a good place to relax and eat while sight-seeing. Next, a guide leads a group of visitors up a hill during a hike at Channel Islands National Park. | | |
If you are traveling from the east, time is on your side when you travel to Los Angeles. It's possible to leave after the workday ends on a Thursday and still arrive at a reasonable hour in Los Angeles.
After getting a good night's sleep, it's best to rent a car to get around Los Angeles and its surrounding areas. Since it is a Friday, it's a great idea to see the most-popular tourist destinations when the weekend crowds aren't around.
Behind Grauman's Chinese Theater there is a parking garage that offers valet and charges only $10, a reasonable price for the area. In the courtyard of the theater, you'll be bombarded by crowds milling about, preparing for tours and leaning as far back as possible to take photos. This is where to stop if you want to take photos with "celebrities."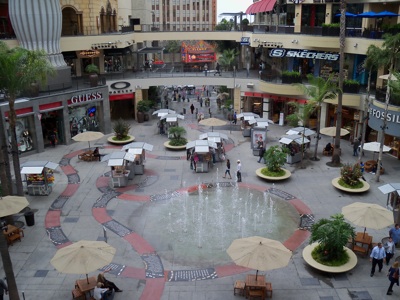 Madame Toussaud's is right here, as is the famous Grauman's footprints, the walk of fame, the Kodak Theater — home of the Academy Awards — and the rest of Hollywood Boulevard.
The best approach to the boulevard is to simply take it in stride. Keep time constraints and a budget in mind, but other than that, feel free to get a little wacky. Find your favorite stars' stars on the walk of fame, try your feet in every celebrity's footprints or take a tour of celebrity homes.
Approach this portion of your trip as the "guilty pleasure" segment. And be sure to go absolutely snap happy with your camera. If there's one place you won't stick out as a tourist, this is it.
Once you've had your fill of celebrity silliness, grab your car from the parking garage and head for Ventura. If you depart by 1 or 2 p.m., you should safely miss most of rush hour traffic, arriving in Ventura with time to stroll the downtown.
Despite its small size, Ventura boasts an immense variety of dining fare. Walk around and enjoy the local scene while you decide where to eat, reservations aren't necessary at most restaurants. On-street parking is widely available and the meter system allows you to pay with dollar bills or credit card rather than a fistful of change.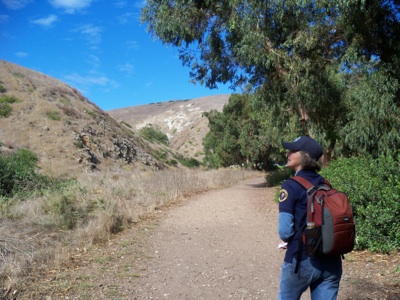 The Island Packers provide the greatest variety of ferry options to the Channel Islands National Park.
The ferry to East Santa Cruz's Scorpion Anchorage allows the most island time of the day trips with three to six hours on the island.
Boats to Santa Cruz depart at 9 a.m. from Ventura Harbor, but check the Island Packers' Web site for specific availability.
Tour guides on Santa Cruz offer two different-length hikes, one eight-mile trip and one two-mile round trip.
The two-mile trip is recommended for inexperienced hikers though does travel some steep inclines and moves at a brisk pace (your guide will break frequently though to talk about the island).
This hike provides an excellent opportunity to learn about the island's history—which is an eclectic one—and its distinct flora and fauna. The guided portion of the hike ends atop a scenic overlook and your guide will leave you to enjoy a picnic lunch.
No food is available on the island. Visitors must bring their own food and drink and take all garbage home with them. There are various routes to choose from for your return trip, and you may take them at your own pace.
Back at Scorpion Point Anchorage, there is an interactive museum in the old farmhouse which details the lives of the island's early settlers and conservationists' struggle to preserve native species.
| | | |
| --- | --- | --- |
| | | At left, Santa Monica Pier dominates the coast early in the mornng even before tourists begin to arrive. Below, a paroramic view of Ventura Harbor. |
After a long day on the island, you will most likely want to hit the sack early, allowing you to rise and shine and return to Los Angeles early on Sunday. If you get to the Santa Monica Pier before 10 a.m. or 11 a.m. you'll beat any crowds looking for parking and possibly even the street performers.
You can watch the pier come alive or lay on the beach. The walk to Venice Beach is 15 to 20 minutes but well worth it on a Saturday or Sunday. The countercultural locals never cease to surprise. This is also a great opportunity to pick up handmade souvenirs at a better price than Grauman's.
Once you've gotten a taste of Los Angeles's "true Mexican food," your trip to California is truly complete. Head back to LAX for an afternoon flight, and you've captured all of the essentials of a SoCal vacation.

If You Go
·         To learn more about Grauman's Chinese Theater visit http://www.manntheatres.com/chinese/
·         Island Packers' destinations and travel times vary widely by day of the week and season. For ticket prices and trip availability visit http://www.islandpackers.com or call 805-642-1393.
·         For more information about the Santa Monica Pier, visit http://www.santamonicapier.org.