Shark Valley tour reveals park's best
FLORIDA CITY, Fla.— A salty drop of sweat glides down her forehead and, with each pedal stroke, her determination reaches new heights.
The horizon seems endless and with six miles to go, she's far from giving up. Even though Sonia Lokossou, a 27-year-old French native, legs ache and the temperature has reached a sweltering 98 degrees, she will not stop peddling.
The Shark Valley bike trail, located in the northern part of the Everglades National Park, takes a lot of nerve to navigate its 15-mile winding concrete trail, with an observation tower at the mid point, seven miles into it.  This trail is surrounded by sawgrass prairie full of an abundance of wildlife, particularly alligators. This park is no walk in the park.
| | |
| --- | --- |
| | Close-up encounters with wild birds are common along the bike trail at Shark Valley in the Everglades National Park (Staff photos). |
But for those up for the opportunity to see alligators as close as 15 feet (the closest you are allowed to get and the closest a sane human being would) and to navigate either by foot or bike its challenging bike path, Shark Valley is a outdoorsman's dream.
Having finally finished the trail after three hours, Lokossou was tired, but satisfied.
"It was tough on the way back, but it was really nice, " said Lokossou. "It was also kind of scary because the alligators are just laying there practically right next to you."
| | |
| --- | --- |
| The hiking and bicycling trail at Shark Valley stretches for miles south from Tamiami Trail and the park visitor center and then loops back to the north. The view at right is from the Observation Tower at the southern tip of the trail. | |
Travel companion Emilie Bagneres, a 30-year-old Londoner agreed. "We stopped taking pictures because there were so many."
Nonetheless, the women were impressed by the wildlife.
Visitors aren't the only ones impressed by the vast sawgrass prairie. The staff enjoys being there as well. Anthony King, park tram tour guide at the park, has worked at Shark Valley for three years, and enjoys every minute of it.
| | |
| --- | --- |
| | Bicyclists must yield right -of-way to the tour tram when it comes along the narrow paved trail at Shark Valley. |
"I love it. I meet people from all around the world that come and visit the park." And despite the park trail's spine-tingling close proximity to alligators, according to King, there have only been two incidents in the park where visitors have been bit.
"One incident happened about 11 years ago when a young man from Brazil fell into the canal in the park and landed near an alligator. The alligator bit him but he survived after spending three weeks in the hospital."
| | |
| --- | --- |
| Alligators are frequently spotted along the trail at Shark Valley, especially during the winter months. | |
Alligator attacks aside, Shark Valley can also be a place where nature lovers are able to fully appreciate the various nature trails throughout the park like the Bobcat walk, a one-quarter of a mile walk from the Visitor Center that loops through sawgrass prairie or the Otter Cave walk, a one mile round trip that enters a subtropical hardwood hammock.
One suggestion came from visitor Gordon Thomas, a traveler from Canada touring South Florida for the month.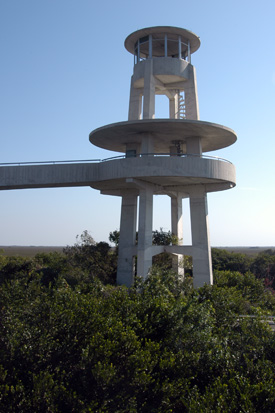 "It might be useful to put posts that have mile-markers so you know how far you actually are on the 15-mile trail," he said.
Park guides suggest that visitors who decide to ride the bike path or walk it, wear sunblock, take snacks and drink plenty of water.
"It must be nearly impossible during the summer, but if you're in somewhat okay shape it's doable, it's a great work out!" Thomas commented.
Workout or not, Shark Valley is a national park full of spectacular views of wildlife, where various species of birds roam freely and alligators are within feet away.
Standing by their rented Volkswagen sweating and gulping their water to refresh their parched throats on spring afternoon, Lokossou and Bagneres are off to Miami for a couple of days of relaxation after touring the Everglades, Shark Valley being there last stop.
"I hope that they take care of the park because it's a very special area" said Bagneres.
"It makes me wonder what this may have been like in its natural state."
If You Go
Shark Valley contact: 305-242-7700.
How to get there : From Interstate 95 in Miami, drive west on U.S. Highway 41 for 35 miles. The park entrance is on the south side of the road.
Entrance fee: $10 per vehicle
Hours of operation: 8:30 a.m. to 6 p.m.
Bicycling:
You can bring your own bicycle or you can rent a bicycle at the Visitor Center
All foot and bike traffic along trail must stop for trams
Bikes should start their ride on the west road
Visitors under 16 must wear a helmet while biking
| | |
| --- | --- |
| Birds feed in the shallow water along the bike trail at Shark Valley. | |