Robert is Here offers treats for visitors
FLORIDA CITY, Fla.—Though the face of Florida City has changed immensely since the 1960s, there's one landmark that has stayed the same.
Robert is Here is a family-owned fruit stand offering not only farm-fresh produce, but also an array of special activities.
Visitors from near and far can't help but stop when they see the old-fashioned cars, brightly colored produce and occasional live music on the side of the otherwise empty SW 344th Street.
The story behind Robert is Here is as unique as the venue itself.
In 1959, Robert Moehling's father sent him to the corner of what is now SW 344th Street and Tower Road to sell cucumbers, which had not been selling well at local markets.
"I sat here all day long and no body stopped," recalls Moehling. "My dad figured there has to be a reason why that many people didn't want to buy cucumbers. He came up with, 'maybe they didn't see the little guy out there.' I was just six [years old]."
| | | |
| --- | --- | --- |
| | | On weekends, visitors of Robert is Here can enjoy their fresh produce while listening to the sounds of live musical performances (Photo by Alex Fruin). |
The next day, Moehling's parents changed their strategy, creating a large sign that read "Robert is Here." That day, Moehling sold out of cucumbers in just a few hours and walked home.
From there, the family business took off.
"The next weekend, we put the sign up again and brought yellow squash from our farm. We did real well that Saturday, that Sunday– and then we kept on doing it on the weekends until Christmas Break."
Soon, the stand was open nearly every day of the week, selling the fresh produce grown on the farms around Florida City. In 1979, the family constructed the building that welcomes visitors today.
More than 50 years since the original fruit stand, Florida City and Homestead have changed a great deal. Moehling has been there all along to see the progression of the farm-town turned urban area.
"Homestead and Florida City have done exactly the same as the rest of the country. Not necessarily for good or bad. But you have to change. Nothing lasts forever. I like it old school, I like everything to last forever," Moehling said.
| | | |
| --- | --- | --- |
| Robert is Here offers produce, fresh from the farms of Florida City (Photo by Zongchao Li). | | |
That's why he tries to keep a little bit of the past in his business. Robert is Here offers fresh local produce, just like the old days.
"We grow them ourselves, we pack them ourselves, put them up, great pride and great amount of them everyday. We love the tropical fruit no one knows about. That's what we believe — we should really strive to wow people who come in."
Robert is Here closes after Labor Day and is closed throughout October, a decision Moehling made in part to the fact that he wanted to spend more time with his family. "When my oldest son was in high school, I realized I never really got to spend quality time [with my family]." Moehling and his crew spend those two months planting the crop for the following harvest, opening up shop again November 1.
The rest of the year, the market is open all day, every day—wowing people from both near and far away.
Tourist Linda Black came all the way from England with her family after hearing about it from a tour guide in Key West.
| | | |
| --- | --- | --- |
| At right, a large photo of the Moehling family greats visitors to the fruit stand. Robert and his family have been working from the same location since 1959. Next, the most popular item on the menu are the milkshakes, from simple flavors to tropical fruits. Last, the animal farm behind the fruit stand offers visitors the chance to see a variety of animals, including emu (Photos by Alex Fruin). | | |
"For our holiday this year, we traveled from Orlando to the Keys. On our way back to Miami, our guide told us we had to stop here. He said it was unlike anything we've ever seen. He was right!" she stated.
Though Black is a first-time visitor, according to Moehling, the weekends see a peppering of new and old customers.
"I've got regulars that are regular once a year and then, of course, new people every day, on their way to the national park. And they become regulars– hopefully, if we do a good job."
People heading to the Everglades or Biscayne National Park don't have to even enter the parks to see animals. Robert is Here has its very own animal farm, something that draws many families and regulars.
University of Miami student Julia Strasser originally found Robert is Here when looking for fresh produce, but she said the animal farm quickly became the most memorable part of her experience.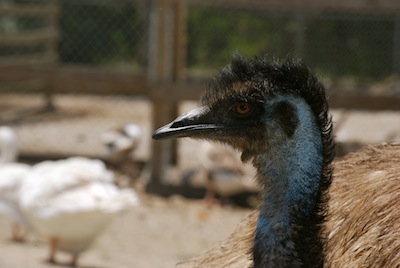 "Out in the back, they have the oddest assortment of animals I've ever seen. There are goats and chickens, which is typical for a farm. But there is also a scarlet macaw, some other colorful birds, a tortoise, an emu and bunnies — all together. It's a very interesting mix."
Interesting mixes seem to be all around Robert is Here—especially in the most popular product, the milkshakes, which offers unique flavors like "papaya strawberry key lime."
Student Sofia Montalvo heard about the unique milkshake mixes and knew she had to come give them a try.
"There aren't a lot of places like this with such amazing milkshakes," she said. Though Montalvo originally came for the milkshake, she said she knows she will head back to pick up fresh fruits and vegetables.
Moehling is grateful that he has his returning customers, especially after difficult seasons in recent years.
"We got our own tomatoes, our own corn, our own squash, peppers. We didn't have to import from anywhere. And that sure makes it much better — it's back to old times. This year was really a pleasure compared to last year," he said.
Through the hardships of hurricanes, frost and other natural disasters, Moehling has been able to rely on the help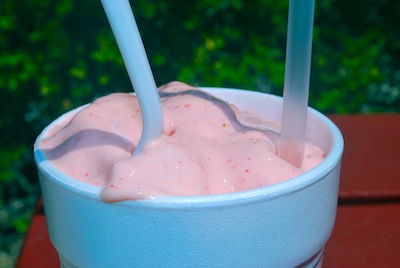 of his family, who helps run the business. Moehling's wife, Tracey, and four children, Brandon, Victoria, Robert, and Savannah, assist inside the store along with his two daughters-in-law who help with office work, like human resources and payroll.
"It's a great challenge to have your children right beside you," said Moehling. "I've got four grandchildren, they're in here every day."
Working weekends and holidays in rain or shine, the Moehling family all have the same goal in mind.
"Yeah, we've got to make money. It's like going to Las Vegas every day I wake up because I'm gambling all of the time. 'How much am I going to put out? How much am I going to bring in?' But what's valuable to me is educating them and others, putting this out for people to learn about. When we go home at night, we know we tried our best."
If You Go
Location: Robert is Here, 19200 SW 344th St., Florida City, FL 33034.
Phone: 305-246-1592.
Web site: http://www.robertishere.com
Directions: From the north: Take Florida's Turnpike South to the end, turn right on 344th Street and continue about two miles until you see the fruit stand on the left at the four-way-stop. From the south: Take U.S. 1 north until you reach SW 344th Street in Florida City, turn left on SW 344th Street and continue a couple miles until you see the fruit stand on the left at the four-way stop.
Hours: 8 a.m. to 7 p.m. daily including holidays. Closed in September and October.
Parking: Lots of free parking in front and side. Bike racks.
Restrooms: Located on premises.
Disabled Access: Handicap accessible.
Produce: Available produce varies, depending on season. Canned goods are $4.95 to $7.95. Key lime products: $3.95-$7.95.