Miccosukees offer different food experience
SHARK VALLEY, Fla. — Cruising down U.S. 41, Tamiami Trail with the windows down and music blasting gets my adrenalin pumping as my friend Christa Sacco and I pass airboat ride sign after sign for miles.
We have entered the swampland of the Everglades and are getting ready for an adventure that goes beyond alligator hunting, because the real thrill is within our taste buds.
We walk in to the Miccosukee Restaurant located at the head of the Miccosukee Indian Village (what's left of the diminishing Floridia tribe) across from the Shark Valley entrance to Everglades National Park.
| | | |
| --- | --- | --- |
| Click on the video at right to view an audio slide show about Miccosukee foods photographed and narrated by writer Carly Ehrlich. | |   |
Our heads are held high as we prepare ourselves for unfamiliar cuisine that our pallets have not yet encountered.
"Let's chow down Native American style," says Christa.
"I'm ready to munch on some reptiles," I reply.
The menu has regular (American) food that I immediately skipped over as my eyes scanned for something more striking.
| | | |
| --- | --- | --- |
| At right, the Miccosukee Indian Restaurant gives tourists a taste of the Everglades. Next, the Combination 3 consists of frog legs, alligator bites, hush puppies and fry bread. Next, the Indian taco, an Everglades delicacy. Last, a selection of hot sauces for sale and the cornmeal drink, the sofkee (Photos by Carly Ehrlich). | | |
That's when I came across the Miccosukee platter, priced at $24. It comes with catfish, frog legs, hush puppies, alligator bites and fry bread with a side of coleslaw and fries.
"This is a meal fit for an Indian chief," I say with a laugh.
I decide not to gorge myself with food and go with the next best dish, nearly $15 cheaper. Sampler three comes as a miniature version of the Miccosukee platter, minus the catfish, fries and slaw. I even ordered the sofkee to wash it all down.
The sofkee is unusual, but by far the closest true Native American dish/beverage on the menu. It comes lukewarm and reminds me of flavorless cornmeal. It didn't taste so bad, but I was perplexed, unable to decide if I wanted to put a ton of sugar in it, or some salt and pepper to add flavor.
It could have gone either way, so I slide it over to Christa to see what she thinks.
Christa takes a gulp.
"Nothing quenches your thirst like grits," Christa says wiping her mouth clean, paralleling it to hot-cereal.
Surprisingly, the tour group that shared the outside patio with us seemed to have all ordered chicken fingers, hamburgers and salads.
Here is a chance for people to scarf down creatures from the water flowing beside them and the fact that they go for a typical every-day meal boggles my mind.
I ask the server, Ryouma Oide, if what I ordered was a big leap from what people normally eat here, wondering if my appetite is out of the ordinary.
"Everyday people come to eat Everglades' food, just not so many people today," Oide replies. "My favorite is the alligator bites."
When the food finally comes out, I'm sitting in front of a plate of fried critters. For some reason I was expecting the food to be grilled and glazed over with a sweet sauce, but oblivious me, did not check out the bright red billboard at the front that displays the enlarged fried dishes.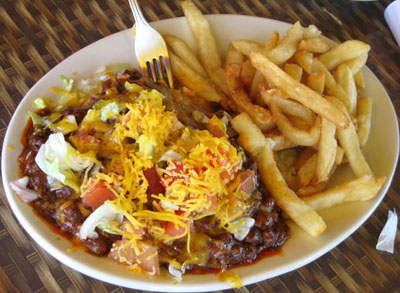 I haven't consumed this much cholesterol in one sitting for months, but it is well worth it since everything on the plate is completely new to me.
Oide was right; the alligator bites are the best out of the bunch, definitely has more flavor than the frog legs that tasted identical to chicken.
Christa seems to have enjoyed her Indian taco that looked like a mountain of chili on top of a loaf of fry bread and fries, because by the time I look over it was devoured.
"I'm going tell them to give me an Indian name and hire me," she says eager to eat Indian tacos daily.
By the time we finish the birds are already circling the trees overhead ready to nibble on our scraps. I start to throw left over fry bread at them, but then noticed a warning sign.
"Warning: wild alligators do not feed or entice," the sign tells visitors.
The friendly staff greeted us farewell and told us to come again.
"Next time try the Indian burger, it comes with ground beef on fry bread," said waitress Susana Malendez. "It's what I eat all the time."

We headed back to Miami on a full stomach, but the trip was not entirely over.
I had to make a detour at Gator Park to purchase some of its favorite hot sauce and take an airport tour before I called it a day.
If You Go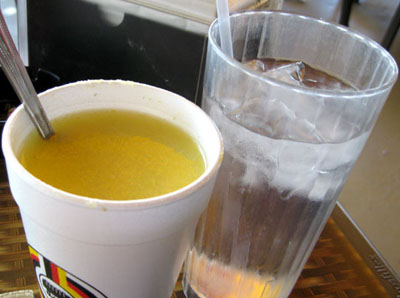 What: Miccosukee Indian Restaurant.
Why: Delicious Everglades and Native American cuisine (frog legs, catfish, alligator bites, sofkee, Indian taco, Indian burger and more).
Where: US 41, Everglades National Park, FL (outside the Miccosukee Indian Village and across from the Shark Valley entrance).
Phone: 305-223-8380, ext. 2374.
Average price: $10.
Hours: Open for breakfast and lunch only.
What: Gator Park
Why: Airboat tours, wild life shows and special gourmet hot sauce
Where: 24050 SW 8th St., Miami, FL 33194.
Phone: (305) 559-2255.
Price: Adults $22 Children $11 (includes park admission, airboat ride tour and wildlife show)
Hours: Mondays to Sundays, 9 a.m to 5 p.m (Last wildlife show 4:30 p.m. and last airboat departure 5 p.m.)