For city gal, guy: Why visit Shark Valley?
SHARK VALLEY, Fla. — Growing up in the city takes a toll on people. It's harder to change the routine and disconnect from the fast-paced lifestyle.
In fact, it's almost impossible to see beyond the concrete jungle and appreciate the beauty of the state of Florida.
South Florida is a playground for many, where the rich take out all of their luxury toys but also where the adventures come to explore. Just miles away from the beach lay a stunning national park that houses millions of animals like the Everglades.
| | |
| --- | --- |
| | At left, halfway along the Shark Valley Loop Road is the Observation Tower. Below, Shark Valley scenery from the Loop Road (Photos by Valerie Lopez). |
The Everglades National Park is the 10th largest park in the United States with an area of 2,357 square miles. Shark Valley is a small section of the park with a 15-mile loop road. Almost half way through the road there is a tower that has a nice view of the area.
There are a plenty of things to do in the valley since the cars are no longer allowed beyond the parking area. Travelers can take a look at the visitor's center, which is a good idea to start with. They will have access to any park ranger or volunteer and can also take a look at the small museum.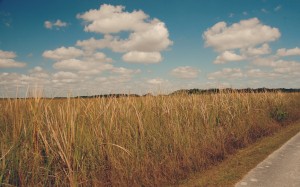 Chris Littlejohn, a park ranger, explained how important it is to be guided in order to have a satisfactory visit to the Everglades.
"The Everglades is not for everyone, especially if they have expectations, we are here to help people choose the experience that suits their needs, some like to walk, others like to bike and others just want to take the Tram," said Littlejohn.
If visitors don't want to take some time at the visitor center, they can access the Shark Valley website and decide for themselves.
They can also choose to disconnect from their busy schedules by taking a walk on the Bobcat Walk Trail, which is a short trail of a quarter mile through the grasses and an island called Bay-Head, or explore the Otter Cave that is about a mile round trip a wanders through the Hardwood Hammock island.
Rosario Arboleda, 50, has been visiting with her husband Nicolas for the past five years.
"Our favorite is the Otter Cave because we can walk at our own pace and enjoy the view. A big plus is that under the trees is not so hot," she said.
| | |
| --- | --- |
| | At left, a trail at Shark Valley. Below, a ticket for the park. |
One of the most popular options is to take the two-hour guided tour of the Valley on a large open sided Tram. Littlejohn suggested this is the best option for first time visitors since they might overlook important information of the area. If you are afraid of wildlife animals like alligators, is also best to take the tour, he advised. However, a big concern about this option is that the tram fills up quickly and it costs $23 per adult.
Jessica Infante, 24, had mixed feeling about the tram tour.
"I appreciated all of the information and knowledge shared by Park Ranger Chris, but I wasn't thrilled that the tram stopped on every bird," she stated.
Apart from walking and taking the tram, Shark Valley's most famous activity is taking the paved bike trail. This is the most attractive option for the city gals and guys since it highly encourages staying fit. The route offers 15 miles of a quiet and enjoyable trip through the valley.
Visitors can bring their own bicycles or rent one at the park, which is not recommended if they plan to do the three-hour loop because the bikes are $9 per hour and you have to get started around 2 p.m. to finish before the park closes.
For Monica Rojas, Shark Valley is a paradise.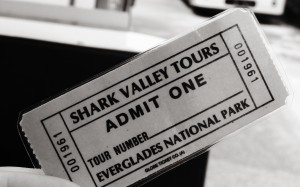 "We try to come to Shark Valley once a year after summer because it's a beautiful place to bike and appreciate nature."
Her husband, Javier Rojas, said he feels the same way. However their 14-year-old daughter Jocelyn Rojas would rather stay at home or play with her iPad.
"I don't like coming here, there is nothing to do and too hot, I rather be in the AC but my parents make me come," she explained.
Regardless of what the visitors choose, Shark Valley is a beautiful place to take a step back from their busy schedules, relax and appreciate the beauty of South Florida.
If You Go
Shark Valley
Shark Valley Loop Road, U.S. 41, west of Miami, Fla. 33194
Phone: 305-221-8455
Email: info@sharkvalleytramtours.com
IMPORTANT for bicycling: Take water, insect repellent, sunblock and helmet
Park hours: Daily, 8:30 a.m. to 5 p.m.
Entrance fee: $10 per vehicle
Bike rental fee: $9 per hour; operating hours: 8:30 a.m. to 4 p.m.
Tram tour fee: Adults $23, seniors (62+) $19, children (3-12 years old) $12.50; departures: May through Dec. 19, 9:30 a.m., 11 a.m., 2 p.m., 4 p.m.; Dec. 20 through April, 9 a.m., 10 a.m., 11 a.m., 12 p.m., 1 p.m., 2 p.m., 3 p.m., 4 p.m.