Flamingo Marina offers boaters paradise
FLAMINGO, Fla.— Louise Tuggle and Joe Beal truly live up to the saying of loving what they do.
Though they work at Flamingo Marina on a daily basis, they are constantly looking for an opportunity to go out on one of the houseboats and escape from the rush of life.
They take any opportunity they can to venture out on the houseboats and other boats that the marina offers. Beal recalled a trip last week where he took a boat out and dolphins just swam right alongside the boat.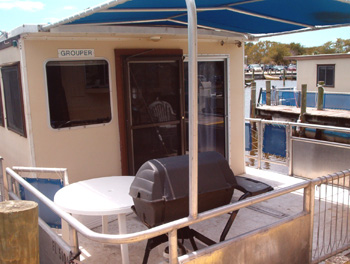 Houseboats offer ample deck space (Photo by Jennifer Webb).
The Everglades is more than just a swamp that is home to the alligators, it is a place that truly captures the way Florida used to look.
It is a national park created for its inhabitants and biology, not its scenery.
The Flamingo Lodge Marina offers fishing, canoeing, kayaking, boating and sailing. Some choose to bring their own boats or rent a houseboat to explore nature and fish, while others go on one of the many narrated boat tours.
The boat tours offered at the marina provide visitors an opportunity to see the backcountry of the Everglades or the Florida Bay open water, which is also part of the Everglades National Park.
"Lots of people think it's an adventure. It's a get-away for families, newly weds and lots of fisherman," Louise Tuggle, in charge of reservations at Flamingo, said.
Flamingo has a total of six houseboats available to rent in the fleet. Two are the newer models that were introduced to the fleet in October, but the other four offer many of the same amenities.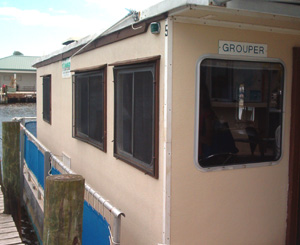 A houseboat at the Marina (Photo by Jennifer Webb).
"Don't let the old ones spook you; they are well suited for what people do. They like to go out fishing on those boats," Manny Lee, marina manager, said.
Both houseboats are 40 feet long boats with a stove and refrigerator. They also offer a full bathroom and shower with shampoo, soap and towels.
The new boats sleep six people, while the older boats sleep eight. All the beds come with a full set of sheets and pillows.
"The only thing you'll need is food, fishing poles and your own drink," Joe Beal, the houseboat supervisor, said.
The new boats are catamaran style cruisers opposed to the older pontoon houseboats. The new boats are also lighter and faster with air conditioning.
"The older ones the fishermen like just to sleep," Beal said.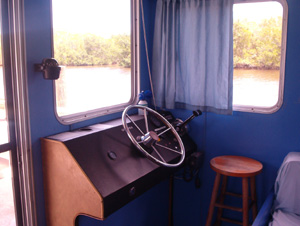 The controls of a houseboat (Photo by Jennifer Webb).
"Lots of people go out for peace and quiet, but it's not for everyone. This is not civilization. This is the edge of civilization. It's pretty neat!" Tuggle said.
Lee says their busiest season is October through April with summertime being their slowest season due to the heat.
During the summer they do maintenance on the boats, but they still meet the demand.
"We want to sell out everyday and we do mostly," Lee said.
The houseboats should be reserved as soon as possible, often up to a year in advance. People must rent a houseboat for a minimum of two nights, but most people usually go out on the boats for three to 10 nights.
Since the houseboats are easy to drive and only reach a maximum speed of eight knots, any adult can rent the houseboats or canoes even without any previous experience navigating a boat.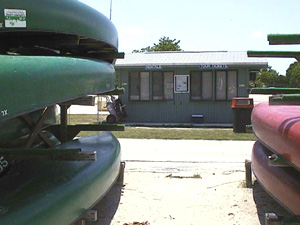 Rental canoes are available at the marina (Staff photo).
"They're credit card captains. All you need is a credit card. They put you through a really good shakedown and explain the houseboat," Lee said.
People venture into the Everglades for a variety of reasons. The majority of the visitors are European and Americans of all ages. Many come to see the amazing wildlife while others come for the seclusion.
"You'll see anything from birds, crocodiles, and even manatees will come up," Beal said.
Whether one is renting one of the eight skiffs, a kayak or a canoe, they must still follow the same rules that all boats in the area must follow. One can bring their own boat as well, but each vehicle entering the park must pay a boat launch fee.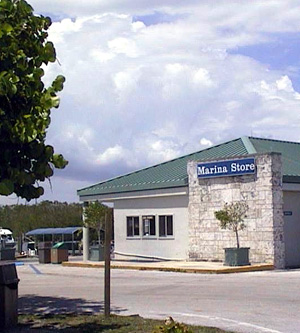 The Flamingo Marina Store offers food as well as camping, boating and and fishing supplies (Staff photo).
The Flamingo Marina is open year-round and can accommodate more than 50 boats with electric and water hookups. The boat ramps are located at Flamingo and boat fuel is available for sale.
"This is the best section of the whole park," Beal said.
There are a few areas closed to boats, but these represent less than one percent of the total park area. All motors are prohibited on all freshwater lakes.
The propeller damage to sea grass beds in all bodies of water in the Everglades is harmful to marine life, so boaters must be extremely careful when navigating in shallow waters.
Water skis and personal watercraft, like knee boards and jet skis, are prohibited as well to avoid disturbing the manatees, crocodiles and nesting birds.
The boaters must also be observant of manatee caution areas and reduce their speeds when they see these signs.
The insects seem to make the Everglades their home as well, but no signs are necessary to warn of their presence, and a little bug repellant can cure the annoyance. Flamingo Lodge and Marina is a place where everyone can come to relax and connect with nature.
The boats offer a get-away like no other, where one can surround themselves with the tranquility of nature in a serene environment void of distractions.