Canoe tour shows best of Everglades
FLAMINGO, Fla. – Weekly downpours, migrating birds, and an assortment of insects deters some visitors from the Everglades.
The month of April marks the start of South Florida's wet season, when the Everglades comes to life and ranger-led tours and activities are put on hold. The events calendar is reduced to a few half-hour ranger talks and prospective visitors are left with the task of taking initiative.
After the frustrating discovery that I could not join a ranger-led canoe tour, I wondered why. How could this expansive national park simply hibernate until October?
| | | |
| --- | --- | --- |
| At right, park staff will help lower the canoes, sized for families and doubles, into the canal at the Flamingo Visitor Center (Photos by Elena Schmidt). Next,  the Flamingo Visitor Center area. | | |
The answer lies partially in the sparse viewing of wildlife, but mostly in the blood-thirsty mosquitoes that thrive during South Florida's hottest months according to every ranger with whom I spoke.
I wondered if it was all just an exaggeration. Could the mosquitoes really be that bad? I wondered if an eager self-starter could have just as much fun on a self-guided canoe trail, with a little insect repellant, of course.
So I did my research and discovered that canoe rentals and opportunities are limited to the Flamingo Visitor Center and Gulf Coast Visitor Center. I discovered that the most popular canoe trails within the park are Mud Lake, Bear Lake, Hell's Bay, 9 Mile Pond, Noble Lake and 99-Mile Wilderness Waterway.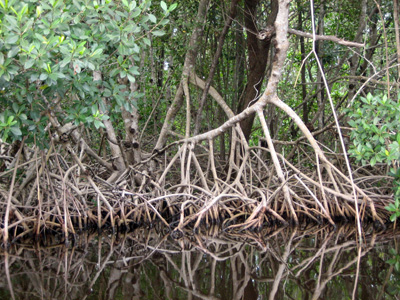 Naturally I was drawn to Hell's Bay, "hell to get into, hell to get out," they say but I noticed that it was nine miles from the Visitor Center. I wondered how I would rent a canoe from the marina store and the Visitor Center and bring it back to Hell's Bay entrance.
I found out after a call to the Visitor Center, that I simply could not canoe through Hell's Bay unless I found a private company close to the entrance or purchased my own canoe.
While frustrated with the discovery, I did more research and discovered Bear Lake Trail was popular, good for beginners, filled with trees and birds and accessible from Buttonwood Canal within the Flamingo Visitor Center.
I set off on a Sunday with my canoeing partner, Miguel Rodriguez, to Florida City. Directions on the Web site instruct visitors to the Ernest Coe Visitor Center and simply say to follow signs for another 38 miles to Flamingo. These elusive signs are few and far between, but the key is to stay on State Road 9336. After a few wrong turns and almost two hours of driving, we arrived.
As the sun was shining and clouds were few, I forgot for a while about the supposed discomforts of wet season. I entered the Visitor Center to talk to a ranger about how to get to Bear Lake trail when I noticed a red stamped, "closed" sign over the trail on the map. The trail is impassable since 2005, and the access point from the canal is simply inaccessible.
| | | |
| --- | --- | --- |
| At right, the hourly boat tour at Flamingo that is available throughout the year from Buttonwood Canal to Coot Bay. Next, the dock, which is the only stopping point along the trail, connects to the Bear Lake hiking trail. Next, the entrance to Mud Lake. Last, a vulture sits on a sign advising visitors not to use motors in the area. | | |
"The key to canoeing down here and canoeing in general is to be completely flexible because conditions change really often," said Park Ranger Joyce Little.
When I asked about my options, Little said I could explore Florida Bay, but she did not recommend it due to wind conditions. She then recommended canoeing up Buttonwood Canal, which led to Coot Bay, which connected to Mud Lake or to drive back to Nine Mile Pond, located 11 miles from the Visitor Center.
You could pay at the marina store where they will give you keys to unlock a canoe at Nine Mile Pond, said Little.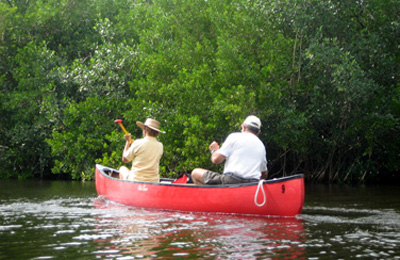 I decided on the second option and thus Plan C was in motion.  I took my flexible self and pushed on. Miguel and I arrived at the marina store just before noon, rented a canoe for two and dropped down in the canal.
Comfortably armed with hats, long pants, a snack and drink cooler, and bug spray, I wondered what all the mosquito hype was about.
As canoe beginners, we progressed slowly and arrived at the only stopping point along the canal in about an hour. We ate, explored the hiking trail, and continued on, passing an alligator and watching swallow tailed kites, northern cardinals passing overhead.
After another hour of paddling we arrived at Coot Bay, a much wider version of the canal.  We wandered along the mangroves looking for Mud Lake Trail. We peered into every inlet hoping it was the entrance while we watched our four-hour time limit approach.
"Do you think we should turn back?" I said. "We're going to be late."
Miguel thought we should keep looking, and I agreed. We stopped next to a fishing boat and asked for directions. Keep left, just a little bit further, the fisherman told us.
The entrance to the trail was just as elusive as the signs to the Everglades. We paddled past the sign that instructed "no motors beyond this point," and finally entered the trail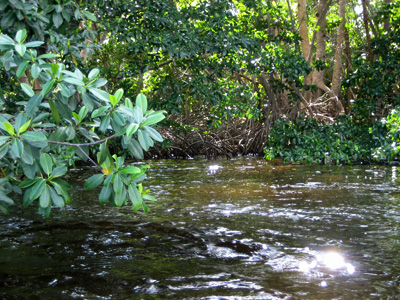 The thick canopy, narrow path and hanging branches felt like success until reality bit.
At about 100 in, both Miguel and I regretted taking our shirts off as mosquitoes, horse flies and spiders swarmed the canoe.
I reached for my sweater in a panic as Miguel complained of bites. We decided instantaneously to turn back and leave the scenic trail behind.
After playing bumper-canoe in the narrow path for a while, we finally made it out, alive and nearly bite-less.
At that point I finally understood. The heat is bearable, but the bugs are not, and no amount of repellant can fix that.
We headed back through Coot Bay to Buttonwood Canal and arrived an hour past deadline with no consequence. We were burnt, parched and hungry, but accomplished.
As we headed for home, I refused to feel defeated by the bugs. In open water such as canals, bays and ponds, insects are barely noticeable and the trip is worth it.
A canoe trip to the Everglades during wet season is not just possible, it is also enjoyable. Just do a little research and take Little's advice.
Come prepared, but without expectation.
If You Go:
Directions: Travel toward the Ernest Coe Visitor Center, Homestead, Fla., 40001 State Road, 9336 Homestead, FL 33034-6733. Continue for 38 miles to the Flamingo Visitor Center.
Marina Store:
Mondays – Fridays: 7 a.m. – 7 p.m., Saturdays – Sundays: 6 a.m. – 7 p.m., Phone: 239-695-3101
Canoe Rentals:
Double (up to three passengers): Two hours: $16, Four hours: $22, Eight hours: $32, 24 hours: $40.
Family (Up to four passengers): Two hours: $20, Four hours: $30, Eight hours: $ 40, 24 hours: $50.
Private Rentals: Everglades International Hostel and Tours
Address: 20 SW 2nd Ave., Florida City, Fla. 33034.
Phone: 305-248-1122.
Cost: $80 – $100.