Restoration aids, preserves Fort Jefferson
DRY TORTUGAS, Fla.— The Dry Tortugas National Park is one of America's most remote locations, located 70 miles off the coast of Key West.
It is a relatively small national park, covering about 100 square miles, only 40 of which are above water. Despite the Dry Tortugas' isolation and small size, it is a highly relevant national park with some huge conservation dilemmas.
Dry Tortugas National Park Exhibits Specialist Kelly Clark believes that the fight for the Dry Tortugas is a worthy one.
| | | |
| --- | --- | --- |
|  Click to see a video about the restoration efforts at Fort Jefferson in Dry Tortugas National Park narrated by writer Nina Markowitz. | |   |
"With the uniqueness of the location and the unbelievable natural resources, to me it's a real jewel within the park service," Clark said. "Once it's gone, it's not coming back."
The 60 miles of water protected since the 1992 charter establishing the Dry Tortugas as a national park are home to some 200 sunken ships. They are visited regularly and documented. Their locations have been kept secret by park rangers, with the exception of two.
"We map them, and we monitor them," Clark said. "It's information that doesn't need to get out to the public for fear of losing our underwater resources. We preserve as much as possible."
| | | |
| --- | --- | --- |
| | | At left, a restored Totten shutter (Photo courtesy of National Park Service). Below, an archive photo showing how canons used to be positioned at the 146 embrasures (Photo courtesy of  National Park Service). Next, the facade, showing the wear  (Photo by Nina Markowitz). Next, the moat (Photo by Nina Markowitz). Fort Jefferson from the ferry (Photo by Nina Markowitz). |
In 1985, treasure hunter Mel Fisher discovered the Nuestra Señora de Atocha and Santa Margarita, two lost ships dating back from the 1600s sunken right outside park boundaries. The treasure, while still being recovered, has been estimated at $450 million. In efforts to preserve and protect the Dry Tortugas, metal detectors are prohibited in the park.
The Dry Tortugas islands and their surrounding waters are a hotbed for sunken ships due to their strategic location between the Atlantic Ocean and Gulf of Mexico. Here, strong hurricanes are no match for wooden ships.
Aside from underwater conservation efforts by park officials, there is plenty above ground as well that requires constant care.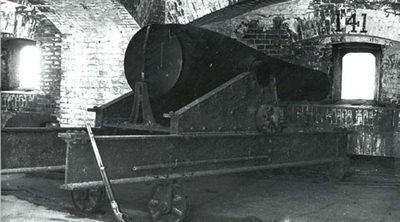 Green Garden Key, oneof the seven islands that make up the Dry Tortugas, is home to Fort Jefferson. Construction on Fort Jefferson began in 1846 and continued for some 30 years thereafter but was never completed. The six-sided fort features walls eight feet thick and 45 feet high.
"Fort Jefferson is the largest brick masonry structure in the hemisphere," said Rebecca D'Alessio, a Dry Tortugas tour guide. "It has over 16 million bricks."
Fort Jefferson is ravaged by the salt, wind, heat, hurricane weather and sonic booms from military aircraft that fly nearby. This means that the fort is deteriorating, and fast.
"Many other fortifications have had preservation work or have been modified extensively," Clark said. "Fort Jefferson has had very little changes."
After Hurricane Katrina passed near the park in 2005, a National Parks damage report was issued detailing 500 square feet of brickwork loosened from the fort and fell crashing into the surrounding moat waters. The moat itself was damaged as well.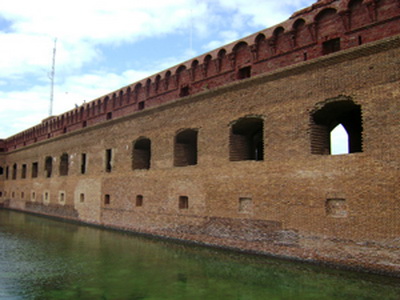 The most imminent threat facing Fort Jefferson is the iron inlays, especially those of the Totten shutters on each of the 146 embrasures on the lower half of the fort.
As the iron rusts, it expands. Expanding within the brick, it is causing cracks in the fort which have lead to instability and chunks falling off altogether.
"If you look from one side to the other, you can see it is uneven," D'Alessio said. Settlement throughout the fort has been occurring since the initial construction period.
Enola Contracting Inc., based in Chipley, Fla., has been saddled with the task of running a three-phase restoration of Fort Jefferson. The efforts total $18 million.
The current phase, Phase II, costs around $8 million. This has been partially funded by the American Recovery and Reinvestment Act. Phase II includes cast wrong iron removal, repointing, brick replacement and installation of replicated Totten shutter components. Phase II is due to be finished by 2010.
The Totten shutters were designed to close the opening of the embrasures, or windows the cannons fire out of, in order to protect those inside from incoming fire. Now, each Totten shutter must be carefully stripped of iron and replaced with elements that are both historically accurate yet non-corrosive.
"We have to use coral elements, which we sift out of the sand," Clark said of the new historically accurate materials used.
The project is not without its problems, however. The original mortar used on the fort was mixed in a labor-intensive process that used local sand and natural cement. It was a struggle for engineers to recreate a mortar of the same formula in order to maintain historical accuracy.
Clark said the current cement mix used is a mix of local sand, coral and a natural cement mix. She attributes the difficulty in recreating the cement to the removal of natural cements from the modern market.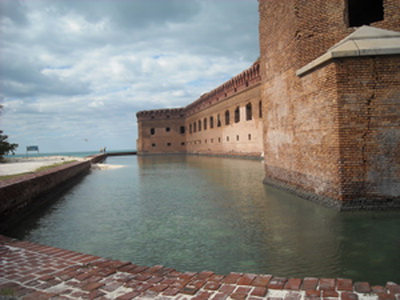 "A modified mortar was originally recommended in earlier phases of work, and in some cases Portland cement was used," Clark said. "We now have access to natural cement and are currently installing a mortar mix that we feel is historically accurate and will be compatible with the existing material in physical properties."
A task of the Joseph Gnazzo Company Inc., a Connecticut-based restoration firm contracted by Enola for Phase II, is to collect fallen bricks from the moat surrounding Fort Jefferson. These bricks are then cleaned and recycled, when possible.
"This is not about laying brick, this is about moving brick," said Michael Gnazzo, the Fort Jefferson Project Manager, in a video documenting his work at the fort. "This is a real challenge."
The isolation of the Dry Tortugas may add awe to the very existence of Fort Jefferson, but it also makes for some serious implications when it comes to restoration. There is no phone or Internet connection available on the island for the construction crew. They must also provide their own electricity.
"Key West is 70 miles that way with only blue water between us," Gnazzo said. "It's not like we can just run out to Home Depot or the local hardware store while we're here." Both D'Alessio and Clark agree that the Dry Tortugas' isolated located in what makes it both a challenge and wonder.
"The Dry Tortugas are extremely remote, and you have to have a very strong mindset to live with the daily challenges of living out there. Nothing comes easy," Clark said, who splits her time living between Key West and Fort Jefferson.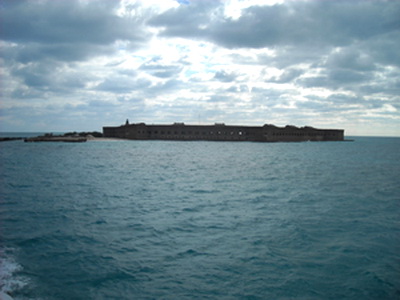 "I enjoy the isolation of the Dry Tortugas," D'Alessio said. "I leave reality behind me everyday when I go to work."
Phase III of Fort Jefferson's restoration will leave Fort Jefferson generally stable as by its completion all six sides would have been restored. However, there is not enough funding for Phase III and plans have not yet been put into action as a result.
"My hopes are that we get the sufficient funds to stabilize front three," Clark said. "That is our last big hurdle. Then we can keep the fort standing for another hundred years or more."
Despite the many challenges facing the Dry Tortugas National Park, restoration is underway and preservation continues. The park staff, whom call the isolated island their home, dedicate themselves fully to the national park decree of protecting, stabilizing, restoring and interpreting the Dry Tortugas for now and generations to come.
"We are now the stewards of this place," Gnazzo said. "It's an honor and a privilege, but it's also a big responsibility."
If You Want to Help…
Volunteer: Spend two to four weeks working alongside park rangers in the Dry Tortugas. Volunteers must be able to lift and work in heat and humidity.
Donate: Donate to the South Florida National Parks Trust, and specify that the money is for Fort Jefferson Preservation, Phase III.
Contact: Reach out to local congressmen and senators to advocate the importance of preserving Fort Jefferson.
Check out http://www.nps.gov/drto/supportyourpark/ for more information.