Fort Jefferson has link to Lincoln death
DRY TORTUGAS, Fla. — Seventy miles west of Key West, in the middle of the pristine sapphire and emerald waters of the Gulf of Mexico, stands a landmark of American history of which many people are unaware.
Fort Jefferson, located on one of the seven islands that make up the Dry Tortugas National Park, was built to control the coastline and to protect the trade route from the Mississippi River onto the Atlantic.
| | | |
| --- | --- | --- |
| At right, the entrance to Fort Jefferson (Photos by Laurie Charles). Next, Fort Jefferson seen from a distance, is one of the main features of the Dry Tortugas National Park. It was built to control the Mississippi River / Atlantic Ocean trade route. | | |
"It's one of the least-visited national parks," said Rebecca D'Alessil, a tour guide of the Yankee Freedom, the only ferry that makes daily two-hour trips from Key West to the Dry Tortugas.
Although Fort Jefferson, the third-largest seacoast fortification built by the United States, was used as a way to intimidate possible attackers, the fort was used as a Union military prison during the Civil War.
"If you abandoned the Union Army, you were supposed to be sentenced to death," D'Alessil said.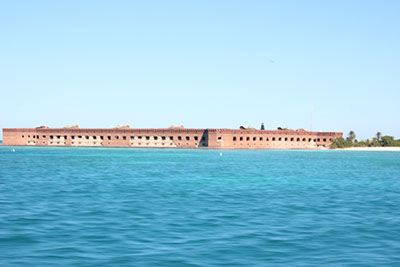 "But President Lincoln decided to go easy on everybody and he sent the soldiers to a life of hard labor in the Tortugas. We have all these bricks to put together. Who better to do it than the prisoners? That's where they ended up."
Although the prisoners helped build the fort, it had already been under construction for nearly 20 years by the time they started arriving on the island.
"A Union army of engineers, some slaves from Key West, and garrisons, soldiers that were stationed here, had started the construction of the fort," said Kelly Clark, exhibit specialist for the Dry Tortugas National Park.
"It was part of their job. The prisoners just picked it up where it was."
Most of the prisoners who ended up serving time at Fort Jefferson were sent there for either abandonment of the Union army or disobedience.
The prisoners had to work long hours under the hot and humid South Florida sun to construct the 16 million brick fort which was never completed due to structural issues and the growth of the U.S. Navy.
Of the hundreds of prisoners who served time at the fort, the most notable inmate of Fort Jefferson was Dr. Samuel Mudd, the physician who treated the broken leg of John Wilkes Booth not long after he assassinated Abraham Lincoln.
Mudd claimed that he did not recognize Booth when he came to his farm in the early morning hours of April 15, 1865, asking for medical attention. However, he had had several encounters with Booth prior to the assassination.
| | | |
| --- | --- | --- |
| | | At left and next below, Dr. Samuel Mudd's prison cell is said to have been located here. It has been speculated that Mudd's dungeon was once located in what now is the administrative office of Fort Jefferson. Guide Rebecca D'Alessil said that when Mudd attempted to escape the island, he was captured and thrown into the dungeon, which was replicated and moved to its current location. |
"Unfortunately for him [Mudd], he was a Confederate loyalist and they [Mudd and Booth] were seen before in the same social gatherings," D'Alessil said.
Mudd's first encounter with Booth took place less than one year prior to Lincoln's assassination during a discussion regarding the sale of a horse.
The second meeting occurred about one month later with John Surratt and Louis Weichmann, who would later become key witnesses, when the four convened for drinks in a hotel room rented by Booth.
Gen. August Kautz, one of the members of the Military Commission, was recorded to have said, "Dr. Mudd attracted much interest and his guilt as an active conspirator was not clearly made out. His main guilt was the fact that he failed to deliver them, that is, Booth and Herold [Booth's accomplice], to their pursuers."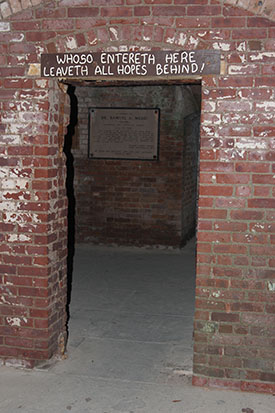 Yet he was not the only prisoner at Fort Jefferson involved in the assassination of the 16th president of the United States—three other conspirators were also sentenced to life on the fort: Michael O'Laughlen, Samuel Arnold and Edman Spangler.
"The other people were in some way connected with the conspiracy to assassinate the president," said Clark.
O'Laughlen and Arnold were both accused of plotting Lincoln's death alongside Booth.
Spangler, another of Booth's accomplices, worked as a carpenter and sceneshifter at the Ford Theater. The day of the assassination, he prepared the state box where Lincoln would sit; he reportedly removed the partition that separated both boxes.
When Booth arrived at the theater, he called for Spangler to watch over his horse; Spangler quickly brushed off the duty to another Ford
Theater employee who agreed to keep an eye on the mare.
After the shooting took place, another employee chased Booth out of the theater, but Spangler reportedly slapped him in the face and said, "Don't say which way he went."
The four men, including Mudd, were charged with conspiracy and sentenced to life in prison.
"The first thing he [Mudd] tried to do was escape on the mail supply ship," D'Alessil said. "That was an unsuccessful escape attempt because he was a very recognizable person. He was captured and thrown into the dungeon."
The hexagonal, three-tiered fort centered by lush greenery and enclosed by crystal-clear water appears to be a fairly open space for a prison.
"When people think of a prison on an island they think of high security like Alcatraz. It wasn't like that here. It was an open setting," D'Alessil said.
"If they did try to escape, which they did do on a regular basis, how far were they really gonna get? Either Key West or Cuba before they either get lost at sea or collected and brought back to the fort. That happened a lot."
Apparently Mudd was not the only prisoner who attempted to escape. Myth has it that a prisoner tied to a ball and chain escaped the fort.
For those who were recaptured, D'Alessil said that they were either beaten, hung from a tree by their thumbs, or forced to walk around the fort with a cannon ball.
In the summer of 1867, the island was hit by a yellow fever epidemic. After the fort's physician died, Mudd took on the role of doctor and treated those affected by the sickness.
| | | |
| --- | --- | --- |
| Click on the video at the right to view an audio slideshow about Fort Jefferson and Dr. Samuel Mudd that is narrated by writer Laurie Charles. | | |
O'Laughlen was one of the patients Mudd treated. However, he was not able to recover and died.
Mudd's leadership role gained him the support of the officers and soldiers of the island in a petition to the federal government. In 1869, President Andrew Johnson signed the petition and pardoned Mudd of his convictions.
After the fort closed in 1875, the rest of the prisoners were released. Clark said that there are no specifics on how they handled the prisoners after the war ended.
Visitor Matt Hyphills was fascinated by the history of Fort Jefferson.
"The fort was really interesting," said Hyphills, a Chicago resident who was visiting the Dry Tortugas with his wife Sarah. "To hear how they solved the problems of their time and have enough foresee was fascinating."
Tourist Bob Wheelock from Michigan was intrigued by the structural design of the fort.
"The fact that it could be built how it was during its time and just thinking of the architecture and logistics," Wheelock said about his favorite aspect of the park.
If You Go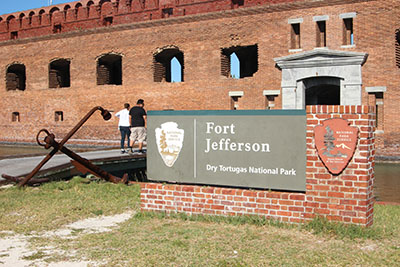 Dry Tortugas National Park
305-242-1100
http://nps.gov/drto
Entrance fee: $5
Although Fort Jefferson, located on Garden Key, is the most popular attraction of the Dry Tortugas, there are other small islands to explore as well.
Hours of Operation
Garden Key is open year-round, 24 hours a day; Fort Jefferson is open from sunrise to sunset.
Loggerhead Key is open year-round from sunrise to sunset, but all of the island's facilities including Loggerhead Lighthouse are closed to the public.
Bush Key is open Oct. 15 – Jan. 15 from sunrise to sunset. Middle and East Keys are open Oct. 16 – March 31 from sunrise to sunset.
Hospital Key and Long Key are close year-round; visitors should remain 100-feet offshore of all closed islands.
Getting There
Since the Dry Tortugas National Park is located in the middle of the Gulf of Mexico, there are only two ways to get to the park—either by boat or by seaplane.
The Yankee Freedom departs daily at 8 a.m. Reservations are required at least two hours prior to departure and can be made online.
The cost is $165 for adults, $155 for students, veterans, and for seniors of at least 62, and $120 for children ages four – 16. The $5 park entrance fee is included in the pricing, as well as on board breakfast and lunch, snorkeling gear, and a 40-minute tour of the fort.
For more information, contact the Yankee Freedom at 800-624-0939 or visit http://yankeefreedom.com.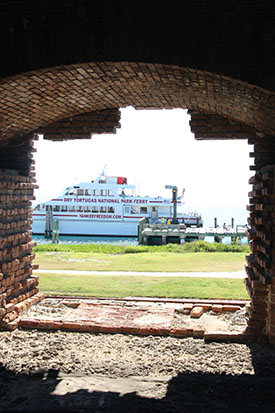 Key West Sea Plane Adventures offers two options. The half-day excursion, a four-hour experience, costs $265 for adults, $212 for children 12 and under, and free for children under two.
The full-day excursion, and eight hour adventure, costs $465 for adults, $380 for children 12 and under, and free for children under two.
For more information, contact Key West Sea Plane Adventures at 305-293-9300 or visit http://keywestplanecharters.com.
Travelers can also get to the Dry Torutugas via private boat or charter. For more information, visit http://nps.gov/drto/planyouvisit/directions.
Facilities and Food
Since the fort was built in 1846, facilities are limited. There are no restrooms on the island neither are there any cafeterias or restaurants.
Those traveling on board the Yankee Freedom are provided with a continental breakfast and buffet-style sandwich bar for lunch. The Yankee Freedom also sells snacks and beverages, including alcoholic drinks. Travelers are allowed to bring their own food as well.
The Yankee Freedom is equipped with several restrooms.
Those traveling via Key West Sea Plane Adventures are provided with complementary beverages, but must bring their own food.
Activities
There are plenty of activities at the Dry Tortugas including snorkeling, scuba diving, bird watching, fishing, exploring the fort and camping. For more information on what to do at the park, visit http://www.nps.gov/drto/planyourvisit/outdooractivities.
Camping (information provided by the National Park Service)
A 10-site, primitive campground is located on Garden Key. Eight individual sites can each accommodate up to three two-person tents (a total of six people), and are available on a first-come, first-served basis.
Campsites have picnic tables and grills. Campers must bring all supplies, including fresh water, fuel, ice and food. All trash and garbage must be carried out upon departure.
The campground requires a nightly fee of $3 per person. For more information, visit http://www.nps.gov/drto/planyourvisit/camping.