Volunteers help officials count bay's fish
KEY BISCAYNE, Fla.— It might seem daunting, but every year at Biscayne National Park a group of divers come together to count and catalogue the park's various species of fish in an event called the Great Annual Fish Count.
About 25 people participate in the event, which is held every July. A team of professional divers lead and instruct a group of volunteers, teaching them about fish monitoring and the importance of preserving marine life.
"You don't have to be an expert; that's for sure. If you know what you're looking at it can make it a lot more fun. Is that a bush or soft coral? Is that pretty blue fish a blue corona or a parrotfish?" said Max Tritt, a biological science technician at Biscayne who helps organize the Fish Count. "But by no means are the vast majority of people who do it experts. Most have little or no experience."
| | |
| --- | --- |
| | A Great Annual Fish Count participant catalogs fish species using a waterproof fish identification card and writing slate (Photo courtesy of Lad Adkins). |
When Gonzalo Bueno signed up for the Fish Count, he came armed with some diving experience and a love for the environment but little knowledge in the way of fish.
"At the beginning it was difficult; I didn't know what I was doing," he said. "But you get inspired by the scientists who are really passionate about it and tell you about how much they enjoy knowing that they can make a difference by keeping track of diversity."
The Great Annual Fish Count is coordinated by the Reef Environmental Education Foundation (REEF), an organization working to promote volunteer fish monitoring throughout North America.
"We really need to know what fish are found where and in what numbers. That's a bit of a daunting task. If we relied on government scientists only, there wouldn't be enough scientists to go around and do that work. And the cost makes it expensive," said Lad Adkins, director of special projects for REEF. "It also provides a non governmental data source because other people can be skeptical of government provided studies. By having volunteers with no bias collecting the information, it provides an independent verification."
On the morning of the Fish Count, REEF employees host a seminar for volunteers introducing them to reef fish identification and survey methods. After lunch, the team is loaded on to a boat at the park's Dante Fascell Visitor Center to start the Count.
When the group arrives at Biscayne's reefs, the divers and snorkelers plunge into the park's clear blue water to swim around in search of pourgies, grunts, grouper and other fish that make their homes in the area.
To keep track of the fish, REEF provides participants with a waterproof color identification card of common fish in the southeastern Atlantic, as well as an underwater writing slate with an attached pencil.
"Every time I looked at a fish I was second guessing myself. Is that what I think it is? I was frantically jotting down descriptions and so I could try and go look up what fish it was afterwards," said Kira Mazzi, who participated in the Fish Count as an intern with Biscayne National Park.
For Bueno, learning to write underwater proved more challenging than counting fish. "It's different to write underwater because it's constantly moving. The motion of the sea moves you up and down and depending on how strong the current is you can actually get dizzy trying to focus your sight," he said.
Since it's nearly impossible to count fish individually, REEF has participants count groups of fish, writing down "few" for a group of two to nine fish and "many" for a group of 10 to 99 fish, for example.
REEF assigns each participant an experience level based on expertise so the organization can then rank the reliability of the participants' observations, Adkins said.
| | |
| --- | --- |
| A group of Great Annual Fish Count participants pose at the Dante Fascell Visitor Center at Biscayne National Park (Photo courtesy of Lad Adkins). | |
Though this year's count took place several months ago, the data collected are utilized by the park throughout the year. Numbers of fish are entered into a database and made available to researchers, resource managers and policy makers who can use them to make more informed decisions about protecting marine life.
"We rely on this dataset to tell us what's in the park so as to help better manage it," said Tritt. Currently, he's using the data in the development of a fishers' management plan, he said.
What's more, the Fish Count helps give insight into the strength of fish populations in Biscayne National Park.
"The Great Annual Fish Count helps you understand which species are going to be endangered by looking at drops in numbers. People just think that the ocean is so big and fish are so abundant. Reality is not as good as everyone thinks," Bueno said.
It's the reason Tritt hopes people will continue to participate in the Great Annual Fish Count.
"Education for the masses is the most important," he said. "The educational aspect is for someone in the water to have a better appreciation for it and maybe take better care of it."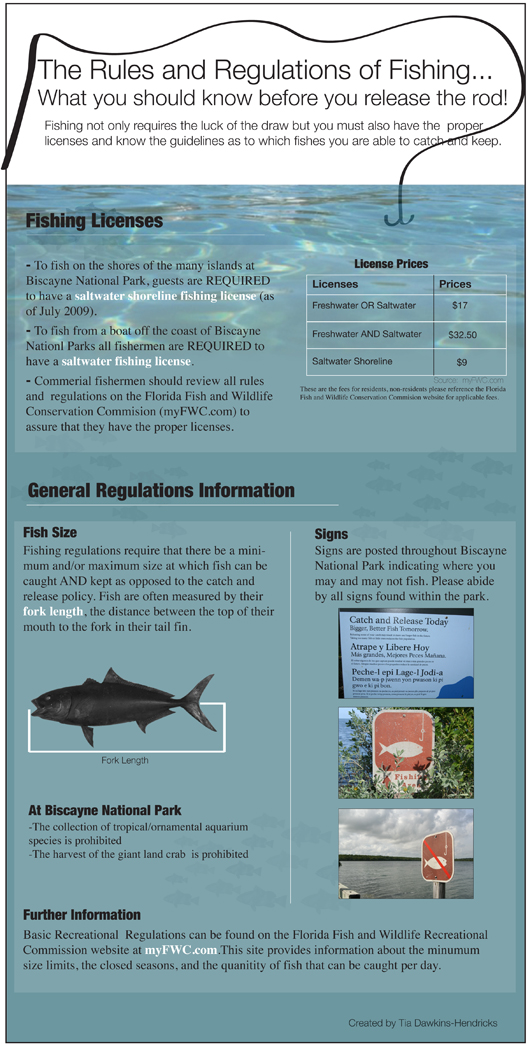 Information graphic created by Tia Dawkins-Hendricks. 
Want to Volunteer?
The 2009 Biscayne National Park Fish Count will take place in early July. No diving experience is required to volunteer.
Participants must register by contacting Biscayne's concessionaire at 305-230-1100 to reserve a place on the boat. Space is limited to 30 participants.
The two-tank dive trip is $65 per diver (tanks and weights included) and $38 for snorkelers (mask, fins, and snorkel included). A REEF survey kit is available for $10. All other gear must be provided by the participant or rented. Call the park's concessionaire to reserve rental gear as quantities are limited.
The pre-departure seminar and boat departure will take place at the park's Dante Fascell Visitor Center, located at 9700 SW 328 Street, nine miles east of Homestead and adjacent to Homestead Bayfront County Park and Marina.
For additional information, contact Max Tritt at 305-230-1144, ext. 3091 or visit http://www.fishcount.org and http://www.nps.gov/bisc.