Kids experience fun at Biscayne Park
HOMESTEAD, Fla.— The sound of children's laughter fills the cool coastal breezes and the sweet smell of barbeque drifts back and forth like the nearby current.
"Run along, the food isn't ready just yet," said Lesmes Tablada to a dozen children staring at him with anticipation as he cooked.
Tablada, a parks enthusiast from Miami, gathered with family and friends to celebrate daughter Mara's eighth birthday. They sat on picnic tables adorned with yellow and red balloons facing an awe-inspiring view of the Atlantic Ocean.
| | |
| --- | --- |
| | Bay views, fishing, the marine life and the lure of the open water access at Biscayne National Park often draw visitors (Photos by Ali Bustamante). |
Biscayne National Park is blessed with an abundance of the things that remind us of childhood memories.
"I remember when my parents used to bring me here almost 25 years ago," said Tablada. "The park wasn't as developed as it is now and I'm happy my kids have more opportunities to enjoy themselves."
Whether it's the familial experience of celebratory picnics, fishing, or learning about a new world as a family; the park offers an all encompassing destination for families and children.
With a backdrop of a seemingly endless sea the Dante Fascell Visitor Center is the information center for all that the park has to offer.
The Visitor Center boasts interactive exhibits about the park's history as well as its ecological importance. Displays include specimens of bizarre looking sea life and plants as well as educational videos of underwater expeditions.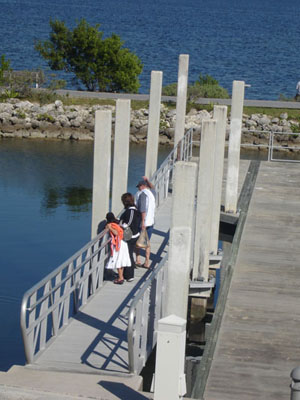 Beyond the displays is the Family Fun Fest offered the second Sunday of each month from January through May.
Within three hours. Children and their families are exposed to hands on activities such as arts and crafts, ecological hunts and water activities.
If you're not shy towards South Florida's steamy temperatures the park's shallow mangrove shoreline allows a simple way to introduce kids to canoeing and several fishing locations are also located around the park.
South Florida National Parks contain a Junior Ranger program that outlines a list of required activities that once completed earn children a badge.
Once all the activities are completed, a child would have three badges as well as a commemorative patch provided by the park.
"I'm amazed at the presence of children at the park sometimes," said Edward Bodish, crewman of a glass bottom boat tour offered at the park. "Over the years I've really noticed that more and more families are interested in the park."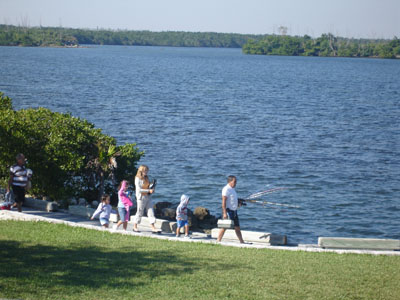 The Convoy Point marina located in the park is yet another attraction for families who like to experience the ocean side of the park.
Many families with children have also been known to delve into water sports such as canoeing, kayaking and wind surfing.
The park offers ranger guided field trips as well as self guided excursions. The programs run year round but are dependent on weather conditions. Whether it's a group of 10 or 100 the park has backpacks filled with lessons written to Sunshine State Standards for students in grades four through eight. The lessons encompass indoor and outdoor activities that are both hands on and educational.
Beyond the lessons, Convoy Point is an ideal destination for children's recreation.
Whether the field trip is for wildlife viewing or field use, the park is ready with several picnic tables and bathroom facilities.
Teachers can also arrange students to spend three days in the park's Biscayne Expedition environmental science camp.
Located on Elliott Key, students are able to learn about the environment in laboratories and tours of the bay.
The camp is available between January and April. Not all services and activities may be available at the park because the art exhibits and ocean life displays at the Visitor's Center are often traveling exhibits so it's best to plan your trip in advance.
If You Go
Address: 9700 SW 328 St., Homestead, Fla. 33033.
Hours: Dante Fascell Visitor Center – daily 9 a.m. to 5 p.m.
Telephone: 305-230-7275
Web: http://www.nps.gov/bisc.