Park program launched for birders
HOMESTEAD, Fla. – For any South Floridian interested in birding, Biscayne National Park has just the thing. With the help of the Tropical Audubon Society, the park recently launched the Biscayne Birding Trail.
The program encourages both veteran birders and rookies to bird-watch while earning certificates for the list of species they compile. The Birding Trail – which opened Sept. 23, 2013 – is free for participants. Birders can drive to Black Point jetty or Convoy Point, or they can even take their own boat – a canoe, kayak or motorboat. Once they've arrived, visitors walk around and bird.
| | | |
| --- | --- | --- |
| | | Prairie warblers can be found at Biscayne National Park during any season (Photo courtesy of Judd Patterson). |
"It's a unique experience for a park that is normally known for its marine resources," said Elsa Alvear, Biscayne's chief of resource management. "It's not as well-known how important a migratory stopover the park habitats are, or how beautiful and diverse our avian population of the park is, or how easy it is to get a bird list started."
Participants can kayak along the mangrove shoreline, reach the park islands by boat, or go offshore if they have a bigger boat. Several birds – including pelicans, wading birds, double-breasted cormorants and magnificent frigate birds – can be seen all year long. However, others like warblers and birds of prey are typically seen during the spring and fall migrations. Some species, like ruddy turnstones and ring-billed gulls, overwinter at BNP.
In total, there are 30 birds that are often seen around Convoy Point and Black Point during the winter, which is the park's "high land-visitor season." In addition to these species, the park's list reaches 200 birds.
Although the program runs all year, the spring and fall migrations are "a great time to see the diversity of bird species," according to Alvear. "… And winter is a beautiful time to walk around the islands."
| | | |
| --- | --- | --- |
| At right, the double-crested cormorant can also be found around the shores of Biscayne National Park. Beelow brown pelicans can be found in Biscayne National Park's list of more than 200 bird species. (Photos courtesy of Judd Patterson), | | |
During the summer, visitors can enjoy the reef lights – Fowey Rocks Light and Pacific Reef Light – on the sea to see the brown boobies; the water tends to be rougher during the rest of the year. Birds also breed during the summer, so participants can hear them sing, making it easier to find them.
Although the program welcomes new birders, there are several participants who have been birding for a while and know the area quite well.
"During the winter, I check the bay area of BNP pretty consistently," said Roberto Torres, who has been birding for almost 15 years. " … I even walked the Black Point jetty one afternoon as a hurricane approached and saw hundreds of soot terns, a species typically only seen far offshore, before I was chased away by the oncoming squalls with 60 mph winds."
Torres assisted Alvear by giving his input on the structure of the program, including the levels for each certificate and which species to use for each level. The program rewards participants with lifetime achievement certificates, starting at 25 birds at the double-crested cormorant level to 120 birds at the mangrove cuckoo level.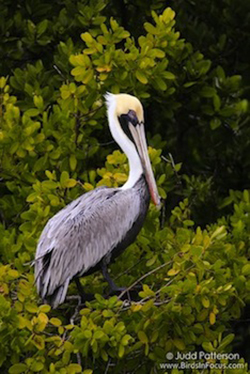 Visitors who identify at least 50 bird species within the park in a calendar year receive annual achievement certificates as well. Participants who are 18 or younger can earn a junior birder certificate by identifying at least 10 species at BNP.
Torres also added to the list of birds documented within the BNP boundaries. He said the number of species he found when he helped put the list together surprised him.
An avid birder, Torres supports the program's goals to attract experienced as well as amateur birders.
"It encourages people to get out and bird regardless of experience, and provides an acknowledgement for their efforts in the form of certificates," he said. "This also helps promote the biodiversity of the park, which could be easily overlooked if someone isn't focusing on the birdlife."
The program is free to all participants and runs all year. The majority of the park is only accessible by boat, so planning visits ahead of time should ease the process. Most of the park is also open 24 hours a day.
"We live in an important migratory stopover and this is a fascinating biological phenomena every spring and fall when the trees and shorelines come alive with a wide variety of birds," Alvear said. "Before I became a birder, I was oblivious to what was happening, and now I feel more connected with nature."
To learn more about the program, visit http://nps.gov/bisc/planyourvisit/biscayne-birding-trail.htm. For birding tips and ethics, visit http://nps.gov/bisc/naturescience/birding.htm. For more information, e-mail Elsa Alvear at elsa_alvear@nps.gov.