Park battles litter in trying to protect bay
Encompassing an area of 95 percent water, Biscayne National Park is the "biggest marine national park in the country," says park ranger Gary Bremen.
The National Park Service defines it as a park that  "protects a rare combination of aquamarine waters, emerald islands, and fish-bejeweled coral reefs."
Established in 1980, the park's priimary role is to protect precious marine life. The 42 staff members who help run and protect Biscayne National Park are the main offense for park protection and there is one clear opponent the park faces daily… litter.
| | | |
| --- | --- | --- |
| A large dumpster provided for use by visitors near the Fascell Visitor Center at Biscayne National Park (Photos by Gretchen Schroeder). | | |
It is clear in areas of the park that visitors are prone to hastily dispose of trash in open areas. Gum wrappers and cigarette butts line the bridge that takes visitors to popular fishing locations. At these fishing locations, unused gear and plastic bags are left on the land and not discarded.
"A majority of the litter problem in Biscayne comes from individuals not doing their part," said Grace Crispell, a weekend park volunteer.  "Sometimes people don't seem to care. A lot of the litter comes from the parking lot next to the visitor's center."
Visitors getting ready to go into the park leave their trash by their cars, not thinking much of it.  But this trash gets blown into the park and scattered over the land.
However, it's not just trash on land that affects the park. As Biscayne is mostly water, trash thrown overboard by fisherman not only disturbs the water, but washes up on land.
"I wish fisherman would take better care of the park.  So much stuff gets thrown overboard, and we have no control over it," Crispell said.
| | | |
| --- | --- | --- |
| | | Trash discarded by fisherman often comes ashore with the tides and winds, tangling in mangroves or pushing onto shore. |
Though litter is a challenge, there are many major efforts to prevent it. One of the most popular initiatives by residents near the park is a countywide clean up day known as "Baynanza", sponsored by Miami-Dade County.
This year, the highlight of Baynanza will be the Biscayne Bay Cleanup Day, on Saturday, April 20.  Volunteers can sign up to specifically clean up Biscayne Bay and its surroundings, eliminating trash in the national park. Baynanza is also open to boaters who can travel further distances to find disbris.
Executive Director of the South Florida National Parks Trust, Don Finefrock, says his organization helps sponsor other programs for Biscayne, such as an Alternative Spring Break program for students looking to help volunteer for a good cause.
"We send the kids out to the turtle beaches right before nesting season to clean the shore," said Finefrock. "That way, the turtles can avoid trash and debris and successfully nest."
| | | |
| --- | --- | --- |
| At right, trash cans and recycle bins are located by popular fishing areas, available for personal trash disposal. Below, a cigarette butt is jammed into a space on a boardwalk bridge. | | |
This Alternative Spring Break initiative has been in place for more than five years and Finefrock says, "it's just enough to protect the turtles."
The South Florida National Parks Trust also helps sponsor smaller efforts by hiring volunteer program coordinators.
"We hire people to help coordinate groups like Girl Scouts and churches to come to the park for clean up," Finefrock said. "Trash always comes back, but the smaller initiatives do help. Connection with the community creates impact."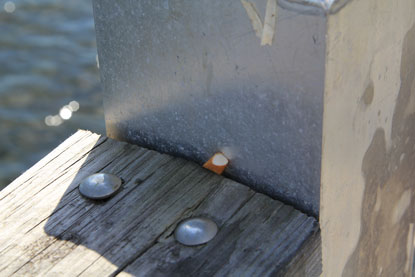 Research done by Keep America Beautiful, Inc. (KAB) shows that nearly 85 percent of all littering in America is a result of personal attitudes.
Thus, by changing individual attitudes and behavior in the park, Biscayne has been able to cut down on the amount of waste in Biscayne.
University of Miami student Gabriela Varley, a park visitor, talked about her personal experience at Biscayne.
"I went kayaking, had lunch on the water, drank a Gatorade, and had some fruit. I wrapped all of my trash in a bag and made sure when I got back I threw it away. I wasn't going to just leave trash in the kayak or the water."
Varley also discussed how impressed she was with Biscayne National Park and Biscayne Bay.
"There was hardly any litter. I didn't notice anything," said Varley.
However, Varley said she noticed a few things on Biscayne's cleaning efforts.
"There were huge, metallic, sturdy recycling and trash bins. I feel like that would help people be more inclined to recycle or at least clean up after themselves."
Though litter is a daily struggle, Biscayne is tackling it with confidence.
| | | |
| --- | --- | --- |
| | | Pink silly string left on a tree in the walkway of a picnic area following a party at the Fascell Visitor Center. |
"The maintenance workers here do a really great job," said Crispell. "They get out there any make sure the park gets clean."
Despite the litter problem that plagues all national parks, Biscayne is doing their part to make an impact on visitors.
"This was my first time at Biscayne, at it was really nice," said Varley. "I don't think I've been to a public place that's been so clean before.  I really enjoyed myself."