Fascell Visitor Center offers education
HOMESTEAD, Fla.— "Let's play a guessing game," said Park Ranger Susan Paishon, as a couple of curious tourists enthusiastically inquired about a set of bones that lie on the center console of the Dante Fascell Visitor Center in Biscayne Bay National Park.
This particular exhibition featured the beak of an Atlantic bottlenose dolphin and a set of manatee ribs— two animals whose lives were cut short due to the trash and debris that is constantly found in Florida's waters.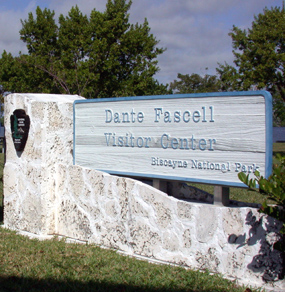 At the entrance of the Visitor Center (Photo by Bruce Garrison).
This is the type of information you'll receive at the Visitor Center.
The people who run this center are called "park rangers" and not just anybody is qualified for this job.
"There is a lot of competition for the job," said Paishon.
"We have a lot of knowledge about the area because we give tours and run programs that require our interpretation."
This is what sets apart the Visitor Center at Biscayne National Park from the others. Not only does it provide tourists with general information about the park, but it is also equipped to answer questions anyone may have from mangroves and manatees to pirates and pioneers.
Before stepping upon the second floor porch that reminds you of an old log cabin, you can already make out the beaming faces of the park rangers who seem so happy to see you. This is what makes the Visitor Center worthwhile.
"I love it here!" exclaimed Paishon, as she adjusted her stone gray uniform, revealing only a small portion of her badge.
| | |
| --- | --- |
| | Visitors enjoy the view of Biscayne Bay from the second floor porch of the Visitor Center (Staff photos). |
"It's a sin to think I get paid to do this job," she said.
Susan Paishon has been working at the park since 1989. She has learned the meaning of multitasking as she answers the phones, answers questions visitors may have about the park and gives directions.
Whether you decide to walk right into the Visitor Center and ask the park rangers about any of the park's history or decide to participate in what is known as a "porch talk and walk" that takes place on Tuesdays, Thursdays, Saturdays and Sundays at 2:30 p.m., you are most likely guaranteed an answer.
| | |
| --- | --- |
| | The Dante Fascell Visitor Center. |
This is exactly what happened as a couple from California walked into the center after finding a leaf.
"We were just walking around the park and came across a leaf that looks familiar to ones we have back home," said visitor Ron Pierson.

The park's Fascell Visitor Center.
"We just picked it up and decided to come in here and see if anyone knew anything about it," continued his wife, Barbara.
The Visitor Center itself is overflowing with information. As you make your way past the park rangers' desk you'll find a colorful array of children's and adult's books and pamphlets about birds, fish and plants. You can spend hours in front of this library immersed in the beautiful pictures.
If you don't leave the center with one of these books, you'll definitely leave with new knowledge. And this is exactly what appeals to teachers who plan field trips for their students to the park.
| | |
| --- | --- |
| | Biscayne National Park picnic facilities. |
"We have a special camping trip designed for fifth and sixth graders," said Park Ranger Maria Beotegui.
"It's kind of like a teacher-student workshop set on Elliot Key for two nights and three days," she continued.
Last December, students from grades 6 to 12 participated in a photography workshop in which they documented their trip to the coral reefs. About 30 of these photographs were donated to the park and were featured in the first student exhibition center in the Visitor Center Gallery.
But if camping is not what you or your kids are looking for, all you have to do is to walk further into the heart of the Visitor Center and you'll find yourself in a dimly lit exhibition room.
Colors like red, green, purple, orange and blue are splashed across the walls and make up the colors of the animals, plants and waterways that make up the history of the room.
"This is my first time in Biscayne National Park," said Julio Ortiz, as he guided his four-year old son across the room.
"I've learned a lot about Florida just by walking through this room," he continued. The expression on his son's face was of pure amazement.
| | |
| --- | --- |
| | One of the Biscayne Bay coral reef tour-dive boats waits for passengers at the Visitor Center. |
As you make your way around the exhibition room you are bombarded by so many beautiful images and so much information, you don't know where to look first.
You can start at the outer reefs exhibit, then make your way towards the mangroves and Florida Keys and finish by learning about human history and farmers and pirates.
Once you've made your first round through this room, don't think the journey is over just yet. Directly outside this exhibition the Visitor Center is currently showcasing the paintings of an artist named Paul Hampton Crockett.
Along the walls of the room are Crockett's pictures featuring images of the water and the sky. His showcase, "A Celebration in Color of Florida's Rare Beauty," is perfectly in line with the Visitor Center's main objection— to educate visitors about Florida's hidden treasures and beauties.
The Dante Fascell Visitor Center is a hidden treasure itself.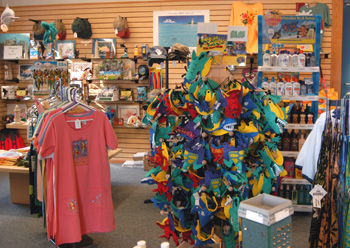 Visitor Center gift store (top) and bookstore.
Biscayne National Park was established in 1968 as a national monument and, although the park brings in about 500,000 visitors a year, most people don't know they are visiting a national park, let alone those who don't even know the park exists.
"A lot of locals don't know this is here," said Beotegui. She has worked at the park for a year and a half.
"People get it confused with Key Biscayne. We are located on the southern portion of Biscayne Bay," Beotegui stated.
The rangers at Biscayne National Park want to make sure more people find out about the park. They do this by posting a monthly activities calendar on their web site which you can visit by going to http://www.nps.gov/bisc and clicking on "Events Calendar."
They encourage people to come out and take a glassbottom boat trip to view the coral reefs and explore the northernmost Florida Keys. Fees are $24.95 for adults, $19.45 for seniors and $16.45 for kids under 12, plus tax.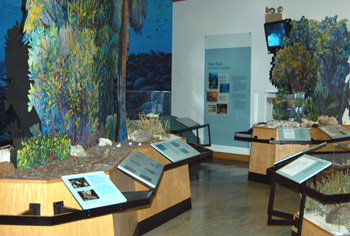 The Visitor Center exhibits area.
"We want people to see what we have here. This park was designed for boat trips and snorkeling," said Paishon. "We have the largest coral reef!" she exclaimed.
Boat trips also include a day of snorkeling and scuba diving.
They also make cleaning up the park fun and take classes on scavenger hunts. The rangers do not tolerate debris and littering.
The park rangers' positive attitudes and knowledge about the park is what makes the Dante Fascell Visitor Center a gem in the rough.
If You Go
All activities are centered around the Dante Fascell Visitor Center:
The Visitor Center is located at 9700 SW 328 St., Homestead, Fla. It is nine miles east of Homestead, and easily reached off the Florida Turnpike Extension. Watch for the park signs along the highway. For more information, call 305-230-7275, http://www.nps.gov/bisc.
Hours of operation: the park grounds are open from 7 a.m. to 5:30 p.m. seven days a week.
Activities include glass bottom boat trips, snorkeling trips, scuba diving trips and ranger presentations.
Reservations are required for the boat trips. Call 305-230-1100 for schedule and reservations.
All boat trips are subject to weather conditions, canoe rentals are available for $9 per hour, kayak rentals are available for $16 per hour.
Camping grounds, accessible only by boat, are located at Boca Chita and Elliot keys.
Restrooms are located on both campgrounds.
Bring your own food.
Individual campsite fees are $10 per night and group site fees are $25 per night.
Prepare for insects, especially in the summer months!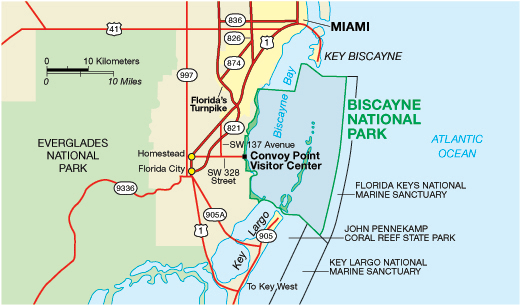 Map courtesy of the National Park Service.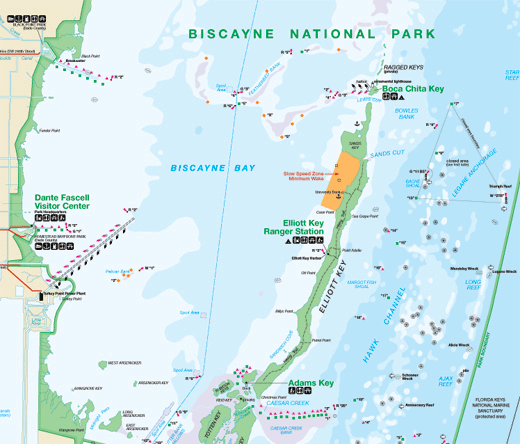 Map courtesy of the National Park Service.