Visitors discover water, coral wonderland
HOMESTEAD, Fla.— "I was just driving by with my boyfriend and we saw it, so we decided to stop," said South Florida visitor Elise Ramirez. "No plans; just taking a look." Ramirez, like many others, stumbled upon this park and decided to explore. Others plan trips throughout the year to visit this water wonderland.
Miles of trees, grass and peaceful nothingness is what you will see on the drive through Homestead heading towards Biscayne National Park. Something provides an instant feeling of welcome upon arriving at Biscayne.
Perhaps it is the cheery blue and white sign, the sea of "swimming fish" on the stone walls, or the people picnicking outside of the Dante Fascell Visitor Center.
| | |
| --- | --- |
| | National Park Service motorboats at the Biscayne National Park Visitor Center marina wait to be put into service (Photo by Dara D'Onofrio). |
Visiting a park can be much like taking any other vacation. Planning is key. Since 95 percent of this park is under water, it is important to either have a boat or access to one. Visitors can make reservations to take one of the boat tours offered by the park. This is the best way to truly experience the world's third-largest coral reef and all of the fascinating marine wildlife that consider Biscayne their home.
While Biscayne National Park is open year round, the best time to take boat trips of any kind is between the months of January and April. These months provide the ideal weather and conditions for boating. By boat, you can access the protected waters in the park, as well as the Florida Keys. Boating requires even more precaution and care than boating elsewhere. In order to protect you, your fellow boaters and the precious resources, certain safety regulations must be enforced.
"The No. 1 thing that people should be aware of is that you can rent a vessel, whether it be a power or sail boat, but you definitely need to know what you are doing," said Jorge Acevedo, who has been a National Park Service ranger for eight years. "Biscayne is a very shallow body of water."
It is important to always comply with the speed zones and watch water depth. Running aground is a major cause of damage to the coral reef at Biscayne. This can easily be avoided by having a nautical chart for the area you are visiting and being aware of the tide predictions.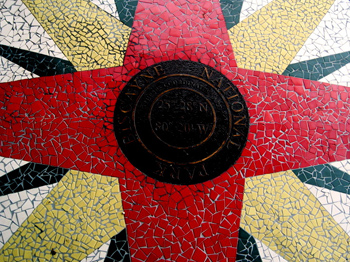 The Weather Channel and most local news channels provide listings of high and low tides daily. The National Park Service website also offers a helpful tide predictions chart.
The shallow shoreline at Biscayne National Park is the perfect setting for canoeing and kayaking. These shorelines are adorned with mangroves, and the creeks and lagoons are the place to see marine life including sponges, spiny lobsters, upside-down jellies and schools of colorful fish.
Perhaps the best part about these small creeks is that they are too narrow and shallow for motorized boats to fit through. This leaves them as a sanctuary for fans of kayaking.
"I usually leave every Friday and try to explore something new, because I kayak," said Maria Ott, who is originally from Venezuela but resides in Boca Raton. "We have tried to come here a few times, but we haven't been able to kayak yet," she adds eagerly.
Every day from 9 a.m. to 3 p.m., visitors are able to rent canoes. Because they must be returned by 4 p.m., it is best to leave the park's Convoy Point in the morning. This enables one to have a full day of exploration.
Prices of $12 an hour for canoes and $16 an hour for kayaks are fairly reasonable, considering there is no fee for simply entering the park. People with their own kayaks can set sail from the Fascell Visitor Center for no charge.
If a visitor is less experienced with these activities, they can sign up for a guided canoe trip. They last three hours and are offered between January and April, the most popular months for park visitation. If one is lucky, they may even see an American crocodile or a manatee, also known by many animal enthusiasts as a "sea cow."
Another popular guided trip is the Glass Bottom Boat tour, which lasts from 10 a.m. to 1 p.m. daily. This three-hour tour gives visitors a chance to see dolphins, sea turtles, and a plethora of colorful, reef fish. The Glass Bottom Boat is a favorite among guests, because it is the ideal way to see the reef for those not experienced with diving. It must be noted that prior reservations are needed. Unless the park has at least eight people who are interested in taking the trip on the same day, they will not run this tour. It would be wise to call ahead to avoid any confusion.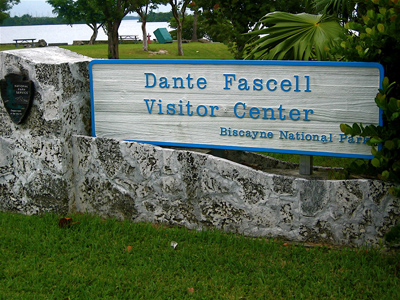 If you are a certified diver, count yourself lucky. Diving gives a glimpse into the secret underwater world that those in boats can only imagine. The weekends are the designated diving days. Diving provides opportunities to see the outer reefs, patch reefs or enjoy a mini-wall dive.
Biscayne National Park boasts two beautiful campgrounds, both of which must be accessed by boat. Boca Chita Key is the smaller of the two islands. It is also the most popular, regardless of the fact that it provides less amenities to visitors.
On Elliott Key, the larger island, one can find picnic tables, grills, cold-water showers and sinks, and also drinking water. This island is seven miles long and has two trails for campers to enjoy and explore.
There is a $10 or $15 fee for using the camping grounds, depending on whether or not you need to keep your boat in the harbor. Private boats are able to get to these islands all year round. If one is in need of boat transportation, they can get a ride for free during the winter and spring seasons. Rides are provided by the park's concessionaire.
Jorge Acevedo, a park ranger, explained that one of the things that make Biscayne National Park so special is that it allows for a year-round camping season. This is something that would be unheard of for other national parks that weather blustery conditions in the winter months.
Before jetting off to enjoy some camping fun with your family, be sure to fill out a free parking permit at the visitor's center. This is very important, because cars that are left in the main parking lot without a permit after 6 p.m. are violating park regulations.
If you are pressed for time or have difficulty getting out on a boat, no need to fret. There are also several land and indoor activities.
Every year between the months of January and April, Biscayne carries on a tradition called Family Fun Fest. It occurs on the second Sunday of every month. Each month the park coordinators concentrate on explaining a different aspect of the park's resources. They do this through a series of fun, hands-on activities for the whole family.
According to Acevedo, many schools in Miami-Dade County have taken field trips here. The park has an environmental education camping program on Elliot Key. Campers will have a chance to study both the marine and terrestrial environments.
One very abundant community in the bay is the seagrass meadow. The seagrasses surround Elliott Key and campers learn quite a bit about their varying types. The Park rangers believe that camps like these are truly influencing a new generation to be environmentally aware. The park service hopes that these children will grow up to do research or at least be concerned about preserving the park's natural treasures.
Some proof of youth interest, is the large number of college age students who are spending their spring break doing research at the park.
"It is really cool because we are seeing young adults, now at the college level, doing something proactive with their spring break," said Acevedo. "Last year was not a very active participation here, as many elected to go to the Gulf coast to help Katrina victims," he added. According to him, they were rendering their service to people who needed them much more.
Whether one is hiking through the dark green woodlands, or diving into Biscayne's crystal clear water, it is impossible not to think that Biscayne Park is the jewel of the Florida Peninsula. Every year, more than 500,000 people visit Biscayne National Park. Once you visit it, it is easy to see why.
| | |
| --- | --- |
| | Part of the appeal of the Visitor Center at Biscayne National Park is the marine-oriented artwork that greets visitors at the entrance (Photo by Dara D'Onofrio). |
If You Go
Address: 9700 SW 328 St.,, Homestead, Fla. 33033-5634.
Directions:
From the North: Convoy Point can be reached from either the Florida Turnpike or from U.S. 1. From the Florida Turnpike: Take the Florida Turnpike south, to Exit 6 (Speedway Boulevard). Turn left from exit ramp and continue south to S.W. 328th Street (North Canal Drive). Turn left and continue to the end of the road. It is approximately five miles, and the entrance is on the left. From U.S. 1: Drive south to Homestead. Turn left on SW 328th Street (North Canal Drive), and continue to the end of the road. It is approximately nine miles, and the entrance is on the left.
From the South: Traveling on U.S. 1 (Overseas Highway), drive north to Homestead. Turn right on SW 328th Street (North Canal Drive — first light after Florida Turnpike entrance), and continue to the end of the road. The entrance is approximately nine miles on the left.
Facilities:
Hours:
Dante Fascell Visitor Center – daily 9 a.m. to 5 p.m
Convoy Point – daily 7 a.m. to 5:30 p.m.