Biscayne Park had to avoid developers
HOMESTEAD, Fla.— One could almost hear the bulldozers cutting through acres of land as Richard Walkley, a volunteer at Biscayne National Park, told the stories of Biscayne's uncertain future.
"Their plan was called Islandia, and they bought up these islands," said Walkley referring to some of the homesteaders. "They intended to build a six-lane highway from Key Biscayne to Key Largo, and turn this into another Miami Beach with high-rise condos and rich homes."
When the people of the area refused to allow this plan to go through, they ultimately chose the fate of South Florida. Their decision to preserve some of the land, would allow people for generations to see it somewhat like they had. This area's history includes some long and interesting struggles. It is important to note that it all began long before homesteaders arrived to make Biscayne their personal playground.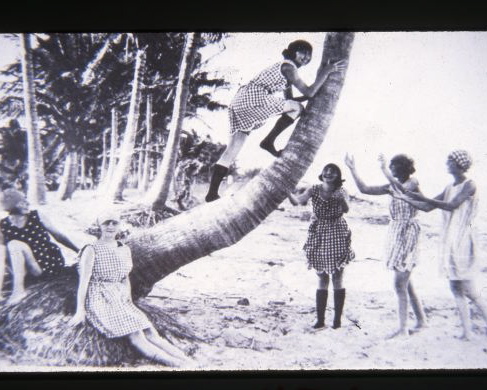 Fun on Miami Beach in 1920s (Photo courtesy of Otto G. Richter Library Department
of Archives and Special Collections, University of Miami).
The first aboriginal people to arrive in South Florida were a group of Paleo-Indians, approximately 10,000 years ago. At that time, Biscayne Bay was made up of a freshwater marsh.
As glaciers diminished, global sea levels eventually rose, and after thousands of years the salty water from the oceans managed to engulf the basin. Biscayne Bay took on its current appearance, when the rising waters leveled off 2,000 years ago.
By 8,000 B.C., the Tequesta Indians had inhabited the area surrounding Biscayne Bay. The Tequestas were known for their connection with the sea. The overwhelming accumulation of conch and whelk shells confirms that they had once roamed these lands. "The Native Americans didn't leave any permanent structures out there," said Jorge Acevedo, a Biscayne National Park ranger. "However, there are remnants and seashells, probably some 2,000 years old."
By taking advantage of all the sea had to offer, they saved time they would have been using for farming crops. However, years later, the art of agriculture would be perfected.
European explorers began to arrive in the 16th Century. "When the Spanish arrived, the found Native American Villages on Biscayne lands," said Becky Smith, a curator at the Historical Museum of Southern Florida. The large Spanish settlements were in parts of Northern Florida. "Here in South Florida there were only some short-lived attempts," she added.
Even though they did not attempt to build on these lands, they certainly used Biscayne waters as a ship route. Due to the lack of navigational tools and dangerously narrow waterways, many Spanish ships sank in these waters. Proof of this can be seen in Biscayne National Park's Maritime Heritage Trail. It has been speculated that there are many more shipwrecks that have yet to be discovered here.
Groups of Bahamians known at the time as "Conchs," made up most of the population in the keys in the 1800s. Bahamians settled everywhere between Key West and Elliott Key. Temple Pent was one of the first and best-known immigrants from the Bahamas. He was very significant in Dade County history, as he served as Justice of the Peace.
During the Seminole Wars, many more settlers established themselves in areas surrounding Biscayne as a refuge.
Agriculture is perhaps the most defining factor in the development of the Biscayne area. It is both what drew people here and what convinced them to stay. Agricultural pioneers from Alabama, North Carolina and Tennessee, moved down to Florida to homestead in search of this "magic" soil. They intended to reap the benefits of Florida's weather and practically year-round farming seasons.
"Some people moved to these keys out here," said Walkley. "They grew pineapples and limes until after a few hurricanes the land became so salty that they simply wouldn't grow anymore."
Asa Sweeting and his family were some of the earliest Homesteaders on Elliot Key. By bringing freshwater from the springs in Biscayne Bay, they had successfully cleared and cultivated 30 acres of land. However, after a catastrophic hurricane in 1906, the leaching of the soil caused them and many farmers to lose the ability to cultivate pineapples.
In the 19th and 20th centuries there were mostly small family farms. Mabel White Dorn and the Dorn brothers were trying to promote the land cultivation of avocados.
Their method was to use pamphlets to spread the word about their goods. "Something New, and Good to Eat" was the title of one pamphlet. Its pages revealed the secrets of the mango, avocado and citrus fruit that are often overlooked. They made sure to mention Dade County's prime soil and climate for agriculture. These people were not just farmers; they were ultimately promoters.
The agriculture in South Florida at the time was partly subsistence farming, used by families to support themselves. However, it was also used as a selling point in the process of trying to sell land to outsiders. Real estate wheelers and dealers boasted about the easy farming in the tropical landscape.
"In essence, it is a minimal investment in the land itself," said Robin Bachin, Ph.D., who is the Charlton W. Tebeau Associate Professor of History at the University of Miami. "You get these crops that will just sprout up from the ground and it will also help improve the value of the land at a fairly quick pace," she added.
Eventually the islands in Biscayne Bay, including Elliot Key, were bought up by entrepreneurs, one being Mark C. Honeywell. Honeywell is best known for being a U.S. electronics industrialist and notably, the purveyor of Honeywell thermostats.
The Tuttles and Brickells were among the families who were strong advocates of the development of South Florida. To say that they owned land would be an understatement.
The Tuttle family came to Miami in 1891 after purchasing a whopping 640 acres of land. The Brickells owned a vast stretch of land, so vast in fact that it started from the banks of the Miami River and went south all the way to today's Coconut Grove.
Unlike these families, Ralph Monroe, who first visited the Biscayne area in 1877, was an early settler who wanted to stall growth and maintain the natural landscape and environment. Because of his beliefs, he was often at odds with the other pioneers.
Besides agriculture, one of the most important factors in raising both population and land value, was the development and subsequent extension of Henry Flagler's Florida East Coast Railroad.
When a blistery freeze hit the east coast in 1894, Flagler was finally convinced that extending his railway farther south to the Biscayne Bay area would be beneficial to the growth of winter crops in Florida. People like Tuttle had both anticipated and depended on this.
Tuttle, being the business-minded woman she was, offered Flagler land if he would extend his railway south.
While much progress and development was being made at the time, the early 20th Century was a tough time for African Americans. Israel Jones and The Jones family were a Black family that lived on Porgy Key and other islands at the tip of Biscayne National Park.
Their initial land investment of $300 eventually earned them a resale of nearly $1.5 million. This is just one of the many examples of the land boom on the islands surrounding Biscayne National Park.
The Joneses gave hope to struggling Black families in the 20th Century. In many ways, they were living the American dream. In a time where many Blacks dealt with racial segregation, violence, and economic hardships; they managed to rise above it all.
"There has been a long history of battling this process of destroying the environment in favor of development," said Bachin.
Commodore Ralph Monroe was not the only one who feared that all the natural resources would be wiped out, if development did not slow down.
The people who started a movement were called the Environmental Pioneers. They were trying to get the attention of everyone in South Florida to protect the area that is now Biscayne National Park.
U.S. Rep. Dante Fascell was a prime mover in getting this park's land saved.
"Being in the position that he was in Congress, he was able to put forward a measure," said Acevedo.
In 1968, Congress established Biscayne National Monument to preserve the area's "rare combination of terrestrial marine and amphibious life in a tropical setting of great natural beauty."
One of the first things Fascell did, was bring down the secretary of the Department of the Interior to see the area. They did this so that an opinion could be admitted that Biscayne would be a good addition to the National Park System.
Once in the area, Fascell and he experienced it by flying over it in a blimp. The Secretary of the Department of the Interior was certain of what Fascell had seen in this place and agreed to add it to the system. However, it was the 1960s and the process took a little longer than intended.
Finally, in 1980, it became the national park that exists today.
Today "Spite Highway" is a trail. Despite its nickname, it provides many visitors with a pleasant hike. Most importantly, though, it is a friendly reminder of where the six-lane highway through the park would be today if greed had won over common sense.
We must not forget the list of both accomplishments and struggles that is written into the history of this land.