Biscayne Bay faces numerous challenges
HOMESTEAD, Fla.— Biscayne National Park is unlike anything you'll see in the United States.
It is 95 percent water and boasts a sub-tropical climate. Its reefs extend down through the lower Florida Keys and the Caribbean. In addition to marine life that includes 512 species of fish, there are vast amounts of mammals, insects, crustaceans, birds, reptiles and amphibians.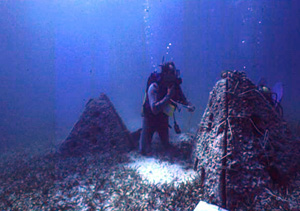 A diver checks out a coral reef (Photos courtesy of Dr. Dan DiResta, University of Miami).
"Biologically, there is an incredible diversity of life here," said Bob Showler, supervisory park ranger at Biscayne. "It is unparalleled in the United States."
However, the park suffers from pollution, over fishing and damage caused by divers and boaters.
The coral reefs are home to one-third of Florida's threatened and endangered species, and the health of the reefs is dwindling.
South of the Dante Fascell Visitor Center sits the Turkey Point power plant and further north is Black Point, where the South Dade Solid Waste Disposal Facility—affectionately named "Mount Trashmore"— is located.
These upstream stressors contribute to the park's ecological obstacles.
So what is being done to combat these anthropogenic (human) strains? The answer is park-wide efforts and in-house research.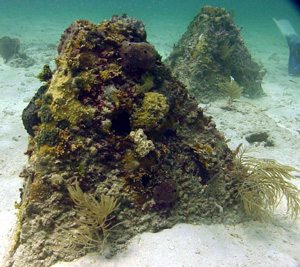 Living coral is fragile and can be easily damaged.
Dr. Dan DiResta, a lecturer in the Department of Biology at the University of Miami in nearby Coral Gables, is involved in research at Biscayne to restore coral reefs that have been damaged by careless recreational boaters and divers.
DiResta and his marine biology students nurse broken coral structures back to health by growing them in a coral nursery located at Biscayne.
They measure the coral's growth rate over time and return them to the water once they are back to their proper reproductive size.
There is also a hatchery at the Rosenstiel School of Marine and Atmospheric Science at the University of Miami, located on Virginia Key, for this coral rehabilitation. The coral is placed in a controlled environment in order to encourage recovery.
Even freshman marine biology students can get involved in this project.
| | |
| --- | --- |
| | Divers prepare to go underwater to work on their research in Biscayne National Park. |
"Lots of students are involved," DiResta said. "Biscayne is a great classroom."
Research endeavors like DiResta's are funded by park fines, like those incurred when boats ground themselves into shallow water.
Showler recommends that boaters have a nautical chart and clear idea of where they are going when boating in the park in order to avoid groundings.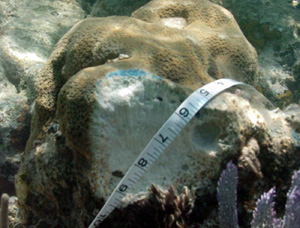 Researchers measure damage to coral.
Other efforts include the Comprehensive Everglades Restoration Program (CERP), of which Biscayne is considered a part, Showler said. CERP is an effort to capture freshwater and direct it back to the Everglades in order to revitalize its ecosystems.
It will cost $7.8 billion and take more than 20 years to develop, according to the CERP website (http://www.evergladesplan.org).
The plan is intended to provide surface water flows sufficient to meet restoration targets for Biscayne National Park and Biscayne Bay, according to the CERP website.
"This will require a lot of engineering work," Showler said, "and it is still in the planning stages."
What about non-human ecological threats? The park cannot be protected against severe weather like hurricanes.
A diver involved in coral reef damage assessment.
"Biscayne suffered one of the most incredible hurricanes, and [the park] still there," said Dr. David Nolan, research assistant professor of Meteorology and Physical Oceanography at the University of Miami, referring to the 1992 category four hurricane.
In actuality, Hurricane Andrew proved a boon to the park because it eliminated non-native plant species like the Australian pine tree, which is outlawed in Florida due to its invasive nature, according to the Bonsai Clubs International website (http://www.bonsai-bci.com).
"Hurricanes have been part of the natural weather variations there," Nolan said. "Any species that is not native wouldn't survive. In fact, it's better off now."
Australian pines inhabited the southern end of Key Biscayne, but were blown down by Hurricane Andrew, Nolan said.
"Now it's how it should be," he said.
If parks like Biscayne do not undergo conservation efforts, they may not be around in 50 years, DiResta said.
"We have to protect these drastically declining areas," he said.