Park activities encourage visitors to explore
HOMESTEAD, Fla. — The exuberant natural setting and beautiful sights of Biscayne National Park's mainland make it hard to believe that 95 percent of the preserved area hides underwater.
Thankfully, innumerous activities offered by the park allow visitors to explore it and do much more. It doesn't matter if you are looking for an adventure or a familiar program, Biscayne National Park is a must-see spot in Florida.
| | | |
| --- | --- | --- |
| Click on the video at right to see a narrated audio slide show about activities at Biscayne National Park prepared and photographed by Cassia Oliveira. | |   |
Although the park can be reached by boat, Convoy Point Visitor Area is the gateway for people who prefer to drive to the park. That is where you can find the picnic and barbecue area, a wide place located on the water to appreciate a sunny day with family and friends.
I come to Biscayne National Park with my family every two weeks, sometimes weekly. What I like most here is the environment, the sea, the way the park expands out of Florida. I do walking here, running, play ball with my children, make barbecue. The kids love it, this is their park," said Robert Montalvo, a South Florida store remodeler.
The Dante Fascell Visitor Center, a beautiful structure at Convoy Point, welcomes visitors to learn more about the park, its history and its natural setting. The center shelters a museum, a small theater, a gallery and a bookstore.
An audiovisual presentation helps first-time visitors to immerse themselves in the park's ecosystem. Other interesting interactions offered to visitors are in the exhibits area and at the Touch Table, where kids and adults can touch animal bones and marine species fossils.
| | | |
| --- | --- | --- |
| At right, the picnic and barbecue area is a popular place to spend time with family (Photos by Cassia Oliveira). Next, Convoy Point is the entrance for those who drive to Biscayne National Park. | | |
Besides, a smiling and well informed staff can suggest activities and make a difference in your visit. Before leaving the mainland, don't forget to explore its beauty. That's what Ranger Intern Tatum Clinton-Selin suggests.
"I would say visitors definitely should do the Jetty Walk, which is this little tiny trail we have here at Convoy Point that goes out on to the Jetty and where you can get a view of the ocean, see the birds out there," she said.
At the boardwalk along the waterfront, fishing is a pleasurable and constant activity. Just pay attention to the signs indicating where fishing is permitted.
"I fish since I was four, and I always come here. It is a beautiful place, I come with my wife so she can enjoy it too," said area resident Alfonso Relles.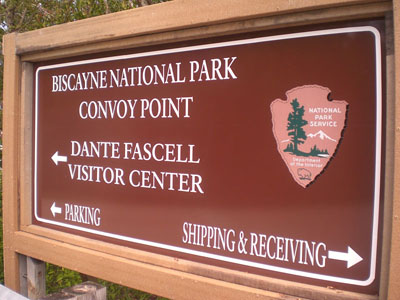 Away from the coast, a whole new world to be explored waits for visitors. Several islands – or keys, as they are known locally, coral reefs, and a range of interesting and colorful marine species make the daily boat trips the most popular activities there. If you don't have your own boat, the park offers great boat tours.
Lynn Wheeler, a retired visitor, approved of her first boat trip.
"It is a great ride! It was my first time and I loved it! We went to Elliott Key, and [the boat] went just the right speed. You can see everything, it was very well done."
"We also have the glass-bottom boat tour leaving from Convoy Point that goes out on the coral reef. It is nice because you can look down to the glass and see everything below it," explained Tatum.
If you are looking for more interaction, snorkeling and scuba diving trips may be a great option. You can also try canoeing or kayaking, as well as the island excursion.
One of the main destinations is Boca Chita Key, where there is a lighthouse that people can climb for the incredible views of Biscayne Bay. However, no freshwater or electricity are available, nor sink and shower. Camping there is perfect for those who are looking for a more "real camping" experience.
Elliott Island is another option for camping, according to Tatum.
"We have an excellent program that brings school groups out from the Miami area, mostly middle school students who go camping on Elliott Key for two or three nights."
| | | |
| --- | --- | --- |
| At right, the Visitor Center Touch Table provides visitors the chance to see and touch items from the bay. Below, the bayside Dante Fascell Visitor Center is the park's headquarters. | | |
There, you can practice walking, hiking, fishing, swimming and wading.
BioBlitz 2010
How about being a scientist for a day? On April 30 and May 1, 2010, visitors are invited to join experts to explore Biscayne National Park's waters, islands and mangroves and help identifying as many species as possible. That's the BioBlitz, a 24-hour inventory of species.
Ranger Gary Bremen explains how it works.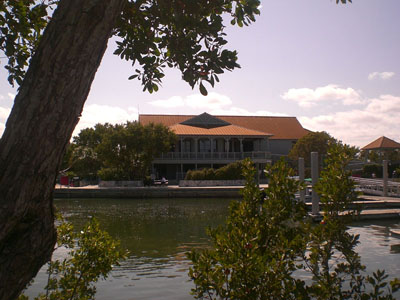 "Bioblitz is not a concept that is unique to this particular event. The idea is that you get lots and lots of experts together at one place in a very short amount of time to identify as many species as you possibly can. It is not really about numbers of individuals, it is about the diversity of species," Bremen said.
Although the participation of scientists is fundamental, Bremen stresses the importance of locals and visitors in this event.
"The community is who is counting, so people with any particular expertise are invited to come and be part of the event. They will work with a scientist on a particular group of organisms."
Part of a 10 Bioblitz series sponsored by National Geographic, the events are mainly promoted in urban areas.
"That is because lots of people can participate and learn about their local national park and understand the national park system as a whole," concludes Bremen.
If You Go:
Biscayne National Park
Address: 9700 SW 328th St., Homestead, Fla. 33033.
Visitor Information: 305-230-PARK (305-230-7275).
Boat Tours, Snorkeling and SCUBA Diving: 305-230-1100.
Hours: Convoy Point: daily from 7 a.m. to 5:30 p.m., The Dante Fascell Visitor Center: daily from 9 a.m. to 5.p.m., Water portion: 24 hours a day.
If you are interested in becoming a field inventory participant, visit http://www.nationalgeographic.com/field/projects/bioblitz.html for more information.