Program draws jazz musicians of all ages
NEW ORLEANS — The audience members applaud enthusiastically and click their cameras for the band headlining this morning's concert at the New Orleans Jazz National Historical Park's Visitor Center in the French Quarter.
The eager reception is not for today's brass band, The Storyville Stompers, but for the array of kids that are playing with the band today as part of the park's Music for All Ages program.
The Storyville Stompers, led by William Smith, are common participants in the Jazz For All Ages Program. Other bands that take part in the program are The Treme' Brass Band and the New Wave Brass Band.
| | | |
| --- | --- | --- |
| | | At left, William Smith of The Storyville Stompers leads the kids attending the Music for All Ages Program at the New Orleans Jazz National Historical Park (Photos by Debora Rubi). Below, the brass section joins the Storyville Stompers with their own solo during the Music for All Ages concert. |
The program allows kids to join the headlining band at 11 a.m. each Saturday to learn how to play with professional musicians.
The eager audience is composed, for the most part, of proud parents watching their children grooving along to the difficult jazz tunes with the help of adults scattered among the group of kids.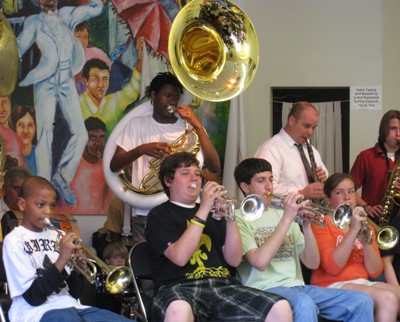 The bandleaders and park rangers, each with their own instruments, give individual help to the kids to make sure they are keeping up with the group and fixing any problems they may have.
The program was begun by New Orleans Jazz National Historical Park Interpretive Ranger Bruce Barnes through a grant four years ago.
The program is popular among local residents with people coming to multiple sessions as part of their routine, making friends with others in the group.
"You better believe it," said New Orleans resident Gerid Julian, 16. "I come every Saturday if I don't have anything else music-related to do."
The group of regulars can be heard in the music as some of the kids can clearly play together, as an experienced group, in a genre as unstructured as jazz.
Julian currently plays the drums although he plans to take advantage of the park lessons to learn to play trumpet and trombone.
The Music for All Ages program, however, expands well beyond the reach of just a local youth program.
"On Saturdays, it's always full," said Julian. "Lots of tourists join, it's always packed with people standing outside."
The program is also available to people from out of state, such as Xavier Michel. Michel, 11, lives in Virginia with his family and has been playing piano for two years.
| | | |
| --- | --- | --- |
| At right, Xavier Michel, in the white shirt and holding the trumpet, joins his cousin Gbari Garrett, who is in the yellow shirt and playing the piano. Below, an aspiring trombone player gets mentored during the concert by one of the members of The Storyville Stompers, also a trombone player. Next, the kids play on the Visitor Center stage. Next, Jose Luis plays his clarinet off stage. He likes to join the concerts since he can better improve his playing due to their slow pace. Last, parents watch the group perform. | | |
He attended the program with his cousin Gbari Garrett,9, who was visiting from Richmond, Va. His weapon of choice is the trumpet, although he hopes to branch out to percussion soon.
"Everyone has their instrument of choice," said Garrett. "But I'd like to play other things.""
The program makes sure to give individual attention to students and each kid gets a chance to shine. Xavier Michel was granted a solo towards the end of the program, which his mom rewarded by approaching the stage to get a close up on her cell phone of his shining moment.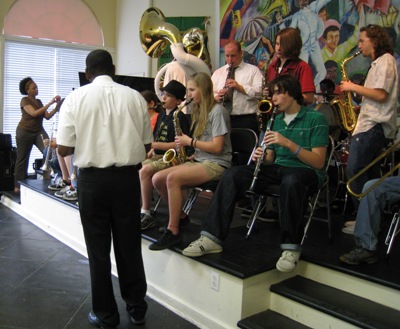 "I was practicing River Street just for today," said Michel of his solo performance.
While the program is styled towards children those of all ages are welcome to join the group and play with the musicians as well as help out the kids.
Jose Luis,37, arrived in New Orleans from Valencia, Spain seeking to find a place to learn English somewhere with good weather, good food and good music. Luis plays the clarinet and has linked his music playing to his desire to learn English.
"When one tries to do something with a language or instrument one has to start really young," said Luis. "I am enjoying and learning a lot."
Luis has been in New Orleans for three months and usually puts background music on his music system at home to play along on his clarinet. Like Luis, most of the kids that join the Saturday morning concerts have learned to play somewhere else and use the sessions to improve on their instruments rather than learn a new instrument entirely.
"When I come to these places like here, I can play with these people who play slowly and it's easy. You learn a lot more," said Luis.
Luis has used the Music For All Ages program as a gateway into other programs run by the park. He has offered to help with music festivals run by the park and attends other concerts presented at the Visitor Center.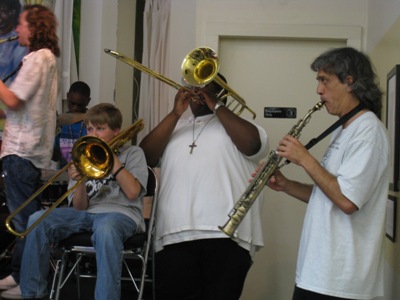 "I think its great that the park creates these opportunities," said Luis. I can integrate myself within the music scene and get to know people and help."
The program happens every Saturday unless there is another, usually youth oriented, special event planned. Anyone can take part as long as they bring their own instrument and jazz attitude.
The concert today ends with a celebration of the New Orleans Saints Super Bowl win. Bandleader William Smith begins a rendition of "When the Saints Come Marching In" starting with a solo by Michel who slowly gains confidence as his fellow band mates stand and clap their hands, then the wind instruments join in before the brass and percussion bring it home.
The audience joins in with their own clapping in beat as Smith begins a "Who Dat" chant, honoring the local New Orleans Saints football team, to end the day.
If You Go:
Where: New Orleans Jazz National Historical Park.
Address: 916 N. Peters St., New Orleans, LA 70116.
Phone: 504-589-4841.
When: Saturdays from 11 a.m. to 12 p.m.
Directions: Travel on I-10, heading towards New Orleans and exit at Orleans Avenue #235A and turn south towards the French Quarter. Orleans Avenue turns into Basin Street. Continue on Basin Street and turn left on Conti Street then turn left on North Peters. Visitor Center is on riverside of street, past Cafe Du Monde, on your right.