Self-guided audio tour reveals jazz history
NEW ORLEANS — After a coffee- and sugar-filled breakfast at Café De Monde, why not walk off those beignets while learning some New Orleans history and grooving to some jazz?
All you need is a fully charged cell phone.
The self-guided walking tour of jazz sites in New Orleans is narrated by park rangers and includes music sound bites that might just have you dancing your way through the French Quarter.
Simply pick up a map at the French Quarter Visitor Center.
| | | |
| --- | --- | --- |
| | | Construction at Louis Armstrong Park on N. Rampart street, the site of the first three tour stops (Photos by Nina Ruggiero). |
"We've been offering this tour for about two years," said Park Ranger Bruce Barnes. "People seem to enjoy it. They can call the number at their own convenience and are provided with accurate information and music to add texture."
First, you will be taken to Louis Armstrong Park just north of the French Quarter on Rampart Street. Named after the city's hometown jazz legend, this park holds the first three stops. However, the park is currently under construction throughout 2010 and is not accessible to visitors.
Barnes said it was unknown when the renovations would be finished.
"Even without going there, you can get good information just by listening to the audio," said Barnes of the sites inside the park.
If you could walk under the white Armstrong arch and through the black wrought-iron gates, you would see a statue of Louis Armstrong himself. Enter the # sign and the numbers 01 on your cell phone and listen to this New Orleans native's life story and contributions to jazz.
| | | |
| --- | --- | --- |
| Basin St. Station, stop four, once a station of the Southern Railroad, is now a visitor's information center. | | |
Next you would see a statue of early jazz saxophonist Sidney Bechet, who played duets with Armstrong. Enter #02 and hear how this Creole musician started performing as a child.
When the African drums start beating, you'll know you're in Congo Square. Enter #03 and let the history of this open space in the park come alive. Off in the back of the city, this is where slaves used to gather to dance, play music and pay tribute to their culture in peace on their Sundays off.
Leave the green space behind and walk down Basin Street to what is now Basin St. Station, a visitor's information center. The last remaining of five train station buildings in the city, this station was once the freight and baggage office building of the Southern Railroad and the first stop for travelers to New Orleans.
| | | |
| --- | --- | --- |
| | | The plaque that marks the memory of the legendary J&M Recording Studio on the building that is now a laundromat at stop five. |
Enter #04 and hear the seductive story behind Basin Street, which was once located in Storyville, New Orleans' red light district from 1897 to 1917. A row of the mansions that were home to the most elite brothels lined Basin Street while cheaper establishments stood nearby. Storyville was created as part of an ordinance modeled after Amsterdam and other European cities to try and contain prostitution within one part of the city.
"Many jazz musicians got their start inside these brothels," said Diana Maier, a travel counselor at the Basin St. Station visitor's information center. "They were hired to play the piano to add to the ambience."
Without your audio tour guide you would have passed right by the J&M Recording Studio without a second glance—unless you had dirty clothes with you and you were looking to wash them.
Once the recording studio where Italian-American Cosimo Matassa created the "New Orleans Sound," the building on the corner of Rampart Street and Dumaine Street is now a Laundromat.
Enter #05 and take a moment to appreciate the extraordinary past of this ordinary looking building where famous musicians such as Ray Charles, Little Richard and Jerry Lee Lewis recorded some of their greatest hits.
| | | |
| --- | --- | --- |
| Preservation Hall, stop six, which is still a popular destination for its nightly jazz shows today. | | |
Make your way to Preservation Hall in the middle of the French Quarter on St. Peter's Street and enter #06. Preservation Hall was built in 1961 to ensure that New Orleans musicians would always have a place to play their jazz. Today the hall, which also serves as an inn, tavern and art gallery with portraits of the first jazz musicians who filled its walls with their sound, still attracts long lines of crowds with its nightly jazz concerts.
Make plans to return in the evening to top off your jazz tour with an authentic show and then continue back towards the northern section of the French Quarter to where Conti Street meets Burgundy Street and enter #07.
In the 1920s, the Tango Belt was the place to be for jazz with the most venues in the city. Located across from Storyville, patrons kept the party going at its bars, nightclubs and theaters.
Cross over to the other side of Canal Street to get to South Rampart Street and enter #08 to hear about Black Storyville. Also called the "Back O' Town," this rough area was home to Louis Armstrong. Gambling and prostitution took place here but many of the theaters and saloons hosted the earliest jazz players.
Next walk all the way down to the southeast corner of the French Quarter near the French Market on the river to the Old U.S. Mint building and enter #09. The Mint was established in 1835 and it operated until Louisiana's succession from the union in 1861. It is now operated by the Louisiana State Museum and hosts a jazz collection donated by the New Orleans Jazz Club.
"I grew up with jazz because my parents love it, but seeing all of the instruments used by famous musicians and learning the history behind it gave me a whole new perspective," said Shirin Dhuper, 21, a student visiting the museum from Boston University.
Head to the Canal Street Ferry station on the Mississippi River and picture yourself dancing to jazz on board an excursion boat as you enter #10.
"Imagine the sounds these jazz legends sent cascading over the water," says the tour guide.
Riverboat musicians made very little money when they first started in the early 1900s, but playing along the Mississippi was a gig that musicians vied for nonetheless.
| | | |
| --- | --- | --- |
| | | The Old U.S. Mint, stop nine, which now holds the Louisiana State Museum ad its jazz collection. |
The last stop is on the west bank of the Mississippi in Algiers. Home to many social halls that served as venues for early jazz shows, jazz pioneers such as Norm Brownlee, Peter Bocage and Red Allen grew up here.
Jazz is everywhere in New Orleans from nightclubs to street corners to the Visitor's Center where children take weekly music lessons.
"You can't understand New Orleans without understanding jazz," said Dhuper. "Now when I walk down the street and hear a saxophone playing, the music means more to me than just entertainment; I know I am hearing a piece of history."
If You Go:
New Orleans Jazz National Historical Park, French Quarter Visitor Center, 916 N. Peters St.
New Orleans, LA 70116.
Contact: 504-589-2636.
Hours: open daily 9 a.m.-5 p.m., closed Dec. 25 and Mardi Gras.
More information: http://www.nps.gov/jazz.
Call for audio tour: 504-613-4062. Dial zero and then the stop number at each site.
Download audio tour online: http://www.myoncell.com/mp3download?12342342345.
Attire: Comfortable walking shoes, you will cover a lot of ground.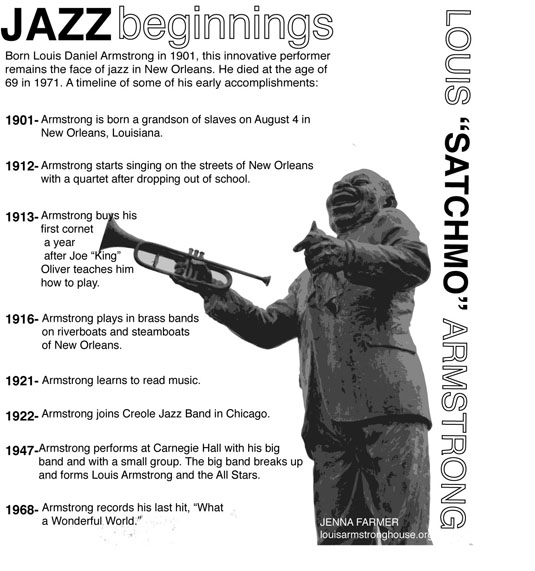 Information graphic designed and prepared by Jenna Farmer.