Yellowstone transportation helps visitors
Regarded as a natural wonder and world-renown travel location, thousands of tourists come to visit Yellowstone National Park, the world's first national park, daily.
The park's pristine lakes, Redwood and Sequoia trees, mountains, and vivid natural sights have astonished its visitors for more than 135 years. With a commitment to its guests and the environment, Yellowstone has become an iconic destination for its natural beauty, efficiency, quality services and green operations.
Xanterra Parks and Resorts is a privately owned company and the primary authorized concessioner with contracts through the National Park Service.  It is the direct in-park source manages lodging, camping, retail, tours and activities, and transportation for the park service.
| | | |
| --- | --- | --- |
| Click on the video at right to view a slideshow about the transportation system at Yellowstone National Park narrated and prepared by writer Ayram Edery. | | |
Rob Love, a coordinator for the Yellowstone's Department of Tourism and Activities, manages the mechanisms for tourist and transportation services at Xanterra.
"We offer the best transportation services, compared to other parks. It is amazing how we can facilitate transportation for the amount of people who come here."
By driving the grand loop road, visitors can view the park from the comfort of their vehicle and also take a rest at one of the many roadside picnic areas. For the active visitor, the park has thousands of miles of trails from day hikes to longer backcountry explorations.
"The main attractions are all located on the grand loop road," said Love.
With a highly diversified transportation system, experiencing and traveling through Yellowstone National Park has become painless. Transportation and tours are available in both the summer and winter months. The majority of summer tours end in the middle of September.
| | | |
| --- | --- | --- |
| | | At left, one of the buses park in front of this historic Old Faithful Inn (Photos courtesy of Suzann Lankford, Xanterra Parks & Resorts, Yellowstone National Park). Below at right, the Yellowstone National Park bus passes through the mountains of the park. Last, another stop is the Mammoth Hot Springs Hotel. |
Services even allow for transportation through the snow.
In the winter months, services continue operation with certain restrictions for the safety of Yellowstone's visitors. The park roads are closed to wheeled vehicle travel with the exception of Gardiner Montana to Cooke City Montana. Only two lodging facilities, Old Faithful Snow Lodge (OFSL) and Mammoth Hot Springs Springs Hotel (MHS), are open for business from mid-December to mid-March.
Guests can drive their privately owned vehicles to MHS, but must travel over the snow to OFSL in tracked vehicles.  They provide guided transport in tracked vehicles from MHS (the north entrance into the Park), Flagg Ranch (the South Entrance into the Park) and West Yellowstone (the west entrance into the Park) to OFSL.
Day tours from MHS and OFSL are also provided in tracked vehicles as well as on snowmobiles.  Wheeled tours to the Lamar Valley are provided from MHS daily in vans.
Besides booking tours, guests have the ability to book all of the winter vehicles mentioned plus the motor coaches for private charters. Wheeled vehicles can leave the park, but tracked vehicles are limited to operation in Yellowstone and allowed limited use in West Yellowstone and Gardiner Montana.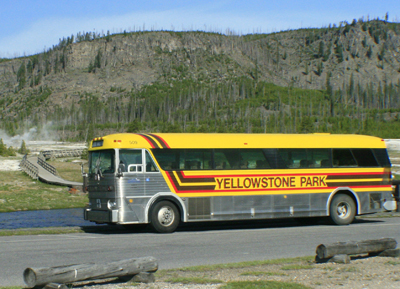 Mat Track vehicles are designed to operate on both pavement and snow covered roadways.
"Bombs" are best suited for snow covered roadways, but can operate on bare pavement but must be equipped with a rubber road wheel that attaches to one of the front skis.
These snowcoaches are a specialized passenger vehicle, designed to work over snow or ice, similar to a large, multi-passenger snowcat equipped with bus style seating. These vehicles may have multiple sets of very large low-pressure tires or they may have tracks.
Visitors to Yellowstone National Park during the winter time will be able to experience the park snowcoaches for sightseeing tours or for over snow transportation.
These Bombs may seat among 10, 20 or more passengers. That way this road wheel assists with steering on the paved surface.
Xanterra provides charter services where individuals can choose from a variety of rental vehicles, and private driver/guide are available for periods from 5 hours to multiple days. Tours are offered within the boundaries of YNP and one tour into nearby Grand Teton National Park, which range from 1.5 hours to full day.
Guests that arrive at one of the Park's gateway communities who do not wish to rent a car have the option to charter a vehicles and driver/guides for transport into Yellowstone. Gateway communities include West Yellowstone, Mont., Gardiner, Mont., Cooke City, Mont., Cody, Wy., and Jackson Hole, Wy. To accommodate guest charter requests, visitors can also travel to Bozeman and Billings, Mont.
Transportation services at Yosemite have set the standard for environmental preservation for parks throughout the world. Buses and automobiles have been replaced with fuel efficient and low-carbon emitting vehicles.
Todd Scott, who is other of the coordinator for Xanterra's Transportation services, said, "To keep the park clean, we have replaced our bus fleet with hybrids."
Scott, who has worked at Yosemite for more than 20 years, is adamant about keeping the park clean.
"I pushed for change, and so did everyone else here. We practice what we preach, so to speak," said Scott.
Having started working at Yosemite as a bus driver, he aided in the ways that the park innovates its services.
To encourage fuel conservation, Xanterra introduced an employee business shuttle during the summer of 2008, as well as an employee carpooling policy that requires staff to obtain supervisory approval before traveling solo in a company vehicle.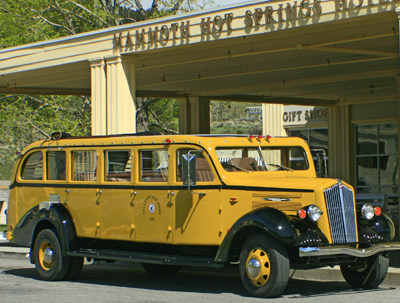 To assist with conserving fuel and transportation management, Xanterra retires older vehicles with poor gas mileage with new vehicles at the most fuel-efficient in their category according to the DOE website.
"We are committed to helping you find your ultimate Yellowstone experience, while working to protect and preserve the park for the generations to come," Love said.
In addition to its transportation services, Xanterra manages and maintains the in-park facilities for which they take reservations.
Guests can book tours by calling the Reservations Department located in Mammoth Hot Springs prior to their arrival, or by booking with any Front Desk or at any Activities Desk in person.
Guests are picked up for their selected tour at various lodging and campground facilities throughout the park.
Leslie Quinn, a guest relation's representative with Xanterra and environmental advocate, says the company wants to provide good service while protecting the park.
"We are committed to helping you find your ultimate Yellowstone experience, while working to protect and preserve the park for the," Quinn stated.
With 2,219,789 acres, 2,000 campsites, and 1,100 species of native plants to preserve, Quinn sees a positive future for Yellowstone.
"Yellowstone serves as an example for preservation, conservation, and determination. But we can't stop here. The challenges we face lets us make this park both a more accessible and natural destination," said Quinn.
Tour and other information can be found at: http://www.yellowstonenationalparklodges.com.