Air pollution harms scenic vistas
The scenic vistas that tourists come to see at national parks are gradually disappearing.
These scenic vistas are being affected by degrading air quality caused by several different factors.
Many national parks are surrounded by buildings or factories that are contributing to air pollution. These stationary emission sources can include generators, wastewater treatment plants, and water heating equipment.
Area emission sources, like wood stoves and campfires, and mobile emission sources, such as vehicles and railroads, also contribute to the degrading air quality. All of these emission sources can be monitored or prevented to stop their contributions to air pollution.
| | | |
| --- | --- | --- |
| Click on the video at right to view a slideshow about air pollution at scenic park vistas prepared by writer Joanelle Navarro. | | |
Only natural emission sources, like wildfires and volcanoes, cannot be prevented.
A combination of all four sources have led to the three effects of air pollution: degrading visibility, ozone and atmospheric deposition.
Degrading visibility is what most tourists visiting national parks are affected by and what is currently affecting the scenic vistas the most.
Visibility levels determine how well and how far visitors can see.
Such parks as Hawai'i Volcanoes and the U. S. Virgin Islands, experience visibility issues.
Most of them are caused by haze, which is broken into two categories: layered and uniform.
Layered haze is a confined layer of pollutants that leads to a visible discontinuity between that layer and its background.  Uniform haze is just an overall reduction in air quality.
| | | |
| --- | --- | --- |
| | | At left, haze at Big Bend National Park in Texas (Photo courtesy of the National Park Service). |
According to the 2009 Annual Performance & Progress Report regarding Air Quality in National Parks done by the NPS Air Resources Division, 67 parks, or 43% percent of all U.S. national parks, are currently labeled as having significant visibility concern, which means that the park experiences greater than 80 percent hazier days than with natural conditions.
However, according to the report, 97 percent of all parks show either improvement or no change in trends regarding visibility.
The ozone is also degrading, which affects human health and native vegetation.
Ozone can lead to the injury or death of tissues in foliage, also known as follar injury, or it can affect the lungs in humans.
Currently, only 35 percent of the parks are in good or moderate condition, with 101 parks labeled as a significant concern. Most of those parks are on the east and west coast, with few near the Great Lakes and East Texas.
Despite that, 100 percent of all the parks showed either improvement or no change in ozone trends in 2009.
| | | |
| --- | --- | --- |
| At right, smoke arising at Lassen National Park in California. Next below, haze at Mammoth Cave National Park in Kentucky  (Photos courtesy of the National Park Service). | | |
The final effect of air pollution is atmospheric deposition, which affects ecological health through acidification and fertilization of soil and surface waters.
Atmospheric deposition is when any form of precipitation removes acid from the atmosphere and brings it to Earth. There are two types of deposition the NPS Air Resources Division keeps track of: nitrogen wet deposition and sulfur wet deposition.
Nitrogen wet deposition currently has only 29 percent of the parks in good or moderate condition, and in fact, three parks who are a significant concern are currently degrading. A currently degrading park is
Sulfur wet deposition fares better with 46 percent if parks being in good or moderate condition, and none of the significant concern parks have a degrading trend.
Yet, 93 percent of all parks in 2009 show improvement or no change in atmospheric deposition trends.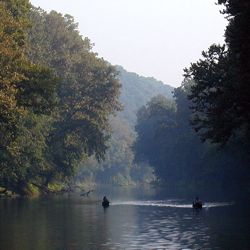 So, how are parks working together to help preserve the scenic vistas?
Through monitoring the parks and by the passing of several air pollution laws.
"The NPS has a range of approaches they are taking to protect the parks, from monitoring to active involvement in reduction of emissions," Danielle Foster, an environmental protection specialist at the Hawai'i Volcano National Park, stated.
One such law is, the federal Clean Air Act, which gives federal land managers responsibilities to participate in decisions being made by regulatory agencies, while the Wilderness Act insists that American people get the opportunity to enjoy the wilderness and park system completely unimpaired.
The National Park Service is continuing to monitor the national parks to ensure that current and future visitors have the opportunity to view the scenery of their parks.