Rangers offer diverse backgrounds
Rangers are the most famously known employees of the National Park Service.
They are portrayed as people who protect, guide and personalize the parks in which they work. They have even been commercialized in popular media productions, such as Ranger Smith who works at Jellystone Park in the early 1960s animated cartoon program, "The Yogi Bear Show."
But who are these rangers and what makes them qualified to handle the responsibilities they have?
There are two types of park rangers: Interpretive and protective. Aside from a police duty belt that the protective rangers wear, their uniforms are exactly the same. Most people can't tell them apart. However, their responsibilities and duties distinguish the two from each other.
| | | |
| --- | --- | --- |
| | | At left, park rangers work as emergency services personnel at the scene of a car accident in Sequoia and Kings Canyon National Parks. Below, next,  rangers provide tours along trails. Last, rangers use utility vehicles and helicopters (Photos courtesy of Sequoia and Kings Canyon National Parks). |
In general, most rangers have previous interest and experience in the science and history fields and most have college degrees. However, there are no specific requirements or qualifications to become a park ranger except to be a United States citizen.
Interpretive rangers hand out programs, manage visitor centers, give tours, and provide information to the park's daily guests. Although it is not required, almost all interpretive rangers possess a four-year college degree due to the competitiveness of the job. Most rangers have knowledge in history or natural and cultural sciences, but a degree in this field is not mandatory.
Protective rangers are the search and rescue missions of the parks. They provide the parks with emergency services, police and firemen duties, and safety measures. Their job is to control and secure the parks. Most protective rangers have at least a two-year college degree.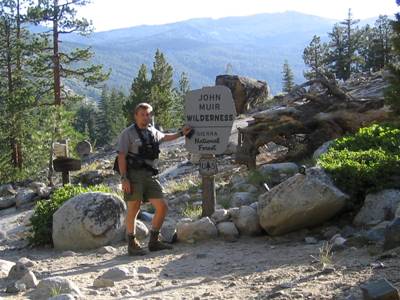 Protective rangers work in shifts in order to supply 24-hour coverage of law enforcement. They also drive marked cars and constantly patrol the parks to ensure a safe environment for the park's visitors and resources.
There are several ways to obtain a job with the National Park Service. Because it is a federal agency, they retain a centralized hiring process through the Website, http://www.USAjobs.gov.
Many rangers begin as student volunteers and gain the experience and knowledge to become a ranger without having to acquire a degree in history or science.
There are various part-time jobs that students have the opportunity to apply for, such as lifeguarding or interpretive assistants.
Another way to obtain a job as a park ranger is attend a university with a program and degree in parks and recreation. David Fireman, a protective ranger at Sequoia and Kings Canyon National Park in California, became interested in the parks as a young child and did just that.
"My parents used to take me to visit different parks around the country. I was lucky in the sense that I had the opportunity to visit these parks and know what I wanted to do with my life at an early age," Fireman said.
Fireman transferred from the University of Pittsburgh where he was studying to become a history professor to Slipper Rock University and eventually devoted his life to the public service of the parks.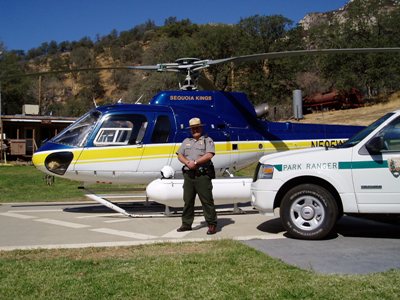 The general experience includes familiarity with resource protection, recreational use of land, enforcement of laws, and even administrative work. "What most people don't know is that there is a lot of paperwork involved," Fireman said. "It's not all hiking and fun things."
There are many different specialized duties and responsibilities that rangers take care of, depending on the type of park.
"Valley Forge is a historical park. Something that many of my friends and family members find interesting is that the rangers get to dress up in 18th century uniforms once or twice a week," Valley Forge National Park Interpretive Ranger Peter Mogul said.
The benefits of becoming a ranger can include moving through the ranks to become district rangers, park managers, and staff specialists. Rangers are dedicated to the protection and public service of the park's visitors and are a part of a large agency that encompasses more than 390 sites across the United States and in Guam, Saipan, Samoa, Puerto Rico and the Virgin Islands.
The average starting salary for permanent ranger hires is approximately $20,908 to $31,680, depending on college degrees and experience. However, there are many seasonal, part-time and volunteer jobs available for those not seeking a full-time permanent job.
For more information, refer to the National Park Service website at http://www.nps.gov.