Poor air quality diminishes park experiences
Walking through a national park, the last thing a visitor should have to think about is the quality of air that he or she is breathing. This is not the case as air pollution has become a huge issue at national parks throughout the United States.
National parks are natural, semi-natural, or developed land that a sovereign state declares or owns. The first national park ever created was Yellowstone National Park in 1872 in Wyoming, Montana and Idaho.
There are now 397 national parks and other similar protected and preserved areas in the United States.
| | | |
| --- | --- | --- |
| | | A wildbird rests at sunset in the Florida Everglades (Photos courtesy of the National Park Service) |
National parks rely heavily on resources to survive. However, particularly in recent years, funding for these resources has been insufficient.
"New statistics from the World Health Organization show that in the United States, air pollution annually kills nearly twice as many people as do traffic accidents and that deaths from air pollution equal deaths from breast cancer and prostate cancer combined," wrote Tiffany Schauer, executive director of Our Children's Earth Foundation, in an article about the ozone at national parks.
The levels of air pollution in these parks could lead to dead plants and animals and will have a chain effect throughout the rest of the national park and surrounding areas. National park officials are currently trying to limit the number cars or vehicles that travel through parks as they emit air pollutants that are harmful to the plants and animals.
Air pollution affects scenery, vegetation, streams, wildlife and soil throughout parks. Not only does poor air pollution affect the natural features of a park, it also affects the visitors who are trying to enjoy a parks natural beauty. Cases of air pollution affecting national parks have occurred all over the nation.
A major issue around national parks is the burning of fossil fuels such as coal, oil and gas which produces oxides of nitrogen and sulfur that convert into secondary pollutants. These air pollutants travel throughout the entire United States. This as a result makes the Great Smoky Mountains National Park, the park with the highest levels of air pollutants in the country.
"In the Great Smoky Mountains, our most polluted national park, ozone pollution exceeds that of Atlanta, Georgia, and even rivals Los Angeles, Calif," said Harvard Ayers, chair of Appalachian Voices, a nonprofit conservation group focused on protecting forests and communities of the Appalachian Mountain region in an article on air pollution in common dreams website.
In the Great Smoky Mountains National Park, elevated levels of nitrogen and sulfur in the air will deposit into the parks system, which will raise the acidification of streams and soils affecting forest health and fish populations.
The ozone levels at this park sometimes exceed health standards, affecting both humans and sensitive plants in the area. Fine particles in the park also exceed health standards and don't allow for much visibility into the park. These issues could be prevented if this park followed the clean air laws.
| | | |
| --- | --- | --- |
| Sunlight breaks through cloud cover above the Virginia mountains in Shenandoah National Park. | | |
"Enforcing the nation's clean air laws will help clear the air for the millions of Americans who treasure our national parks," said Kevin Lynch, attorney for Environmental Defense Fund based in Colorado in an article on the Environmental News Service website. "Cleaning up industrial smokestack pollution is one of the single most important steps EPA can take to protect America's health and our national parks."
Air pollution causes a haze to form over national parks. This haze, affects visitors from being able to see 90 percent of scenic views in the Great Smoky Mountains National Park. Current summer average visibility in the Gpark is 15 miles. It should be 77 miles but human caused air pollution doesn't allow much visibility.
At Shenandoah National Park, visibility from the Skyline Drive and Appalachian Trail has shrunk to as little as one mile; visitors used to see up to seven miles on a clear day. The haze seems to affect national parks that are more mountainous and has become very controversial.
| | | |
| --- | --- | --- |
| | | At left, the haze in Shenandoah National Park. Below, a rainbow appears over a waterfall at Yosemite National Park in California. |
"Family memories of our national parks shouldn't be clouded by polluted haze," said Mark Wenzler, director of Clean Air and Climate Programs at the National Parks Conservation Association in an article about national parks being sued for haze in an article on NBC New York's website. "EPA needs to take seriously its obligation to ensure clear skies for all Americans who seek out our national parks for healthy vacations."
Other types of air pollution found affecting parks include mercury deposits. This is an issue from the Acadia Park to the Florida Everglades.
"Persistent toxic pollutants, such as mercury, are of particular concern because of their global mobility and ability to accumulate in the food chain," said Bryan Mckaye, an expert on air pollution for Shenandoah National Park.
These airborne pesticides, can threaten park wildlife and officials fear that emissions released from greenhouse gases causing global warming would have a large effect on these parks. Many of these emissions are coming from factories or power plants nearby that emit air pollution into the parks.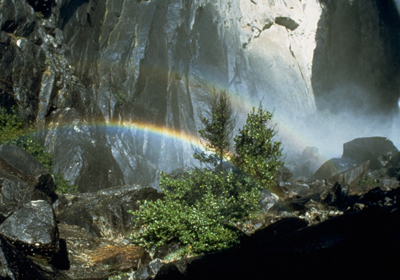 Since these factories and power plants cannot simply just be removed from near national parks, new air pollution controls on power plants across the United States were put into effect in 2004.
"To the extent that we can be sure, it looks pretty clear that those controls are having a noticeable effect," said Bill Hayden, a spokesperson for Virginia's Department of Environmental Quality in redOrbit's website.
Air pollution is a very serious and dangerous issue among national parks. To help slow down or stop air pollution, the national parks service is working with parks.
The National Park Service on the website says they want parks to monitor nitrogen, sulfur, ozone, fine particles, haze and mercury to access standards and trends.
They want each park to evaluate the impact of air pollution on ecosystems.
Parks need to work with local and state agencies to reduce air pollution and restore park resources. National Park Service would also like the staff at these parks to create public awareness, using alternative energy sources and environmentally friendly transportation that won't spread emissions throughout the park.