Sagamore Hill filled with Roosevelt history
OYSTER BAY, N.Y.— Growing up four miles away from Theodore Roosevelt's house has always been something I tell people to make myself seem cooler and more interesting than I am. I kept the fact that I never saw it a secret.
In an effort to stop living a lie my friends and I decided to take the infamous tour of Sagamore Hill National Historic Site.
| | |
| --- | --- |
| | The exterior of Sagamore Hill, the home of President Theodore Roosevelt (Photos courtesy of the National Park Service). |
Sagamore Hill, a part of the National Park Service, is located on Long Island just east of New York City. It was the home of 26th President Theodore Roosevelt from 1885 until his death in 1919.  The house is named after the old Sagamore Mohannis, who, as chief of his tribe, signed away his rights to the land.
The home has 23 rooms sitting on 155 acres in Cove Neck, Long Island. Roosevelt bought the property for $30,000 and built the house for almost $17,000. Considering that average property values in the Cove Neck area near here exceeded $2 million last year, Roosevelt got a bargain deal.
Walking through the house was nothing like what we expected. Almost all of the original furniture was still in the house having been wonderfully preserved. Considering my friends and I grew up together we expected flash backs of grade school field trips.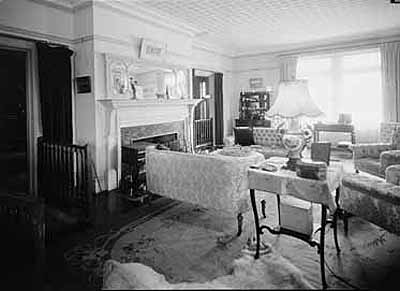 Donna Sumner is a Long Island native and also grew up close to the historic home.
"I'm glad I'm seeing the house as an adult, I don' think I could have appreciated it as much if I was still a kid," said Sumner. "The pictures I've seen of the outside of the house don't do it justice. The original furniture makes the inside just a beautiful." 
Anne Jackman has been a volunteer tour guide at Sagamore Hill for five years.
"Roosevelt initially used to the house every summer giving it the name "Summer White House." Following his presidency he stayed in the house permanently," said Jackman.
Jackman showed some of Roosevelt's writings describing his love for the home. "After all, fond as I am of the White House and much though I have appreciated these years in it, there isn't any place in the world like home, like Sagamore Hill," Roosevelt
wrote in a letter to his daughter Ethel.
Jackman added, "In the past five years it's been a wonderful experience to share the history of this home with visitors."
The tour begins in the first floor drawing room. The massive stone fireplace is overwhelming. The oversized chairs and hand woven rugs called out for a long winter's nap.
As the tour continues Roosevelt's love of hunting becomes more prominent theme.
Michael Conway, another Long Island native, only saw Sagamore Hill as child.
"When I came here as a kid the animal heads on the walls and bear skin rugs scared me to death!" said Conway. "As amazing as the house is the dead carcasses still make we want to run for hills," he added.
Roosevelt was an avid hunter and called the gunroom his favorite room in the house. 
The Davy Crockett-esque explorer décor continues to the kitchen where a giant deer head hangs over the stove and fireplace.
The second floor takes on an entirely different tone. The master bedroom linens and curtains range from sky blue to creamy yellow.
The other rooms have rose, sage, and creamy white color palates. The most powerful room is perhaps the bedroom where Roosevelt died. When his health began to fade he slept in one of the guest rooms while his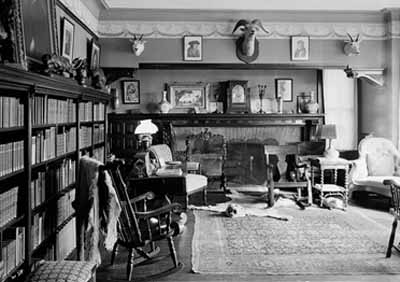 wife Edith stayed in the master bedroom.
Shannon Levy is also from Long Island and like most of the group had never seen the house.
"Walking into the room where he died is powerful and eerie at the same time," said Levy.
The beds in the house are all original furnishings.
"Knowing that bed is the actual bed he died is pretty moving."   
Sagamore Hill was made a national park in July 1962. On Oct. 27-28, Sagamore Hill welcomed 3,000 people to mark Theodore Roosevelt's 150th birthday. To date, the home attracts almost 40,000 visitors a year.
If You Go . . .
Sagamore Hill and Visitors Center
20 Sagamore Hill Road
Oyster Bay, NY 11771
516-922-4788
http://www.nps.gov/sahi/
Schedule
Tours are given every hour on the hour. The Visitor Center and bookstore are open from 9 a.m. to 5 p.m. Mondays through Sundays.
Summer:
Labor Day through Memorial Day
Mondays-Sundays, 10 a.m. to 4 p.m.
Fall and Winter:
Wednesdays- Sundays, 10 a.m. to 4 p.m.
Admission Fees
Children (15 and younger): Free
Adults: $5
Tours are limited to 14 people and tickets are distributed on a first-come, first-serve basis.
Reservations can only be made for tours between 15 and 55 people.