Ellis Island: Remembering American dream
NEW YORK — Taking the Ellis Island ferry to the "gateway to America," visitors can only imagine what it must have been like for immigrants making the incredible journey toward the American dream.
Most of the island's visitors come not only to tour the museum, but also to link themselves to their past.
Nearly 40 percent of American's can trace their ancestry back to Ellis Island, making it no surprise an estimated three million people visit the museum each year.  
| | |
| --- | --- |
| | Visitors walk the grounds of Ellis Island Museum at Ellis Island National Monument (Photo by Leslie Carleton). |
John Ashton is a volunteer at the Ellis Island Museum, a part of the Statue of Liberty National Monument. 
"I get an average of 50 people a day asking me to help them find their families records," said Ashton.  "In the last several years the museum has catalogued records online which makes my job much easier!" he added.
Once visitors arrive at Ellis Island they find it is truly an unforgettable experience. Joe Dean was born and raised in New York and recently visited the Ellis Island Museum for the first time.
"I've lived here all my life and I can't believe I've never been to Ellis Island. To walk through the halls my family stood and waited in is amazing feeling. Just being here sparks all these questions I wish they were here to answer," said Dean.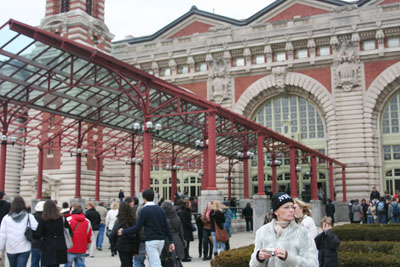 Of all New York's national parks, Ellis Island is perhaps the most impressive. Taking the same walk from room to room visitor's get a first hand look at what immigrants went through to start a new life in America. 
Ellis Island has an unparalleled display of artifacts and other physical markers of immigrants' journeys.  Plexiglas preserves walls of pencil graffiti drawn by those who waited days to start a new life. 
Luggage, blankets, dishes, clothing, and thousands of other personal belongings were items travelers were told to leave behind.  Displaying these items gives visitors a way to make a connection between themselves and those who made the journey so many years ago.
Jocelyn Schwartz also grew up in New York and made her first visit to Ellis Island.
"My grandmother was a Holocaust survivor and came to America through Ellis Island in 1950. She wanted to be a Jewish American and practice her faith freely. That's what makes coming here a special trip for me," said Schwartz. "I'm glad I waited to visit until I got older because I can appreciate and understand its significance more than I could as a kid," she added.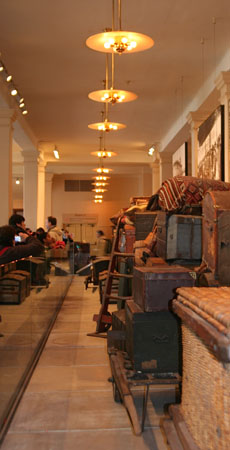 Whether visitors have ancestry connected to Ellis Island or not there is no doubt the museum is a special experience for all. Seeing where immigrants slept and stood in line for medical examinations gives an appreciation for the American dream they so desperately longed for.
Statue Cruises operates the Liberty Island Ferry from New York's Battery Park and New Jersey's Liberty State Park. The ferry takes visitors to Liberty Island for those who want to see the Statue of Liberty and continues on to Ellis Island.
It is a must for visitors to plan ahead. Time to purchase tickets, and travel time to the desired departure location should be considered prior to the trip.
 Jerry Walkup recently visited New York from Dallas.
"The first time I tried to go to Ellis Island, I missed the ferry because I didn't plan my trip very well so this time I made sure to leave earlier and check out the ferry's website before I went," he said.   
The summer schedule for both departure locations is effective from April through August from 9:30 a.m. to 4:30 p.m. For the remainder of the year the ferry operates on a winter schedule from 9 a.m. to 3:30 p.m.
Visitors should keep in mind the ferry stops selling tickets at 4 p.m. in the summer and 3 p.m. in the winter. The posted 4:30 p.m. and 3:30 p.m. closing times are when the last ferries arrive back at their departing locations.
The posted hours of operation caused some confusion for Cheryl Schnitzler who traveled from Memphis to see Ellis Island.
"I traveled a long way just to get to Battery Park and find out the last ferry leaves a half hour before the closing time," said Schnitzler.  
Equally astounding is visitors from other countries who come to visit the museum. All these years later, their only obstacle is a $12 admission ticket.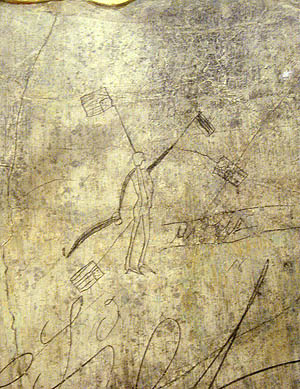 If You Go . . .
Statue Cruises
Locations: Castle Clinton at Battery Park, New York City, and the Central New Jersey Railroad Museum at Liberty State Park, Jersey City.
The ferry schedule is dependent on departure location and season.
Tickets cost $12 for adults, $10 for seniors, and $5 for children. If visitors decide to get the audio tour it will cost $20 for adults, $17.25 for seniors and $12.75 for children.
877-LADY TIX (877-523-9849)
Ellis Island