Updated Fenway Park preserves history
BOSTON— America's oldest Major League Baseball ballpark has 3,000 new seats, but that doesn't mean it's going to be any easier to get a ticket to a game during the 2006 season.
Tickets for most games are already sold out. If you weren't in the RedSox.com virtual waiting room weeks before opening day when seats first went on sale, you'll likely have to bargain with one of the surly scalpers perched around Fenway Park before every Red Sox home game if you want to get into a game.
If you're intrigued by the mystique of Fenway Park, but not quite enough to haggle with a scalper or spend an entire day waiting on the computer, the Red Sox offer another option: the Fenway Park tour. It runs seven days a week, even on game days (tours stop three hours before game time).
| | |
| --- | --- |
| | The famed field at Fenway Park, viewed from the left field Green Monster seats (Photo by Tom Minervino). |
An hour-long visit allows you to see the park, take pictures, and listen to your tour guide, sure to be an unabashed Red Sox fan, rehash the most memorable moments in the park's 94-year history. Plus, your admission fee helps the Red Sox compete with the hated New York Yankees in off-season free agent signings.
Several years back, there was much discussion of tearing down Fenway to build a new stadium for the Red Sox. The late Ted Williams, arguably the greatest Red Sox player of all time, wouldn't have minded at all, "I can't wait to see the new park when it's done," he had said. "I want Boston to have the best. If any city needed a new park, it's Boston. I won't shed a tear."
Many Red Sox fans and players shared his sentiment, as Fenway had been the site of heartbreak and despair for Bostonians for generations, and its peeling paint and cramped seating left much to be desired. But when John Henry bought the Red Sox in 2002, he decided to improve the existing park and build a championship-caliber baseball team.
| | |
| --- | --- |
| A wooden stadium seat from 1934 is still in use (Photo by Tom Minervino). | |
Today, there aren't many in the Red Sox nation who would second-guess his decision.
Prior to 2004, one moment stood out in Fenway Park lore from all others. And, for Red Sox fans, it wasn't a happy one.
On October 2, 1978, the diminutive shortstop of the arch foe Yankees, Bucky Dent (or Bucky F—–g Dent as he is more commonly now known in New England), hit a fly ball that carried into the net atop Fenway's 375-foot left field wall, the Green Monster, for the game-winning home run in a one-game playoff to decide the American League East champion.
Between 1918 and 2003, Red Sox fans often found their hearts broken by the rival Yankees. Over that span, the Yankees won 26 World Series Titles; the Red Sox, zero. Yet Dent's home run (he hit only five the entire season), more than anything else, became the symbol of Yankees dominance.
After blowing a four-run lead in Game Seven of the 2003 ALCS, losing once again to the Yankees, the Red Sox decided enough was enough. It was time to create a new kind of Fenway memory.
| | |
| --- | --- |
| Knowledgeable guides describe the highlights of the park during the popular stadium tour (Photo by Tom Minervino). | |
One indelible image came in 2004 during a late July, regular season showdown between the Red Sox and Yankees at Fenway Park. Yankee third-baseman Alex Rodriguez (who the Red Sox had tried, in vain, to acquire the previous off-season from the Texas Rangers, only to have the Yankees get him) was beaned by Red Sox pitcher Bronson Arroyo. Rodriguez took exception and said something to Arroyo, and stepped toward the mound.
Red Sox catcher Jason Varitek got out of his crouch and, legend has it, told Rodriguez, baseball's highest paid player, "We don't throw at .260 hitters." He then pushed his mitt into Rodriguez's face and a bench-clearing brawl ensued.
The Red Sox rallied to win the game 11-10 after trailing 9-4. Red Sox third baseman Bill Mueller hit a walk-off, two-run home run off of Yankees closer Mariano Rivera for the win, which left Red Sox fans dancing in the streets.
In the playoffs that season, the Red Sox and Yankees again met in the ALCS, with the Yankees winning the first three games of the series and taking a one-run lead into the bottom of the ninth in Game Four at Fenway Park.
| | |
| --- | --- |
| | The famed high left field wall known as the Green Monster (Photo by Tom Minervino). |
Books have been written and movies made on what happened next, but suffice it to say, the Red Sox made up for 86 years of torture with the greatest comeback in baseball history.
Red Sox slugger David Ortiz hit his second walk-off home run of the playoffs (both at Fenway) to win Game Four in the bottom of the 12 th inning and the Red Sox won eight straight games and took home their first World Series since the end of World War I.
With Fenway Park newly remodeled (there have been significant improvements made each off-season since 2003) and now the home of a recent champion, the Boston baseball atmosphere is no longer one of doom and cynicism, but one of hope and confidence.
Fresh paint covers the widened Fenway corridors, concession stands and restrooms have been added to alleviate long lines, there are now seats above the Green Monster where the net once stood, and the formerly glassed-in area behind home plate has been opened up to the fresh air.
The park that once seemed destined for the wrecking ball – an aging testament to frustration and futility and lack of legroom — now has new seats and new life. Ticket demand is the highest in Major League Baseball, so finding your way into a game will be a challenge, but you can see the park's improvements on a Fenway Park tour. Though field access may be limited during the season, you'll still get to see the Green Monster up close and snap photos of the field once roamed by Ted Williams and Carl Yastrzemski, and now by Manny Ramirez and Coco Crisp.
| | |
| --- | --- |
| This sign at Fenway Park reveals a sold out home game schedule for the month of May 2006 (Photo by Tom Minervino). | |
Fenway Facts:
1. The opening of Fenway Park was bumped from the front pages of the Boston newspapers for coverage on the sinking of the Titanic.
2. The wooden seats in the left field grandstand were installed in 1934, the year Fenway was first extensively renovated. They measure a paltry 15.5 inches wide, with about eight inches of legroom. Many of the seats are considered "obstructed view" due to support posts that may interfere with a view of the field.
3. The right field bullpens were installed in 1940. Owner Tom Yawkey wanted to bring in the fence a bit to help a young hitter named Ted Williams his more home runs.
| | |
| --- | --- |
| | A re-creation of an old Ted Williams root beer advertisement is reminiscent of another era (Photo by Tom Minervino). |
4. The red seat in the right field bleachers marks the longest home run hit within the ballpark. On June 9, 1946, Ted Williams hit a 502-foot shot that struck a man in the seat, Joe Boucher. "The sun was right in our eyes," he said. "All we could do was duck. I'm glad I didn't stand up. They say it bounced a dozen rows higher, but after it hit my head, I was no longer interested." Boucher was a Yankees fan, but changed allegiances after that hit, taking it as a sign from the baseball gods that he should be a Red Sox fan. The next day, the Boston Globe's sports page headline ran, "Bullseye! Ted Williams Knocks Sense into Yankees Fan."
Tour guide Mike C. added, "We've got seven million people in Manhattan who need to spend time in that seat."
5. There are only six numbers retired at Fenway Park: 1 (Bobby Doerr), 4 (Joe Cronin), 8 (Carl Yastrzemski), 9 (Ted Williams), 27 (Carlton Fisk), and 42 (Jackie Robinson, whose number is retired in every major league ballpark).
The requirements to have your number retired by the Red Sox are stringent: you must be in the Hall of Fame, you must have spent 10 years with the Red Sox, and you must retire as a member of the Red Sox.
Carlton Fisk ended his playing career with the Chicago White Sox, but was later given a symbolic position within Red Sox management so that he'd meet the third qualification.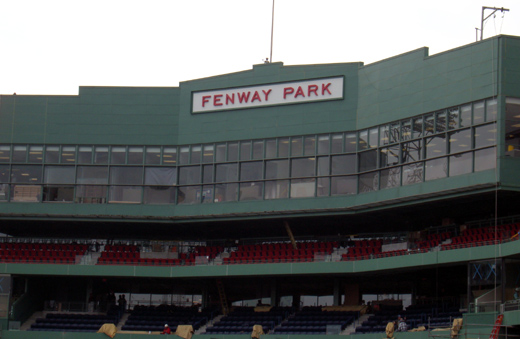 The press box area behind home plate at Fenway Park (Photo by Tom Minervino).
If You Go:
Fenway Park is located at 4 Yawkey Way. Metered parking and parking garages are available nearby. On the MBTA Subway, take the Green Line to Kenmore, a short walk from the ballpark.
Tours leave from the Souvenir Store across Yawkey Way from Fenway Park. They run seven days a week, on the hour, from 9 a.m. to 4 p.m., rain or shine. On game days, tours stop running three hours before game time.
2006 Fenway Park Tour Rates
Adults $12. Seniors $11, Children $10
Military and active reserve (with valid ID) $10
Group rates are available
Call 617-216-6666 or e-mail tours@redsox.com
Visit http://www.redsox.com for more information.