Harbor Islands brings solitude to visitors
BOSTON — Are you looking for a place to observe wildlife, visit historical sites, engage in recreational activities such as hiking or fishing or are you maybe just searching for a perfect spot to enjoy a picnic in solitude on a beautiful day?
If so, the Boston Harbor Islands National Recreation Area may be the perfect place for you.
"Many people in Boston do not even know that there are islands within a reasonable distance. Unfortunately, the Boston Harbor Islands still appear to be one of the best kept secrets of the Boston area," said Jayne Triber, a ranger of Boston Harbor Islands since 2002.
Already in the late 1800s, landscape architects Frederick Law Olmsted, Sr., and Charles Eliot proposed to expand the maritime recreation to the islands. The islands were then finally incorporated into the Metropolitan Park System in 1970 when the Boston Harbor Islands officially became a state park. In 2006, the Boston Harbor Islands celebrates its 10 th anniversary as it became a national park in 1996.
Today, the national park includes 34 islands, consisting of a total size of 1,600 acres. The islands range from as small a size of one acre to 214 acres. From downtown Boston the furthermost island, the Graves, is about 10 miles away.
The islands' formation goes back thousands of years ago.
"Some 15,000 years ago, the climate warmed, the glaciers receded, and the ocean level rose, isolating the land masses that became the Boston Harbor Islands," ranger Jayne Triber said. "Geologists consider the Boston Harbor Islands to be unique because they are a drumlin field that intersects a coastline."
The islands are very diverse in nature and in what they have to offer. But what they have in common is that they all have to tell a story about the colorful past they have seen.
Thousands of years the islands have been occupied by Native Americans. Then the first settlers from Europe arrived and shortly after came war times which is the reason that on many of the islands' forts can be visited still today.
Today, the national park and recreation area is operated by a partnership of national, state, and local representatives to develop and implement a comprehensive park management plan, according to the National Park Service. The islands are mostly used for recreation purposes.
Currently during the summer season, six of the 34 Boston Harbor Islands will be accessible by park ferries and inter-island shuttle: Georges Island, Grape Island, Lovells Island, Peddocks Island, Bumpkin Island and Spectacle Island. During winter and spring season special tours to some of the islands are offered as well.
Ferry services to Georges Island will begin on May 6, 2006, while service to the other islands does not start before June 24, 2006. Boat service usually ends on Labor Day Weekend for all the islands except for Georges Island, which usually ends on Columbus Day Weekend.
Passenger ferries leave regularly from Boston Long Wharf, Pemberton Pier in Hull, or from Quincy Shipyard in Quincy.
"If you have never been to the islands than go to Georges Island first and pick maybe one more islands. This will fill one complete day," Triber said.
From Boston, ferries connect best to Georges Island and from there many other islands can be reached with an inter-island shuttle. There is no additional charge for the second ferry to another island once on Georges Island, Triber said.
The 41.3-acre Georges Island especially attracts with its impressive Fort Warren. Park rangers offer guided tours covering various aspects of the fort's history from the Civil War era until World War II.
Visitors might as well explore the fort which was built starting in 1834 with a self-guided walking tour brochure available at the visitor center. Fort Warren served as a military training ground and later as a Civil War prison and was named for Joseph Warren, who was killed at the Battle of Bunker Hill.
Besides Fort Warren, the island features a visitor center, picnic areas, walking paths and lookout points which offer great views on Boston Downtown and the surrounding islands like Little Brewster Island with the Boston Light or Lovells and Peddocks Islands.
If there is still enough time left, visitors may take an inter-island shuttle from Georges Islands to either Grape, Lovells, Peddocks or Bumpkin Island.
"My personal favorite of the Boston Harbor Islands is Grape Island," said park ranger Jayne Triber. "You can be on the island and not see any other person for hours."
Long before European settlers came, Native Americans migrated seasonally to the harbor islands for fishing and berry picking. Grape Islands then got its name by early settlers who were as well attracted to the island's wild fruits.
A self-guided trail map and seasonal rangers guide visitors through the 53.7 acres island where picnic areas and benches invite to rest. Moreover, camping is allowed at designated areas although there is no running water toilets and no electricity on the island. Grape Island features rocky unguarded beaches.
"If families with small children want to spend a day at the beach, I recommend that they go to Lovells Island because the beaches there have lifeguards," Triber said.
Unexpectedly when one enters Lovells, this island offers another reminder of past military activity in the Boston Harbor Islands. Fort Standish differs from Fort Warren first of all in the fact that it is almost invisible when approaching the shoreline. In contrast to Fort Warren on Georges Island, Fort Standish was not constructed to be a massive fort, but it consists of seven gun batteries.
Lovells Island is even better known for building the first hut of refuge after a stranded couple was found frozen in each others arms in 1786 at a place which ever since is known as the Lovers' Rock. The hut was equipped with necessities to survive on the island until rescue arrives.
Lovells Island offers guarded swimming beaches, composting toilets, and picnic areas. Camping is available in designated areas. Seasonal park rangers give tours on the island and Fort Standish and a self-guided tour brochure is available.
On Bumpkin Island which is located close to the Hull Peninsula Boston philanthropist Albert C. Burrage established a hospital for children with physical disabilities in 1900. Unfortunately only foundations of bricks are all that is left of the hospital after it was destroyed by fire in 1945. During World War I, Bumpkin Island served as a naval training station. Today it offers the remains of the former military buildings and the hospital as well as hiking trails and camping sites to visitors. A self-guided trail map is also available.
Peddocks Island is the third largest island of the harbor islands consisting of five drumlins, which are connected to each other.
"You can easily spend one entire day on Peddocks Island just to explore everything," Triber said.
Fort Andrews on Peddocks Island was an active coast defense and training camp in World War I, according to the National Park Service. Twenty-six structures of the fort remained including a gymnasium, a bakery, barracks and recreation hall and are in good shape for interested visitors to explore. A self-guided map or seasonal park rangers guide through this historic place.
Additionally, visitors will find a chapel, a visitor center and a lot of birdlife which is attracted by Peddocks' marshes and forests making it a good place for bird watching. Also, on Peddocks Island a small number of full year round residents live in cottages.
This summer season Spectacle Island will be opened for visitors.
"In the past, Spectacle Island unfortunately was the most abused island when there was a horse rendering plant and a dumping ground. Today it features a new visitor center, nice beaches and hiking trails," Triber said.
In the 1800s the island was used as a close recreation spot for many boaters from Boston. However, after the city of Boston set up a sanitation and disposal facility in 1912, the island was used as a dumping ground for 47 years. Today, Spectacle has changed a lot. A self-guided tour map is available at the Visitor Center to help guide through the island which also offers a café, trails, and two beaches.
Apart from these ferry accessible islands, public boats to Thompson Island usually run on Saturdays in summer. Tours to Boston Light on Little Brewster Island are available by reservation Thursdays through Sundays. The trips will start again this year on June 15, 2006. Throughout the year Discovery Cruises through Boston Harbor with visits to the islands will be offered as well, Triber said.
"Private boaters and kayakers can also visit the islands. Currently, boaters can dock at Georges and Spectacle Island. They can also rent moorings in the harbor to visit other islands, or just anchor their boats and take a dingy ashore," Triber said.
Deer Island, Nut Island, and Worlds End are also accessible to the public because of their attachment to the main land. Therefore, they can be reached either by car or Deer Island as well as Nut Island via public transportation.
If You Go
Where do I get further information:
Boston Harbor Islands information kiosk at 2 Long Wharf in Boston, next to the New England Aquarium.
The Discovery Center at John Moakley Courthouse on the South Boston Waterfront features a virtual tour of the Boston Harbor Islands.
Park information phone number: 617-223-8666 and online at http://www.nps.gov/boha or http://www.bostonislands.com.
Which islands are accessible for the public:
Georges Island, Grape Island, Lovells Island, Peddocks Island, Bumpkin Island, Spectacle Island, Thompson Island accessible by ferry.
Deer Island, Nut Island and Worlds End are accessible by car or public transportation
Special tours to Little Brewster Island with Boston Light only by reservation.
When does the season start:
Ferries to Georges Island: May 6, 2006 to Columbus Day (Oct. 9, 2006).
Ferries to other islands: June 24, 2006 to Labor Day (Sept. 4, 2006).
Consult http://www.bostonislands.com for current ferry schedules.
Where do the ferries to the islands start:
Boston at Long Wharf, Pemberton Pier in Hull, Quincy at Fore River Shipyard
What do the ferries cost:
Roundtrip-fare for park ferries to Georges Island and Spectacle Island: adults $10 Monday- Wednesday, $12 Thursday-Sunday, seniors (65+) $7 Monday-Wednesday, $9 Thursday-Friday, children (3-11) $7, children under 3 free, school groups $6/ student
There is no additional charge for the inter-island shuttles to Lovells, Peddocks, Grape, Bumpkin, and Thompson Island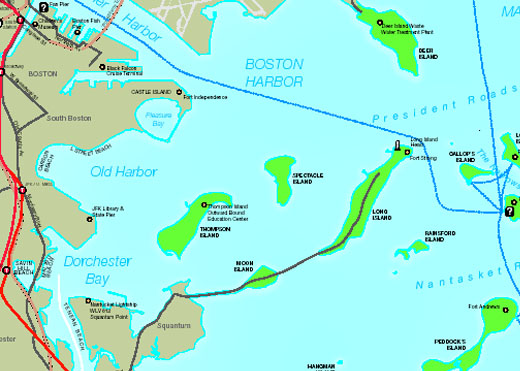 Map courtesy of the National Park Service

.