Passengers can enjoy fun day in old city
SAN JUAN, P.R. —When traveling by cruise ship, tourists tend to never follow the road less traveled, where signing up for tours is usually the most convenient and easy way to get around in a new and unknown destination.
Out at sea, cruise passengers' minds are peppered with informational sessions, and are usually coaxed into overpriced tours at various ports of call while playing Bingo, of course.
| | |
| --- | --- |
| | The narrow streets of Old San Juan offer colorful architecture and small shops to day visitors (Photo by Vincent Daniello). |
While cruise ship tours are helpful and entertaining, especially in cities through out Europe, sometimes they can be unnecessary and can even limit what visitors can see.
With the port at Old San Juan being one of the largest home-based cruise ports in the world, it is also one of the busiest in the Caribbean. More than two million visitors a year come to San Juan and 80 percent are cruise passengers.
Cruise ship itineraries usually give passengers about nine hours to see Old San Juan. This typically runs from dock time at 8 a.m. to departure at 5 p.m.
Instead of paying $25 to $30 per person for tours, there are some simple ways and tips to explore Old San Juan and making sure to get the bang for your buck.
The Main Attraction
The main attractions of Old San Juan are the historic forts present in Old San Juan since the city used to be a port of departure for Spanish expeditions, and was used as the entrance to the Caribbean. The forts form the San Juan National Historic Site, which is part of the National Park Service.
| | |
| --- | --- |
| The famed San Felipe del Morro is a must-see for day visitors to Old San Juan (Photo by Vincent Daniello). | |
While there are more than a handful of forts that visitors will see, the main forts that can't be missed are San Felipe del Morro and San Cristobal. These forts can be reached easily by taxi or a free local trolley or shuttle from the docks. The taxi fare should cost no more than $2 to $3 per person.
While the forts are about a 20 to 25 minute walk apart from each other and even walkable from the port docks, the walk could also be used to sight-see. If your feet are tired, there is a free white and green trolley that regularly runs between the forts and other points of Old San Juan.
Make sure to buy entrance for both of the forts instead of just one of them. The entrance for both forts is an incredibly affordable $5 per person.
Must sees are the various picturesque views of the bay from both San Cristobal and El Morro. These are great opportunities for photos to send home.
Despite there being no formal tours offered at El Morro, there is a 12-minute air-conditioned informational video room that explains the history of El Morro and Old San Juan in detail. Also through out the fort, there are thorough informational signs explaining certain areas of the fort.
While at Castillo San Cristobal, there are tunnel tours, outwork walks, a weekly cultural Lelolai Festival and daily orientation talks offered.
The tunnel tours is a once a day tour that allows visitors to explore the legendary tunnels of Castillo San Cristobal . The tour guide explains the essential role they had as a hidden defense for the fortification system of Old San Juan.
| | |
| --- | --- |
| Old San Juan may have some hills to walk up and down, but the colonial architecture of the city makes it worthwhile. During our visit in mid November, Christmas lights were being strung throughout the streets and plazas (Photo by Vincent Daniello). | |
The outworks walk is another once a day tour done of an area only available by guide of a park ranger. Visitors are taken to the outer defenses of Castillo San Cristobal. Comfortable walking shoes and water are recommended for this tour.
The Lelolai Festival is a performance held once a week in the main plaza in San Cristobal and usually lasts about an hour. Visitors see traditional dances, hear music and experience other cultural programs in celebration of the island's Native, Spanish, and African heritages.
The daily orientation talks that are offered are done about every 20 minutes seven days a week. 

Where to Eat
While touring the forts is a fun and educational experience, where to eat is always an important factor to think of while on vacation. Lunch off the ship is a must, of course.
If in search of a beautiful view while enjoying traditional Caribbean cuisine, visit Café Amapola. The beautifully restored coral pink two-level establishment is the only oceanfront terrace restaurant in Old San Juan.
Recommended dishes are the Amapola salad, a fresh bed of crisp greens with grilled chicken strips, pineapple chunks with sweet vinaigrette dressing, and the Mofongo, a traditional Puerto Rican dish of sweetened mashed plantains. Traditional sangria or a Bacardi mojito are the drinks of choice, if you are over 18.
| | |
| --- | --- |
| A fort guardhouse is a popular stopping place for green parrots (Photo by Vincent Daniello). | |
Prices vary between $4 appetizers and $20 entrees.
If visitors are searching for more local fare, Cafeteria Mallorca is the place to go. It's an affordable cafeteria where the waiters will almost all just speak Spanish, No worries, finding someone in the room who speaks English won't be a problem.
The typical Puerto Rican dish called mallorca is a sweet pasty that is sandwiched and grilled panini-style and then covered in powdered sugar. The sweet coconut flan is also a traditional dish that shouldn't be skipped. 

What to Buy
If your one of those travelers that has to take something home with you wherever you go, but somehow always end up buying junk, no fear here, because there isn't much to buy in Puerto Rico that can't be found in the U.S.
But there are two souvenirs that must be bought at the historic Old San Juan forts, and that is delicious Puerto Rican coffee and a good historical book.
Alto Grande Café is grown in Alto Grande Hacienda in the central mountain range of Puerto Rico and is sold exclusively in the National Historic Site of Old San Juan.
| | |
| --- | --- |
| Visitors to El Morro fort in Old San Juan are rewarded with spectacular sea views (Photo by Vincent Daniello). | |
This coffee is one of three super premium coffee brands in the world, the other two being Blue Mountain Coffee from Jamaica and Kona Coffee from Hawaii.
A historical book that is highly recommended for travelers is the History of Puerto Rico: A Panorama of its People by Fernando Pico. This book divulges deeply into Puerto Rican history in a simple, concise, and easy to read way. A wonderful book that can be added to a traveler's collection.
Do It Yourself Tour
After seeing the historic forts and dining, walking around the streets of Old San Juan is a definitive must. Old San Juan is known for its historically colorful and intricately designed beautiful doors and historic buildings.
Visitors can collect various photographs of unusual doors while walking the streets of Old San Juan.
Photographs are what you will most cherish about this trip, with the accompanying gorgeous scenery as your backdrop.
Don't Miss
While touring the historic site of Old San Juan, there must be two things that locals do and visitors' must experience.
The first is flying kites in-front of El Morro and the second is tasting a deliciously cold and cooling Piragua.
Flying kites in the open field in front of El Morro is a traditional activity done mostly on Saturdays and Sundays. Vendors are aligned along the streets of Old San Juan selling affordably priced "Chiringas" at usually three dollars a piece.
The kites are given various names such Papalotes, Cometas, Chichiguas, Barrigas, Papagayos, and Piscuchas, up to 17 total.
| | |
| --- | --- |
| Old San Juan offers many scenic views, such as this one looking toward the La Perla community and Castillo San Cristobal (Photo by Vincent Daniello). | |
Piraguas are a cold crushed ice scoop placed in a cone and then doused in cherry, mango, or other various tropical flavored syrups. Piraguas tend to run around $3 a piece.

Back to the Ship
Exploring the national historic site of Old San Juan can certainly take longer than a half day. For cruise passengers though, time is precious and half a day is usually the allotted time.
Make sure to find out about the local deals and secrets by researching about the port of call before buying a tour package.
Tour packages can be an easy way out, but sometimes taking the road less traveled will lead you to your own experiences and discoveries, your way.
If You Go

San Juan National Historic Site
501 Norzagaray St.
San Juan, PR 00901
787-729-6777
http://www.nps.gov/saju
The outworks walk begins at 10:30 a.m, The tunnel tour begins at 2:30 p.m, And the Lelolai Festival starts at 6 p.m. on Tuesdays.
Café Amapola, 280 Calle Norzagaray.
Cafeteria Mallorca, 300 Calle San Francisco.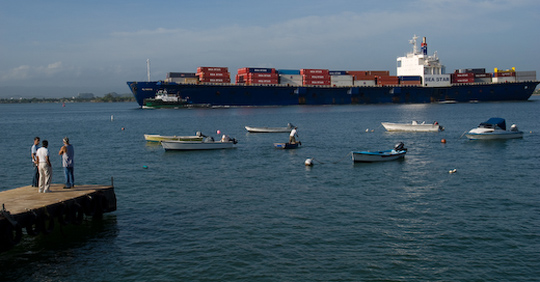 Visitors to Old San Juan pause to watch a container ship pass (Photo by Vincent Daniello).