Fort's mason dedicated to preserving walls
SAN JUAN, P.R. — "Now you see, there's a trick to it," said Jose Bastian with a smirk on his face.
He gripped the massive wooden pestle and started twisting it and digging it into the crushed brick, water and lime mixture to form the pasty mortar solution.
The sun was bright and beating down on the 20 faces of those who had come to learn the techniques used to restore the walls of the forts of Old San Juan.
Everyone gathered outside El Polverín, the powder house that once stored weapons and ammunition for the Spanish, which sits at the bottom of the rolling green hills surrounding El Morro. They watched in silence as Bastian dug and heaved the giant pestle into the mix while sweat poured off his brow.
| | |
| --- | --- |
| Right and below, San Juan National Historic Site master mason Jose "Cheo" Bastian explains maintenance procedures to participants in the site's workshop with the Association for Preservation Technology (Photos by Erin Schlissel). | |
At this particular moment, Bastian was conducting a workshop with members of the Association for Preservation Technology on how to create the lime mortar that is used on the walls of the forts, but he was actually doing much more. He was recreating history and teaching a technique that is almost 500 years old.
The participants in the workshop stared at Bastian with awe and fascination for this was something that is not seen often, but for Bastian, it is simply another day at work.
"This has become a training center. Here you find skill in mason and preservation in Puerto Rico. We have universities, high schools and government people coming to us," said Bastian.
Jose "Cheo" Bastian is a resident mason at the National Historic Park site in San Juan, Puerto Rico. A mason is someone who builds using brick or stone. Masons are a part of the park's maintenance team whose job it is to preserve and restore the structures of the forts of Old San Juan, El Morro and San Cristobal.
Although some techniques have been modernized for the sake of efficiency, the masons are trained in the ancient techniques used by builders in 1540 and they use the same materials.
"We are preservation team; what we do is preserve," said Bastian. "Preserve means restore whatever is damaged in the wall. For instance what we do here, masons go out and get a sample from whatever area is going to get worked on, and we make a replica, the closest we can, of that sample because we know if we maintain the same material mortar, it will receive it and it will be like nothing happened there; it's gonna keep going the same way it is, for 500 years."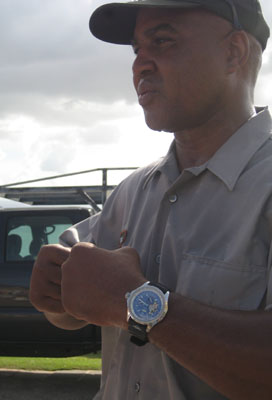 As specialized a field as masonry is, the masons who work at the forts are even more specialized. It's crucial that they replicate the materials and techniques as close to the original as possible. If another material was used, the structures would crumble from the inside out.
"You can't go out and contract for masonry, they just will clean them up and use concrete, but it's not done accurately," said Walter J. Chavez, superintendent of the San Juan National Historic Site.
Masons in the past, including those employed by the U.S. Army when the forts were under its control, used cement to fix the walls of the structures, but that proved to be a poor substitute for the original material.
"The cement is a cover, it makes a sealed layer and lime is material that needs to breathe, lime relies a lot on moisture. If you put a layer of cement, inside it will shut it down and inside will become a powder because it will die inside," said Bastian.
"The Army did a lot of repair with cement, so now every time we go to a job and we find cement we remove it. If it's not going to harm the wall, we remove it and, if we notice it's too much and it's too hard and it will do some damage, we leave it because eventually it will come down because they don't go together. Cement and lime don't mix," he added.
Bastian is a native of Puerto Rico and like many locals of the region, he spent many weekends on the greens of the forts playing kickball and flying kites. It never occurred to him as a child just how significant the forts were to Puerto Rico.
| | |
| --- | --- |
| Right, Master mason Jose Bastian describes how the machine crushes brick into a fine powder that will be used to make mortar. Below, Bastian gives directions for applying mortar. | |
"I used to hang around here when I was younger. I never thought I would work here. Like all kids, I would come here when I was 8 and 10 years old," said Bastian. "I would fly kites, play ball. I never came over here until I started working. Now I realize I was missing out on a part of heritage in Puerto Rico."
Not only does Bastian work every day in a cornerstone of Puerto Rico's heritage, he is responsible for making sure that it will be sustained for future generations. One would see this as a daunting, even humbling task, and though Bastian may see it that way now, it was not the case when he started
"I approached it as another job for my family," he said. "The more we get into the lime base mortar and all of that, I got more into it. I'm the one that works the mortar and now for me its fun and all the research makes it fun. It's not an everyday job where you go through the motions, if it was, I would fail."
Before Bastian joined the National Park Service, he played professional baseball for the Montreal Expos' double-A minor league team. Even though baseball is probably as far from masonry as one could get, he did learn lessons that are helpful in his current field.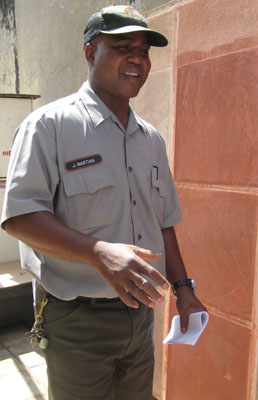 "I miss it, but I just don't have it anymore. It's fun, playing professional sports, but you have to take it easy, if you go wild you fail," he said.
After playing baseball for 11 years, Bastian called it quits and had to find a new line of work. When he started working at the park, he went through a rigorous two-year training period to master the historic methods of masonry.
"When I first came, my co-workers laughed at me. They used to look at me and laugh at me and now I laugh at them and they come to me," he said.
A day at work for Bastian and the other masons at the park is not an average day at the office.
Instead of working amongst never-ending rows of cubicles and complaining with disgruntled co-workers clad in business suits around a water cooler, Bastian spends his days in the lab studying lime samples and then out in the forts restoring the buildings to their original glorious stature.
"Seven o' clock every morning, I come over here and, after I check e-mail, I start working in testing the mortar or whatever samples I got to test. And, if somebody is doing repair work out there, I go out and make the mortar for them. Then I go to the brick machine and do some brick crushing and then come back here and do some sampling until four o' clock," he said.
The brick machine he works with is a monstrous piece of equipment. It grinds chunks of brick down into different kinds of powder that vary in their degree of fineness and it does so while it makes a very loud intimidating churning sound. It's understandable to think a machine such as this would lead to the most horrific of injuries, but fortunately, Bastian has maintained an accident-free record.
"Thank God, not yet," he says in a tone of relief when asked if he's ever been injured by the big bad brick grinding machine. "They are always reminding us safety first. Even though with the machines I work, so far nothing has happened, maybe a bruise, but that's nothing, just part of the job."
| | |
| --- | --- |
| | Master mason Jose "Cheo" Bastian mixes a solution of brick, water and lime for a demonstration. |
Working for the National Park Service allows Bastian to travel to parks around the country, teaching other masons the art of preservation. This last year, Bastian and several co-workers traveled to four National Park Service sites to share their skills.
Even though Bastian did not expect this frequency of travel and is sometimes overwhelmed, he has had some interesting experiences along the way.
"My favorite park was Fort Jefferson," he said. "It's in the middle of nowhere, 90 miles from Cuba and a 3½ hour boat ride from Key West. I went scuba diving and encountered sharks, rays and all kinds of sea animals. I turned a corner and there was a shark. He just stared at me, and we just stared at each other for a minute. And then he went that way and I went the other way. It was scary, but fun."
Working at the park has been extremely rewarding for Bastian. He describes with great pride how he has met dignitaries and government officials who visit the park, and they all tell him what a great job he's done. Every positive reaction reminds Bastian and his fellow masons what all of their efforts are for and he encourages them to work that much harder.
"Right now, we look at this place like something we have to prepare for generations to come," he said. "The best job we have to give is what we give."
| | |
| --- | --- |
| Master mason Jose "Cheo" Bastian measures brick powder for the mortar mixture during a workshop presentation. | |