Re-enactments along de Anza Trail inspire
SAN FRANCISCO — Separated from the goings-on of modern San Francisco by the stone wall of the Presidio's perimeter and found in the largely preserved and restored Spanish mission site, history is given a venue where it can come to life.
Unlike a typical guided tour of a historical landmark, the history of the Juan Bautista de Anza Trail is taught to school children and inquisitive history buffs through reenactments and skits which portray the conclusion of the settlers' 1200 mile voyage north along the west coast.
Set against the backdrop of the San Francisco Bay and among the rows of perfectly aligned, towering eucalyptus trees Interpretive Park Ranger Eddie Arias dons the classic field uniform of a 18th century Spanish soldier for his performances.
The uniform, consisting of the traditional cuera or deerskin armor, sheath and sword (worn on the left side) brings Arias's likeness closer to that of de Anza and allows him to embody the character of the Spanish settler during his portrayals.
| | |
| --- | --- |
| | At left, Interpretive Park Ranger Eddie Arias (black cape and hat) and colleagues dressed in period clothing for a Juan Bautista de Anza re-enactment (Photo courtesy of Eddie Arias).  Below, Arias dressed as Juan Bautista de Anza teaching tour group how to load a rifle (Photo courtesy of Eddie Arias). A street in the Presidio San Francisco is named in honor of Capt. Juan Bautista de Anza, who settled the area (Photo by Meaghan Fondiller). Arias at the final stop on the A Walk with Juan Bautista de Anza tour (Photo by Meaghan Fondiller). |
"Sometimes I forget I'm out of character and still refer to myself as de Anza," said Arias
Arias speaks and writes Spanish and, as a teacher for 11 years, he figured it would be a small step to teach children (and interested adults) about the Spanish history of San Francisco and the southern West Coast.
Arias believes that if visitors, young and old, are taught the lessons of history in a fun and interactive way they will grow to appreciate the park and their culture while making lasting memories.
"The goal is to have visitors become caretakers of the park," said Arias. "I want them to develop an emotional and intellectual connection to the Presidio in particular."
To begin his Walk with Juan Bautista de Anza (the re-enactment tour of the de Anza Trail), Arias shouts "Vayan subiendo!" meaning "everyone mount up!" and steers his eager on-lookers in the direction of the trail, marking several sites within the Presidio important to the founding of San Francisco.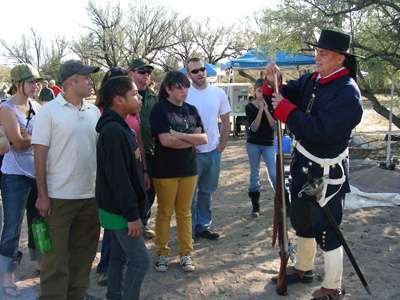 Although Arias and his colleagues dramatize the tale for purposes of interpretation and entertainment, the history of de Anza's voyage and its conclusion are rife with excitement and emotion. Enduring hardships and devastation as well as blissful success, the story of de Anza's expedition is far from dull.
Juan Bautista de Anza Jr., the son of a military man, enlisted in the Spanish army as a teenager in 1752 and progressed rapidly through its ranks, making it to captain within a few years.As a child, de Anza lost his father to an attack by the Apache tribe of Native Americans. De Anza I, earlier in his life, had requested that he be allowed to make a voyage to see whether there was a land route accessible between Tubac, New Spain (on the border of present-day Mexico) and Alta California. To fulfill his father's legacy, de Anza Jr. made it his duty to find that route and settle Monterey in Alta, Calif.
Don Gerate, chief of Interpretation at Tumacácori National Historical Park in Arizona and another avid de Anza impersonator, told Arias that learning about the death of de Anza I is the part of the tour that has the most impact on the young visitors.
"That is the thing kids remember most when I speak to them – that my dad was killed by Apaches," said Gerate who has received many letters from children apologizing for the death of his father.
De Anza Jr. wound up making two such journeys which fulfilled his father's goal. The first was made with Fathers Garces, Diaz and Eixarch: a group of 20 soldiers; 11 muleteers; several servants and assortment of cattle and horses. The voyage was such a success that the king requested that de Anza repeat the journey, this time leading a group of colonists to Alta, Calif.
This expedition, consisting of Father Pedro Font, 35 families and herds of pack animals, is the one Arias portrays in his tours. The group left Tubac in October 1775 with more than 200 settlers and arrived in Monterey and then San Francisco in early spring 1776.
By reading first hand journals of de Anza and Father Font as well as detailed historical accounts, Arias is able to act out scenarios rich with factual information and interpretation that are fun and engaging. Devoting special attention to the tense relationship between the arrogant Font and valiant de Anza, Arias is able to get the children to become passionate supporters of the leader and respect his efforts, decisions and successes.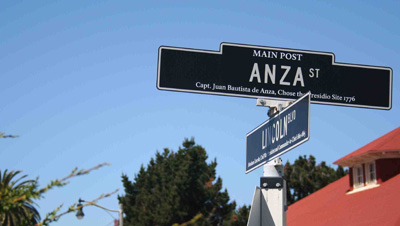 The tour concludes in a grassy location near the entrance to the Golden Gate Bridge.
The sun bounces off the bay and glistens on the sword at de Anza's hip as he pulls out his telescope and to get a better look at Sausalito.
De Anza hands the sextant to Font who takes record of the latitude and raises his sword high above his head and triumphantly plunges it into the earth at his feet.
"I claim this land for Spain and all of her people," said Font.
He followed this proclamation with a prayer for King Charles III and, according to Arias, the students cheer victoriously for the settlement.
Once the chatter has settled down, Arias delivers the park message which emphasizes the importance of helping protect the parks, their history and natural beauty and encourages his visitors to become volunteers to show their appreciation.
According to Arias, the history of Juan Bautista de Anza and his voyages are central to American history and provide explanations for the development of San Francisco and its rich culture. However, through re-enactment, Arias can use clothing, artifacts, body language and skills at impersonation to make the history lively, vivid and tangible. Additionally, Arias provides interesting and specific anecdotes which color the historical information and make it much more approachable and personable.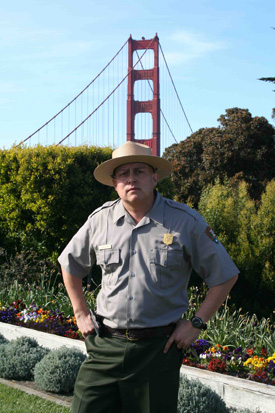 "A good interpreter shares stories," said Arias. "The stories are what give the kids a memorable connection to the park."
Punctuated by epic views for which the Presidio and Golden Gate Recreational Area are known for, the Juan Bautista de Anza trail promises to be a show even for those visitors who are walking the mapped and marked trail without a guide.
Those visitors who choose to experience re-enactments on Arias' mile-long A Walk with Juan Bautista de Anza tour will be treated to an accurate portrayal of the history of the area's first western settlers and their impact on San Francisco as we know it today. The Juan Bautista de Anza trail promises to pique visual, emotional and intellectual interests as well as entertain.
Encouraging visitors, Arias said he welcomed everyone to learn about de Anza.
"If you want to learn the real history of California, come visit the Presidio and take a walk with me, Juan Bautista de Anza."
If You Go:
For more information visit http://www.nps.gov/juba. This website provides a brief history and downloadable trail guides as well as upcoming events.
Also visit http://www.nps.gov/prsf and click on the events tab. The tour begins at the Presidio Stables, building 661 on Cowles Street. The website provides directions and contact information.
For more information about the educational programs through the Golden Gate National Parks Conservancy visit http://www.crissyfield.org For specifics about the Juan Bautista de Anza tour type "Juan Bautista" into the keyword box under the park calendar tab.