Beaches offer rare views of Golden Gate
SAN FRANCISCO— The cold wind seems to freeze the skin on my face, but I welcome it.
The endless iridescent ocean blue and the immense coffee brown mountains lining a backdrop that seems more like a painting than real, greets me adorned by an awe-inspiring view of the Golden Gate Bridge.
That makes it all worth it.
This is the view from Baker Beach. I've never seen anything like it. Literally. I'm a native of Miami, Fla., born and raised. As shocking as it may sound I've never left the state, until one day ago. 
Mountains are about as foreign to me as living in another country. What appeared to be brown mountains at first, the Marin Headlands, also have a bit of green growing on them.
| | |
| --- | --- |
| | San Francisco offers what seems like countless views of the bay from its beaches. Baker Beach and China Beach are two  popular beaches for scenery and for access to the water (Photos by Jannet Juredini). |
Before I could take in the iconic symbol of San Francisco, the Golden Gate Bridge, I first found myself having to get past the unbelievable view of mountains everywhere I went. Something that until just hours ago, I'd only seen in photographs.
Once I got past that, the scene and all it included hit me. Nothing could prepare me for the indescribable view. Sure I did my research and saw countless photos of what the view from Baker Beach and China Beach was like, as they are adjacent to one another.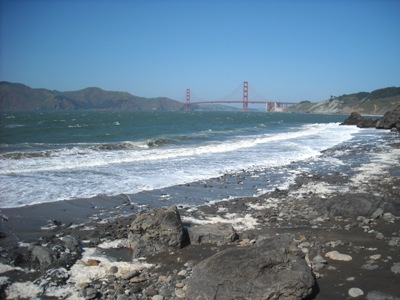 No photo did the view, the goose bumps, or the flabbergasted mindset justice.
Two people sat at one of the picnic tables along Baker Beach, just before the sand starts at its main entrance. Jamie Coffin and Paul Huelskamp are recent college graduates who were enjoying a meal and the scenery.
"I'm unemployed, new to San Fran and taking advantage of a sunny day. We went to Ocean Beach and trying something new at Baker Beach," Coffin, a Dartmouth graduate, said. "The scenery is amazing and it makes me feel happy to be here, since I'm from New York."
His friend Huelskamp has been living in New York for two years and decided to come back to California "where the jobs are," he said. He's originally from Fresno and aspires to go into real estate.
"I like the shoreline, the cliffs, and the rocks. Northern California has a prettier scenery than Southern California. It's a little more intense," Huelskamp said. "There it's the beach than the houses, not cliffs first."
Conditions such as the cliffs make the waters also stronger and more dangerous. Although an amazing view, it's important to note that these aren't beaches that visitors are allowed to swim in. Baker Beach and China Beach are part of the Golden Gate Recreation Area, which is part of the National Park Service.
"In these beaches we don't recommend swimming. There's a strong undertow and water temperatures of 56 degrees or lower, you'd get hypothermia within 10 to 15 minutes," Michael Feinstein, public affairs officer for the Golden Gate National Recreation Area, which preserves and maintains the area, said.
I originally set out to write a story about a walk from Baker Beach to China Beach, but nature had other plans.
As one might expect the waters were extremely rough, however, on this day the wind was intense. The wind-pushed water went so high, knocking into the jagged cliffs at Baker Beach, that it was impossible to walk over to China Beach.
With their hair blowing in every direction and clothing meant for a warmer day, two University of San Francisco seniors couldn't even stand the wind as they walked up the entrance to Baker Beach.
"It's been windier, not this windy normally," Emily Miranda said.
They got off early from work and just wanted to enjoy the beach and the view.
"This city, the scenery, never really wears off its charm," Alaina Markie said. "The major reason we came here is at Ocean Beach you don't get the Golden Gate Bridge view."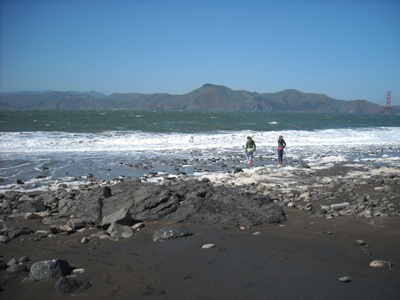 At first I thought I was already at China Beach since I walked as far as the water would allow me to, but a local man playing with his dog told me China Beach was even further down, past the rising water. He explained that I would have to walk back up to the road where I came from and out into the surrounding neighborhoods to come back down into China Beach.
My classmate Valerie Reyes and I decided to embark on this journey up the road. It was a lot longer than we thought, but we eventually got to China Beach. We walked uphill onto Lincoln Boulevard and walked many blocks alongside fancy homes in the neighborhood of Sea Cliffs, until we finally made it.
The view was just as incredible, this time with a perspective from above. We had to walk downhill to get to the sand.
"They are beautiful beaches, they have a wonderful view of the Golden Gate, the Golden Gate Bridge and the Marin Headlands on the other side," Feinstein described. 
At China Beach we found a few high school students frolicking in the sand and waves, while two of them, love birds, sat on a massive charcoal gray rock. There were many of these rocks scattered about adding to China Beach's aesthetic allure.
"Spring Break brought me here, beautiful weather so I came down to China Beach to see the Golden Gate Bridge, can't beat it," Chris Gregoire, one of the two sitting on the large rock, said. "It makes me feel relaxed, chill, laidback."
The sand on this beach caught my eye. It was black, with a natural glitter to it. For the first time I could see that as well.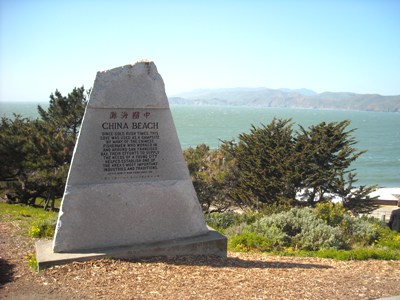 On that very sand, long ago in Gold Rush times, Chinese fishermen would camp on the beach, giving it its name.  
Its name has more significance than one would think. It used to be called Phelan beach, after Mayor Phelan. In the early 1900s there was a strong anti-Chinese sentiment in the San Francisco area.
In hopes of moving in the right direction and recognizing the Chinese fishermen from its past, it was renamed China Beach by the National Park Service around 1983.
At the trailhead leading to China Beach there is a stone monument that reads, "Since Gold Rush times, this cove was used as a campsite by many of the Chinese fishermen who worked in and around San Francisco Bay. Their efforts to supply the needs of a young city helped establish one of the area's most important industries and traditions."
I sank my Converse sneakers' grooves into the sand and for a moment felt as though that fixing my feet in it would imprint the wondrous view in my mind and the inexpressible feelings that go along with it.
If You Go…
Directions to Baker Beach:  Take US 101 North and take the exit toward Transit Transfer Facility, turn right at the Transit Transfer Facility, following signs for Presidio. Turn right at Lincoln Boulevard, and after about a mile make the next right. After about half a mile the destination will be on your left.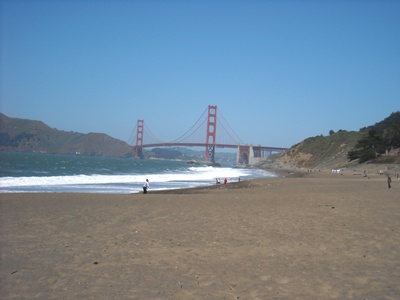 Directions to China Beach: If you are unable to walk to China Beach directly from Baker Beach because of the high water, you would have to walk back up to Lincoln Boulevard, follow the road and make a right at the end of the road where the intersection is in the shape of a V, alongside the Sea Cliff neighborhood. China Beach is located at Seacliff and 28th Avenue in the Seacliff neighborhood. From El Camino del Mar, follow brown signs that say "public beach".
Parking: There is limited parking available at both the entrances to China Beach and Baker Beach, but it is free.
Facilities: There are restrooms available at both beaches.
Food: There is no food available, but there are picnic tables if you'd like to bring your own food and eat there.