Horseback riders explore beauty of desert
TWENTYNINE PALMS, Calif. — As a horseback rider myself, I can see why spending a few hours on a horse would be a popular way to experience Joshua Tree National Park.
The beautiful rock formations stand out against the blue sky and the vast 794,000-acre park seems infinite.
For those able to bring their own horses, visitors must remember the fragility of this environment. Riders are limited to certain campgrounds and trails and a permit is required to camp with horses in the backcountry.
| | | |
| --- | --- | --- |
| A guided trail ride with visitors from Germany at the 30-acre Cottonwood Canyon Ranch property near Joshua Tree National Park . Visitors are riding horses Toby (pinto), Tucker (gray) and Dakota (brown). (Photo by Georgia Nicolet, owner of Cottonwood Canyon Ranch). | | |
While reservations are not required for day use, they are needed for overnight stay. Horseback riders can choose either Ryan or Black Rock campground, both having horse camp areas. There is a $15 per-night fee for Black Rock and a $10 per-night fee for Ryan.
Black Rock campground is on the edge of the park bordering Yucca Valley so it attracts a lot of riders from that community.
Ryan campground is in the center of the park and a focal point so it benefits riders because there are a number of trails which branch off in different directions. However, logistically Ryan is more difficult to get to so people have to put horses in trailers to get to the camp.
"You get to see all the desert scenery in Joshua Tree. It is beautiful, especially during the spring when everything is blooming. You can see some wildlife like the desert mule deer, turtles and birds. You need to appreciate every area for what it is. In the desert area of course you aren't going to like it when it is more than 100 degrees outside. But right now it is a beautiful sight," said park visitor David Bradley.
| | | |
| --- | --- | --- |
| | | The Cottonwood Canyon Ranch in Morongo Valley guided trail ride with scenery (Photo by Georgia Nicolet, owner of Cottonwood Canyon Ranch). |
Bradley rides his horses into the park often, usually to Black Rock. He worked with the Joshua Tree Ranch and works locally providing feed for horses. Joshua Tree Ranch is a 40-acre private ranch just outside the main entrance to Joshua Tree National Park.  The ranch is currently shut down after losing their tour guide and other complications.
Joshua Tree Ranch now refers visitors to Cottonwood Canyon Ranch (CWCR), a 30-acre property in Morongo Valley, just 15 miles from Joshua Tree.
If a stable wants to charge to provide tours it must have a concessions contract or a Commercial Use Authorization, a type of business permit, but the process requires fees and paperwork. Therefore, the process is too extensive for many stables.
CWCR offers riding lessons, trail rides, boarding for private horses and birthday party accommodations.
Georgia Nicolet has owned the property since 1995, but opened it to the public in 2006. Nicolet is also a volunteer with San Bernardino search and rescue group.
With a $10,000 fine for unauthorized horseback riders in Joshua Tree, plus the expense of acquiring a permit, CWCR stays outside the park.
| | | |
| --- | --- | --- |
| At right, Cottonwood Canyon Ranch guided trail ride with scenery. (Photo by Georgia Nicolet, owner of Cottonwood Canyon Ranch). Below, a horse camp sign at Black Rock campground (Photo by Stephanie Beyl). | | |
Nicolet has ridden her own horses into Joshua Tree and says there is not much of a difference between riding in the park and on the outside. The sites are beautiful in both areas and according to customer testimonials, everything you need for an enjoyable horseback riding tour can be found at CWCR.
Whether on a tour or riding a private horse, riders must remember that they are in a desert, meaning the lack of available drinking water can be a challenge and a limitation for riders and horses alike. And since grazing is not permitted in the park, riders must remember to bring plenty of pellet feed. Preparation for a day in the desert requires preparing supplies; include water and feed.
Most riders come to the park on weekends and are from local residences in the community surrounding area that like ride their horses into the park.
"That has been a bit of an issue. If I live outside the park and I have a house with horses and I want to get to the park, I ride my horse into the park. Maybe I am riding on a street through the community, but where do I cross over? Access becomes an issue because there are designated trails," explained Joe Zarki, chief of Interpretation at Joshua Tree.
If a horseback rider is able to access the park, he or she will discover that by the west entrance they may enter the park at Quail Wash, Cactus Cove View and Burro Access; by the Black Rock area, riders may enter at the Hi-View Nature Trail, Machris Wash, Long Canyon and Little Long Canyon. However, given the example Zarki offered, locals may not be aware of these entrances.
Joshua Tree requests that horseback riders respect and use designated trails to prevent damage to the environment. The major problem is that horseback riders have made social trails over the years.
"Social trails are not authorized park trails. They damage the vegetation, trample plants and creates a lot of extra bare soil, we already have a lot of bare soil in the desert and it creates even more, leading to erosion issues," explained Zarki.
The park has had some issues regulating this in the past.
In 2000, the Backcountry and Wilderness Management Plan was created. The park was working on the plan for three years prior, holding a variety of public meetings to gauge input from various stakeholder groups about what they wanted to see in the plan.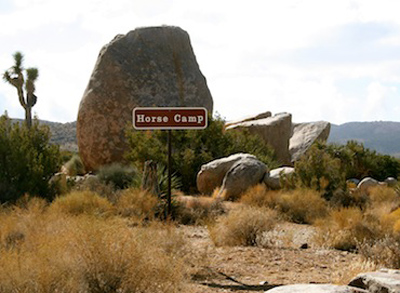 The Backcountry and Wilderness Management Plan outlines the designated 253 miles of equestrian trails and trail corridors that spread across the open land, canyon bottoms and dry washes.
These riding trails are clearly marked for first timers. Another step to prevent damage is for riders to travel in single file.
Besides campground and trail restrictions, there are many other areas horses are not allowed, including in the Wonderland of Rocks, in picnic areas and at visitor centers.
Furthermore, according to the National Park Service, stock animals are not allowed within one-quarter mile of any water source.
Don't forget to check the campsite for all your belongings before departing. Riders also can't leave behind any manure. All horse feces must be removed from campgrounds and trailheads.
If a visitor does not have his or her own horse and would like to ride in the park, he or she might want to consider the alternative of riding just outside the park at a ranch like CWCR.
If You Go
Cottonwood Canyon Ranch: To arrange a trail ride with CWCR call 760-363-7475 or e-mail cwcr@me.com. Trail rides are $65 per hour per person and arena lessons are $55 per hour. To learn more, visit: http://tophorseboarding.webs.com/trailrides.htm
Camping reservations: Reservations may be made Mondays through Fridays from 8 a.m. to 4 p.m. by calling 877-444-6777 for Black Rock campground and 760-367-5545 for Ryan campground.
Permit: You can arrange for a permit by calling 760-367-5545.
Map: To view maps of the park, visit: http://www.nps.gov/jotr/planyourvisit/maps.htm