Campers love quaintness of Channel Islands
CHANNEL ISLANDS, Calif. — On an October afternoon, Tara Brown began pitching her Coleman tent at Santa Cruz Island's Scorpion Ranch.
It took her just 10 minutes to carefully loop the support rods through their channels and stick them into the ground to keep the structure upright. The final touch was a flysheet to protect her from any rain.
Brown, a Santa Barbara resident since 1971, is a retired assistant director of public health. She camps six times a year, but mostly out of her Volkswagen van.
| | | |
| --- | --- | --- |
| | | Click on the video at left to see an audio slideshow about camping in the Channel Islands National Park photographed and narrated by writer Christina De Nicola. |
This weekend, she and five others from the Santa Barbara Ski and Sports Club decided to visit the Channel Islands for three days.
Unlike the national park system's more popular sites such as Yellowstone or Yosemite, things are quainter on the Pacific Ocean. At times, it feels as though a camper has the entire park to one's self.
Even if there were reception on the island, Brown still would've left her cell phone in the car. It's a chance to be far away from the modernized world and embrace the primitive.
For Brown, a chance to see the countryside and ride her bike draws her to the island.
"This is one of the least-visited parks in the national parks because you can't drive here and people are lazy," she said. "Sometimes I'll come by and mostly do hikes on the weekdays and they'll be one or two people. So you have the whole island to yourself. When the day boat leaves, you really do feel like you're isolated. It's a good feeling."
| | | |
| --- | --- | --- |
| Tents cover the campground at Scorpion Ranch on Santa Cruz Island of the Channel Islands National Park. A maximum of 240 campers may stay on the island on any given day (Photos by Christina De Nicola). | | |
A maximum of 240 campers can stay on the island any given day for a cost of $15 per site per night.
Scorpion Ranch rarely fills up, according to 72-year-old local Tony Chapman. The previous weekend, however, close to 200 people camped.
Chapman, who is an emergency medical technician, and has been guiding for 23 years, began coming out to the Channel Islands since his college days at UCSB in the 1960s.
Before the Channel Islands became a national park in 1980, owners of the private property allowed people to camp alongside the bluff instead of down in the campground.
"That was neat to hear the birds at night and the water hitting the beach," Chapman said.
Since some visitors didn't enjoy youth groups making so much noise, individual campsites were created with a fixed number of six people.
Open Magnet Charter School, which is based in Los Angeles, brought 64 kids to the island that Wednesday through Friday. Two teachers, two teacher aides and several chaperones joined the Wild Outdoor Leadership Foundation (WOLF).
| | | |
| --- | --- | --- |
| | | Members of the Santa Barbara Ski and Sports Club pitch a tent at Scorpion Ranch. Below next, shaded tents await their occupants for the weekend at Scorpion Ranch. Below, campers wait for their gear to be unloaded by the crew of the Island Packers ferry at Scorpion Anchorage. |
Each year, WOLF partners with schools in the Southern California area in an effort to teach kids about the history of the state while outside the classroom.
Clusters of fourth and fifth graders made medicine bags, carved tools out of rocks, kayaked and hiked.
But it wasn't all fun and games.
The kids learned about the history of California and the island, both of which tie into their curriculum. 
Every morning, a chef cooked eggs and sausage. Lunch included teriyaki sliders and vegetables. WOLF taught the kids to put up a tent and how to take it down.
"It lets the kids really get to know each other and bond before the beginning of the semester," Chere Forsha, 44, said. "It helps them throughout the year since they have projects together."
Forsha's son, Edward Johnson, walked around with a water book bag. His favorite activity was kayaking. He and his friends found time away from video games and computer screens. 
"It was nice," Johnson said. "I didn't really miss much."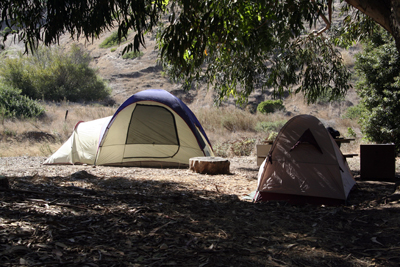 But for some visitors, it can get boring on the island if the person is more interested in an adventure rather than the serenity that Santa Cruz offers.
"If you're not interested in kayaking or hiking, you're going to be bored. Bring a book to read," Chapman said. "The air is a lot clearer here than it is on the mainland. If you like stars you can see them crystal clear at night here."
As astronomers at the University of California, Santa Barbara, Moire Prescott and colleague Kristian Finlator can appreciate this unique view. They both moved from Arizona one year ago and will be living in the area for around 24 months.
The pair was set to backcountry camp over to Santa Cruz's Scorpion Ranch over the course of two days. Prescott, 30, and Finlator, 33, consider themselves to be advanced beginners.
"I'm not completely green, but haven't seen the worst of everything yet," Finlator said.
On their last trip to Lake Tahoe, they developed an itch for backpacking, so much so that they decided to invest in new gear.
For their trip they brought some of the items recommended by the national park service's Web site: a first aid kit, sunscreen, hat, water and energy food.
"A lot of people like going skiing. I like going skiing. While you're going downhill, you can't really be thinking about anything or else you're going to die. The same thing goes for backpacking," Finlator said. "You've got to be focused. You've got to get water, get to the next meal, take care of your feet. It really forces you to take a vacation from all the things that distract you during the work week."
According to Interpretative Ranger Bill Faulkner, campers must prepare themselves and understand the risks involved.
The island's remoteness makes it more dangerous if something were to happen.
A helicopter would take 45 minutes to come for help. Park rangers on the island will respond, but must first be reached from moderate distances.
Despite the animal wildlife and cliffs, the most cautionary tale is that of dehydration. A common problem is campers either don't drink or eat enough.
In fact, one-third of Prescott and Finlator's gear weight was water. Island Packers, the park's concessionaire for boat travel, doesn't allow an individual item to weigh more than 45 pounds.
"It's recommended that the campers be experienced," Faulkner said. "A pair of novices might be fine, but not with a child."
Another one of the survival essentials includes a secure tent that can withstand winds.
Warm clothing is important since the temperature can dip into the 40s. Cooking and eating utensils are also a must.
At the same time, only enclosed camp stoves are permitted.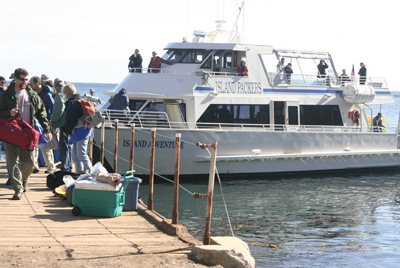 "They don't allow open fires here because of the hazard," Chapman said. "When it was a ranch, there were sheep and they mowed the lawn and we had fire rings."
Another precautionary tale is to not feed the animals.
Since there are no garbage cans on the island, campers must hold onto their trash and keep it hidden from plain view or else animals will come looking for the food.
"The wild animals become dependent on people," Brown said. "The island foxes know where the people are."
Despite these potential risks, Scorpion Ranch isn't nearly as dangerous as the backcountry on the other islands.
It takes less than one mile to reach the campsite. This comes as a relief to a camper that carries pounds of gear.
There is also a water fountain and plenty of shade, which keeps campers cool during the day. Wind doesn't play as much of a factor. The site is away from cliffs, but close enough to various trails, such as Cavern Point Loop.
"This campground is different from the others. There's a different kind of camper there," Faulkner said. "You get more families, more special bachelor parties. It's big enough to let people or groups of friends do that. They can focus on fishing or boating."
Chris Meichtry and four of his friends decided to head out to the island for the weekend. Meichtry, 30, is from Los Angeles and works in sales. The group grew up together.
Meichtry comes from a family that has been camping for generations. His favorite trip was to the Sierra Nevada by Bishop, Calif.
Just as Chapman explained, Meichtry enjoys the solitude that comes with camping on the island. It's a far cry from the buzz found in the City of Angels.
"I've been backpacking my whole life because I love just being in the middle of nowhere with nothing else going on other than what you choose to do," he said. "It's much better than sitting in the city. It's very peaceful."
Eva Maria Barthel, 70, couldn't agree more. She considers herself a "seasoned" camper. Ever since she was a teenager in Europe, she loved the forests of her native Berlin.
She has lived more than 40 years in Southern California and has had the opportunity to camp at all of the Channel Islands.
"I love the outdoors. I love nature," she said. "You don't hear any automobiles. It's very quiet. It's just the serenity and the peacefulness of it."
With her years of experience, Barthel has had only one close call. She and a group got stranded for two days, but they had packed enough water while on Catalina Island.
| | | |
| --- | --- | --- |
| Tara Brown pitches her Coleman tent at Scorpion Ranch. She was part of the Santa Barbara Ski and Sports Club for a weekend. | | |
But for Karen Gumtow and Philip Mastnick, who backpack three times on average each summer, Santa Cruz's camping provides a more luxurious style.
Mastnick, 40, jokes that Scorpion Ranch is almost resort-like. He and Gumtow, 45, have camped in the Sierras when the temperature dips below freezing.
Here, people come by with Igloo coolers filled with drinks. There's no need to worry about traveling a long distance to drop off heavy gear.
Instead of using an empty ChapStick container to put deodorant in or bringing a pair of pants that can zip into shorts, they can worry more about relaxing. And they're still far enough away from civilization to enjoy the wilderness.
"I don't want to hang out in the resorts," Mastnick said. "This is much more fun."
If You Go
What: Santa Cruz Island's Scorpion Ranch, Channel Islands National Park.
When: Open year-round.
Cost: $15 per night, per site (maximum of six people).
Reservations: Cannot be made more than five months in advance; required information includes camping dates, transportation information and number of campers.
Visit http://islandpackers.com for more information about travel and restrictions to the island.