Hostel offers affordable housing near park
FLORIDA CITY, Fla. — For many tourists visiting Everglades National Park, a daytrip just isn't enough to experience all there is to offer. But for some, the desire to extend their trips just isn't financially possible.
That's why, since 1997, Everglades International Hostel has offered an affordable option to thousands of visitors — from European backpackers to Midwestern families — and just about every group imaginable in between.
Owhnn, president of Everglades International Hostel, likes to be known by her single name. She found the property 13 years ago and, with the help of family and friends, transformed the flat piece of land into a tropical getaway, just steps away from the busy atmosphere of Florida City and just a few miles from the entrances to Everglades National Park to the west and Biscayne National Park to the east.
| | | |
| --- | --- | --- |
| | | At left, the Everglades International Hostel is located in Florida City on SW 2nd Avenue. Next, the hostel offers an outdoor sleep setting where visitors can sleep in tents for $18 per night. Next, currency from all over the world is displayed on the wall of the lobby, showing the incredible diversity of travelers (Photos by Alex Fruin). |
"This is the gateway to Miami, Naples, and the Keys," she said of the SW 2nd Avenue location. "The point of opening here was to start a hostel to serve an underserved community."
Although there are a number of chain hotels in the area, the hostel sees itself filled to capacity many nights, a fact that Owhnn and her small staff cite largely in part to the social aspect of hostel life.
"We want to keep the backpacking culture around," Owhnn said. "We'll never turn away a real backpacker, 24 hours a day, seven days a week. All you have to do is come."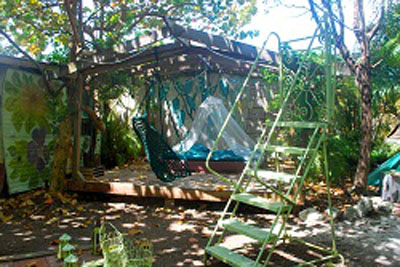 And come the travelers do. Though the hostel's capacity is 62 people, with every bed filled and scattered futons serving as extra space, visitors can also opt to camp outside in the hostel's two to three-person tents.
Although many travelers enjoy the idea of camping outside during their Everglades adventure, most visitors to the hostel request the dorm-style rooms, which at $28 per person per night, is just a fraction of the cost of neighboring hotels.
Catering to just about every group that comes its way, the hostel offers more expensive options as well, such as the $224 family room, a two-room suite that sleeps up to eight with a private bathroom.
"A lot of our repeat customers are actually families. Parents will book a vacation for another season and tell us their kids had been saying, 'Please let's go back to the hostel, not Disney World,'" Owhnn said with a laugh.
With just under an acre of land, there are a number of places for visitors of all ages to be entertained, without even leaving the hostel property.
| | | |
| --- | --- | --- |
| | | The hostel offers dorm-style sleeping arrangements for $28 per night in addition to private rooms and camping in the garden (Photo courtesy of the Everglades International Hostel). |
"They'll come for one night and end up staying for weeks," Owhnn said, referring in part to one current 'hosteler,' who spends much of her time reading in the hostel's vast backyard garden. "She came for two nights… three weeks ago."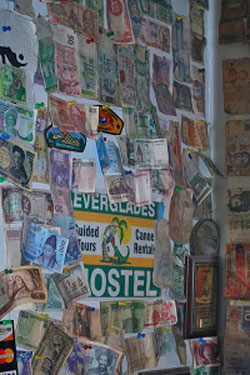 "I checked in on Monday for the night on my way to the Keys. That was four days ago and I'm not planning on leaving too soon," a 20-something man from Iowa agreed with a big smile—and an even bigger backpack.
The burly young Iowan's demographics are not entirely unique to the hostel. A vast majority of visitors are in their early 20s to mid-30s, although more than 70 percent are European travelers.
The same proportion of travelers takes advantage of the many tours that Everglades International Hostel offers. While some opt for renting canoes or bicycles from the hostel for self-guided trips, many choose the hostel's very own program "Tours in the Glades."
All of the hostel's tour guides are trained professionals who have studied ecosystem science at a college level. Owhnn says that the tour group's main guide, Graham Mitchell, is simply the best in the business.
"He can really just tailor himself to just about everyone. He blew the mind of the dean of Natural Sciences from Rotterdam University who was here with students on an Alternative Spring Break. Or he can take out a group of 20-year-old Dutch guys and they'll be just as impressed."
Graham offers full-day kayak and canoe tours to visitors to the hostel and other Everglades adventurers, while the other guides usually host morning or afternoon tours throughout the 1.5 million acres of the national park.
Though the guides live locally and are paid, most of the rest of the Everglades International Hostel crew are travelers, part of a volunteer program that many hostels offer. According to Owhnn, many of them will travel for a couple of seasons, often throughout the Keys, and then return to the hostel to help with cleaning and other tasks before moving on.
Interestingly enough, Owhnn herself never has the desire to travel like much of her staff—and visitors to her establishment. "I'm not a traveler. But I'm a good fit for a hostel… I create a nice home environment for travelers, but I get to stay here."
| | | |
| --- | --- | --- |
| At right, the hostel is just steps away from local restaurants and activities in Florida City. Next below, signs in the hostel's backyard garden point visitors to their destinations. | | |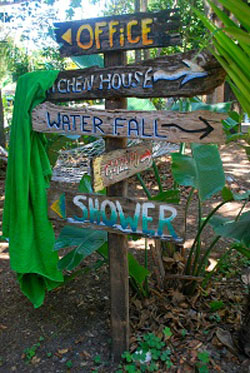 If You Go
Location: Everglades International Hostel, 20 SW 2nd Ave., Florida City, FL 33034.
Prices: $18-$200/night.
Web address: http://evergladeshostel.com.
Directions:
From the North: Take Florida's Turnpike South to the end, turn right on 344th Street Located on the left side of the road, across the street from Rosita's Restaurant.
From the South: Take U.S. 1 North until you reach 344th Street in Florida City, turn left on 344th Street. Located on the left side of the road, across the street from Rosita's Restaurant.
Tours in the Glades
Full-day kayak/canoe tours: $120/person.
Morning/afternoon Tours: $65/person.
Night walks: $30/person.
Canoe/single kayak rental: $30/day.
Tandem set/top kayak rental: $45/day.
Bicycle rental: $15/day.
Website: http://www.toursintheglades.com.