Fruit stand is popular stop for visitors
FLORIDA CITY, Fla.— On a long trip to the Everglades there is always the need to refuel— not just your car— but your body, too.
As you take a trip to visit Everglades National Park, there is a short stop you must make on the corner of SW 192nd Street, the place is the 44 years old Robert Is Here fruit stand. The stand is along the main south entrance road to Everglades National Park, only seven miles from the Visitor Center.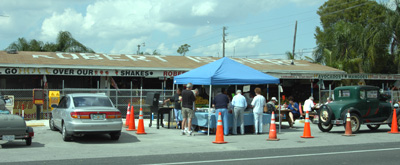 Robert Is Here on a busy Saturday morning (Staff photo).
The Everglades is a place where people can enjoy South Florida's very unique ecosystem of mangroves, alligators, diverse birds and fish.
Robert is Here is the perfect place to buy some fresh fruit or vegetables, ask what places to visit in the Everglades and nearby areas, check out some animals at the back of the store, and savor a delicious milkshake.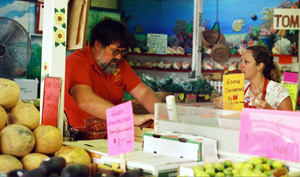 Robert Moehling helps a customer (Photo by Silvia R. Guzman).
According to Aida Medrano, who makes milkshakes at the stand, the favorite milkshakes are strawberry, key lime and the strawberry-key lime combination.
Some others include mango, papaya and passion fruit, guanabana (soursop), which happens to be Robert Moehling's favorite, and certain fruit combinations upon request.
The milkshakes were introduced 23 years ago when too much fruit was going to waste and Moehling's mother, Mary, could not make preserves fast enough to save the fruit. The milkshakes turned out to be a lot of work, but are successful with the customers.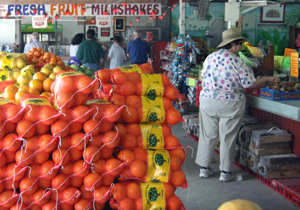 Customers browse for fresh fruit and veggies (Staff photo).
Robert is Here has become a landmark place with its large hurricane shutter tin metal roof announcing that Robert is here. You cannot miss it. That same sign started the business in November 1959.
That year, farmer Robert Moehling Sr. refused to dump some cucumbers he harvested and placed six-year-old Robert Moehling Jr. on the corner of 192nd Avenue to sell them.
"He set me on the corner with some cucumbers and he figured that we would sell them. Well, not only did I not sell any that Saturday, nobody even stopped. So my dad figured that there can't be that many people who do not like cucumbers. The next day we put up a big sign on each side of me made of hurricane shutters from our house that read Robert Is Here, and left me there for a second day. That day I sold out by 11 a.m." said Moehling.
| | |
| --- | --- |
| | Robert offers jellies and jams among other take-home delights (Staff photo). |
Robert Moehling, 52, became a business person at six-years old and, by the time he was in third grade, he hired a lady to work for him twice a week at the fruit stand;
The place developed into a fruit stand that carries many fresh vegetables, not just cucumbers, exotic fruits, preserves, dressings and some interesting salsas, pickles, jams, fruit butters, hot sauces, fresh fruit pies and, if you are lucky, there might be some papaya samples to taste for free.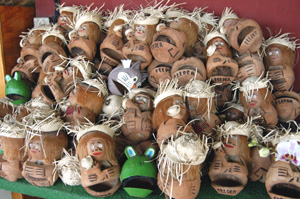 Novelty coconuts for sale at the stand (Staff photo).
Although Robert is Here is a popular and successful fruit stand, it has not always been easy to maintain its place. In 1992, Hurricane Andrew swiped away many of the fruit trees that the Moehling's had at home.
"My mom was murdered a couple of days before Hurricane Andrew was hit and the hurricane destroyed all our trees," said Moehling.
"We had mangoes, avocado, they all got destroyed. The fruit stand did very, very good and we opened up right after the hurricane. We did not have business of course, but it was normal looking. It made the community know that we were back to normal."
In 1999 the fruit stand was tried again when it faced some zoning issues. But the strong support of the community and customers brought up a strong fight.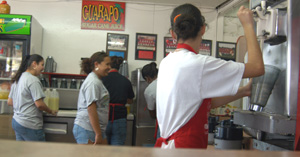 Fresh fruit-flavored milkshakes prepared on demand (Staff photo).
"We had a petition drive and we had signatures from literally all over the world. We had people from Australia, Russia, everywhere. First zoning meeting we had over a thousand people show up at the meeting," said Moehling.
The customers come from all over the world. Sometimes they bring Moehling pictures of their experiences at the fruit stand, give the store antiques pieces, such as an antique television, trinkets and all kinds of interesting things that Moehling tries to display all over the store. Most out of state customers have discovered the fruit stand on their way to the Everglades.
"I come down every year with my husband around Easter time on our way to the Keys," said Karen Milchuck from Wisconsin. This year she and her husband came with their daughter Emily, who is one-year-old, and with Milchuck's mother.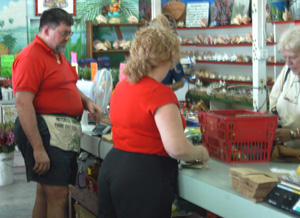 Robert, left, and a co-worker serve customers at the sales counter (Staff photo).
"We have been to the Everglades, that is how we first found this place, we saw the sign for Robert Is Here and stopped," said Milchuck.
When you stop at Robert is Here fruit stand, think of home and what that place means to you, and you will discover what this place means to Moehling, his family and his co-workers.
They celebrate birthdays at the fruit stand, and keep most pet animals and spend most of the time at the fruit stand. Robert is Here tries to be friendly and make the visit warm and welcoming.
"We got to the point when we had a lot of people locking their keys inside their car, so we put up a sign," said Moehling. The sign reminds people to pull the keys out of the engine before they lock their cars.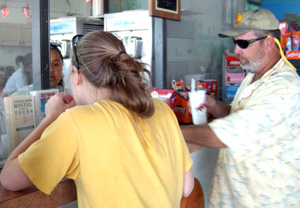 Customers take their turns picking up milkshakes (Staff photo).
Just as there is this sign, there are other signs posted all over the store telling people not to squeeze the tomatoes, explaining that some fruit is supposed to look as ugly as it is, naming the macaws in the cage in the back of the store, and directing people to see the tortoises, goats, chickens, turtles and iguanas.
There is a touch of humor in everything done at the store.
"One of the funniest things that ever happened here, I think it was this year or the year before, one of my sons imitated the Joe Boxer commercial and he stripped down to his boxer shorts and did the Joe boxer dance around the fruit stand. That was the biggest laugh I have had," said Moehling.
Moehling loves his work and describes what Robert Is Here represents as "Honesty, integrity and very big smiles."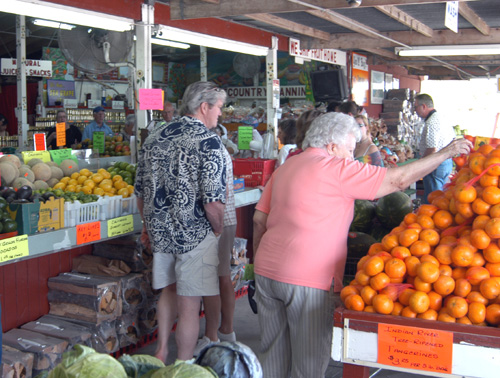 If You Go
Hours: The stand is open from 8 a.m. to sunset
Location: 19200 SW 344th St., and 1.5 miles from U.S. 1 in Florida City.
Telephone: 305-246-1592
Web site: http://robertishere.com