Everglades visitors have many choices
FLORIDA CITY, Fla.— A one lane road that stretches for what seems like forever, one small building beckoning the last signs of human life. Driving further there are only acres and acres of wilderness and trees.
Like most Everglades first timers you're probably consumed with questions and confusion about where to go and what to do. However, the Everglades are not as challenging as it seems.
"I can always tell the people who come for the first time. I usually send them on a hiking and sightseeing tour. It's the easiest and the best way to the see the Everglades with zero planning," said Park Ranger Agustin Diaz.
| | |
| --- | --- |
| | A boardwalk stretches to one of the many hammocks in the park (Photo by Allison Slutsky). |
Yes, there are three major entrances and at least four Visitor Centers in the Everglades. And yes, it is a very large area encompassing much of the southern tip of Florida. And there is a lot to consider when traveling to the Everglades for the first time.
Meg Stacks, 22, a Miami native traveled to the Everglades for the first time this year.
"The first thing to do is to stop at the first Visitors Center, before paying the entrance fee and just ask as may questions as you can. Even if you think you don't need help, you do because the Everglades is a maze of trees and land after you pass the first Visitor Center," said Stacks.
Perhaps the first consideration is when to visit. Because of the heat, severe storms and intolerable number of mosquitoes in summer, June to October is not the best time to plan a wilderness trip. The winter months, December to May, tend to be more pleasant, especially if children are visiting or inexperienced wilderness fans.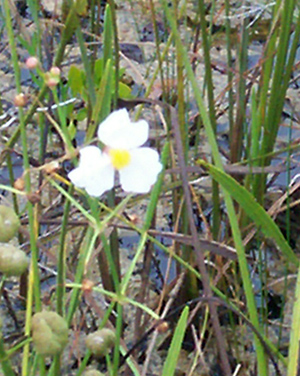 Set up a simple yet fun trip to the Everglades for the first time that includes hiking, canoeing and sightseeing.
Park Ranger Agustin Diaz recommended a half day trip for first time visitors to get acquainted with the winding mazes of the Everglades. Start at the Florida City Visitor Center in the southern part of the park.
"Drive all the way to the southern most tip called Flamingo and then work your way back up hitting Mahogany Hammock, Pa-hay-okee Overlook and Royal Palm," said Diaz
The Flamingo area is a great camping area but it also serves as a marina where boats can dock to visit the inside of the Everglades. However, the Flamingo area was partially destroyed from four significant hurricanes in late summer and fall 2005 so the campground is not available until it can be repaired.
Until then, the Flamingo area marina is open as well as the Visitor Center, which provides useful information on hiking and canoeing in the area.
It is a site to see for first time visitors. It is a 38 mile drive from the Florida City entrance and by going there first, it is easier to point out the other trails because you drive by them on the way down.
Ryan Lillis, 21, traveled from Illinois to visit the Everglades. He is an avid hiker who has visited the park for its hiking trails for walking and bicycling.
"I have hiked on a lot of trails in the Everglades but the best trails are the ones that also allow bike riding. Rowdy Bend is my favorite it's a 12.6 round trip bike ride from the Flamingo Visitor Center. It's a great workout filled with great scenery and wildlife," said Lillis.
For a first trip to the Everglades, there are plenty of hiking trails that will take up plenty of time especially if you like biking 12 miles. If a 12 mile ride isn't what you're looking for there are other trails that are much shorter and some trails that do not allow bicycles and are for hikers and sightseers only.
If you're more of a water person there are plenty of areas for canoeing. The canoe trails range from 2 miles to about 12 miles.
Make sure your backpack is loaded with bug repellant because canoeing through the mangroves is infested with mosquitoes especially in the summer months.
Jase Brubach, 22, also an Illinois native canoed in the Everglades through Hell's Bay, a Flamingo canoe trail, but it is also a location available for campsites.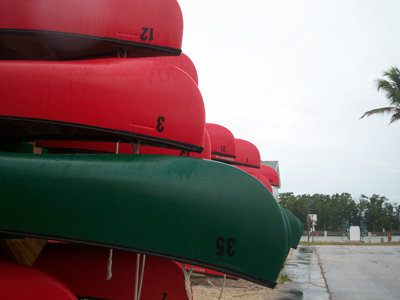 "Canoeing through Hell's Bay is amazing. I've canoed all over and this is one of the only places that I have found that is a sheltered by mangroves and trees.
It was definitely an experience and would recommend it for anyone who likes canoeing or is interested in getting into it," said Brubach.
The Everglades have more than hiking and canoeing one of the best things to do to get the full experience of the Everglades is to camp. There are over 44 camp sites throughout the Everglades and one of them is sure to fit you're ideal camp site. Certain arrangements have to be made for campers, such as a wilderness permit that can be obtained at the Visitor Center.
There are three different types of campsites: Chickees, ground sites and beach sites. Each type of site is unique to the next. Chickees are located along interior rivers and are elevated on wooden platforms.
Chickees are for campers looking for seclusion, but there are no campfires allowed. Ground sites are mounds of earth a few feet above mangroves and they also tend to have more insects that chickees and beach sites.
Beach sites are the only sites that allow campfires, but there are no bathrooms. This means campers must come up with creative ideas for restrooms, but there are certain regulations for using the beaches as bathrooms.
"I've camped on the chickees in the Everglades and it was awesome because it was like camping in a mini stilted bungalow above the water. Very cool," said Lillis.
Camping is an option for first time visitors but it takes immense planning and it is much easier to use the Everglades as a daily outing the first time since the huge park is overwhelming at first with things to do. If you're simply just curious on the environment and hiking then no research is really necessary, the visitor center and rangers offer immediate answers and maps.
"My advice for a first time visit to the Everglades would be to make it a hiking and sightseeing trip. Bring a camera, some bug repellant and some good hiking shoes and you're set. It's just that simple you'll get maps here and advice to see some good trails," said Diaz.
| | |
| --- | --- |
| | The Everglades sawgrass stretches for miles in all directions (Photo by Allison Slutsky). |
If You Go
For more information online visit http://nps.gov/ever/.

Tips for the First timer
Plan ahead and prepare
Know regulations and prepare for weather
Travel and camp on durable surfaces
Good campsites are found not made
Dispose of waste properly
Use a general rule of pack it in, pack it out
Leave what you find
Don't remove any plants or wildlife from its natural habitat
Be considerate of other visitors
Respect others and avoid loud voices and noises